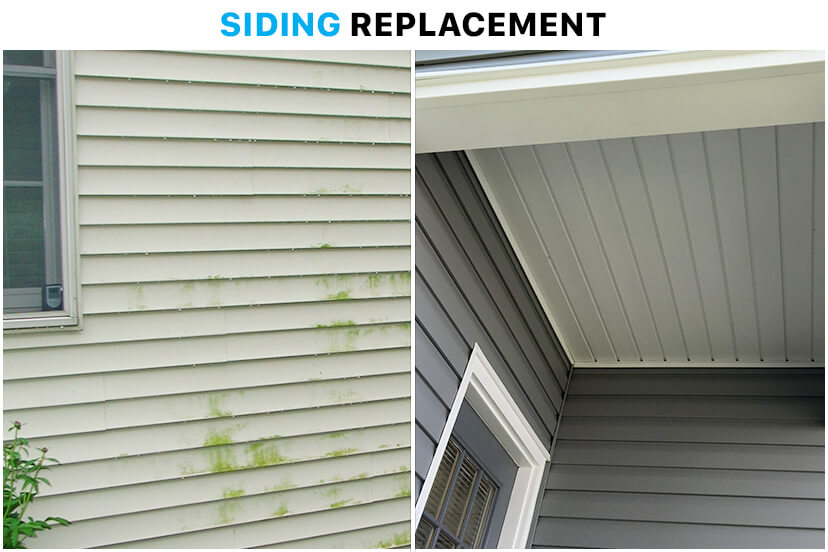 Even though your home's siding is one of its most visible features, it's also one of those things to which homeowners tend not to give much attention, or possibly even neglect. As long as your siding isn't literally falling off, many of us just assume that everything's fine.
But everything may not be fine with your siding. You probably give your home's siding a cursory glance whenever you pull in the driveway, but it's a good idea to walk up and take a closer look every so often. Why? Your siding plays some crucial roles when it comes to the well-being of your home. In combination with your roof, the siding you have installed is your home's first line of defense from weather threats, and helps prevent infiltration of moisture and pests. Siding is also an important component of your insulation system, and it's one of the make-or-break features that determines the curb appeal of your home.
Home experts agree that you should give your siding a good cleaning at least once a year to remove dirt and film, and to prevent mold or mildew buildup. If you don't have the equipment (or desire) to clean it yourself, you should schedule someone to come out and do it for you. In fact, it's best to have a professional perform a more thorough inspection of your siding and the rest of your home's exterior on a regular basis. As is the case with many things, an ounce of prevention is worth a pound of cure!
How Do I Know When My Siding Needs Replacing?
With proper care and maintenance, your home's siding can provide you with many years of reliable service. Even so, no siding lasts forever. The stresses of weather and time will eventually take their toll, affecting both the look and the performance of your siding. Here are some indications that it may be time to look at siding replacement:
Warped or Rotted Siding: If you have wood, composite, or fiber cement siding that is displaying some rotted places, it's definitely time to replace it. And no matter which type of siding you have on your home, if it's showing some visible warping, that's often a sign that the under layer has started to become compromised due to moisture infiltration.
Bubbles: If you see bubbles forming underneath your siding, that's usually a sign that water is being trapped underneath. 
Loose/Cracked Siding or Holes: If some siding becomes loose as a result of a strong storm that has moved through, some simple repairs and refastening may be all that are needed. Siding that has become cracked or has holes in it, on the other hand, needs to be replaced. Cracks and holes are easy for moisture and pests to penetrate and will certainly lead to greater damage if left unattended.
Mildew, Fungus, or Mold: The presence of these substances isn't an automatic cause for alarm, as it isn't uncommon for them to appear on shaded areas of your home, especially if you live in a humid climate. An annual cleaning of your siding can do wonders for keeping these parasites at bay. But if you notice mildew, fungus, or mold appear in non-shaded areas or become more persistent, it's definitely a good idea to have a professional come take a look. 
Fading: Some siding materials are only designed to hold their color as long they can maintain their proper performance level. Once your siding begins to look noticeably faded, it may well be losing its protective capabilities, too. 
Interior Signs to Look For:

 If you have loose wallpaper, peeling paint, or soft spots in your wallboard or drywall, that's often a sign that your siding is at fault in allowing moisture to penetrate from the outside. 
Higher Heating and Cooling Bills:

 There are several external factors that can play into higher energy costs. The first place you'll want to inspect is your roof and attic. If those areas check out to be OK, you should then check out your siding and windows. Lower grade wall insulation combined with underperforming windows and/or siding can easily result in too much climate-controlled air leaking out of your house, resulting in power bills that are much steeper than necessary.
Advantages of Vinyl Siding
When it comes to choosing a siding replacement material, some go with traditional wood or opt for the sturdy resilience of metal. Both of these siding material types also have their drawbacks though, not least of which being their higher price tag. For a budget-friendly, low-maintenance, and attractive option, it's really hard to beat vinyl siding:
Versatile in Design and Application: One thing that makes vinyl siding popular is the fact that it can mimic the look of traditional wood, without as much hassle, for less money. Vinyl also comes in other looks and styles, including both horizontal and vertical applications.
All the Colors: Vinyl is available in pretty much any color you can think of, and it's color that lasts longer, too. Since the color goes all the way through the material (and isn't just painted on the surface), it won't fade or dim in the same way that wood does.
Durable: Vinyl is built to withstand the elements better, resists moisture damage, and won't rot or corrode over time. Properly-installed vinyl siding can last for many decades.
Low Maintenance: In terms of siding options, vinyl is incredibly low-maintenance. Vinyl is moisture, rot, and termite resistant. Vinyl also never needs repainting or staining – something that wood siding can't say for itself. It's also relatively easy to clean in comparison to other siding materials.

Less Mold and Mildew:

 Not only is vinyl moisture-resistant, it can also be installed to be more "breathable" than other materials. Vinyl siding that is well-installed allows moisture to escape better, thus inhibiting the growth of mold and mildew in the first place.
Helps Cut Down on Heating and Cooling: Insulated vinyl siding can help prevent heat loss (also known as thermal bridging) between studs in your exterior walls. Insulated vinyl siding may also qualify you for special energy tax credits, as well.
The Price Is Right: With vinyl siding you'll pay less upfront (typically only a fraction of the cost of traditional wood siding), AND you'll pay less over time in maintenance costs. You really can't beat vinyl siding for cost-effectiveness!
That Curb Appeal: The amazing range of colors and textures available with vinyl can really make your house pop. That's a good thing when you want to impress your family, friends, and neighbors, and that's an even better thing when you're ready to put your home on the market!
Why You Should Choose Skywalker Roofing For Your Siding Replacement
Vinyl may be the most popular siding choice in America, but it's really about more than just choosing the right siding materials and products. If you really want a siding solution that's made-to-last, then you want to make sure your siding is installed right the first time. And nobody installs vinyl siding better than Skywalker Roofing!
But why Skywalker? Isn't that a roofing company? Yes, we are the roofing experts, but that's not all we do! Our staff is trained and equipped to provide the best professional installation services for siding and windows, too! While choosing the right replacement siding is important, it's even MORE important that you choose the right local contractor who is best-suited to provide you the best quality of workmanship! Poorly-executed installations are the #1 cause of problems down the road – installation failures ALWAYS precede any possible material failures. If you're looking for an award-winning, manufacturer-authorized, trusted local roofing contractors for your home or commercial siding replacement needs, look no farther than Skywalker Roofing!
Skywalker Roofing is an elite contractor serving homes and businesses in North Carolina and southern Virginia, and we pride ourselves on providing the highest level of personalized attention to each and every customer with each service we offer. We never sacrifice quality for quantity. Skywalker is proud to carry a BBB Rating of A+, and we've served thousands and thousands of satisfied customers in NC and VA. Give us a call today at ☎ +1 (336) 627-5596 and let us show you why Skywalker Roofing is the BEST contractor for the job!