LOW SLOPE ROOFING
Flat roof design often contains a low slope which can be beneficial for you in many ways. First, flat roofs with low slope last longer than roofs with no slope. Second, low-slope roofs are easier to maintain than steeper roofs. Third, since you can walk all over these flat surfaces, it's easier to spot any leak or roof damage. These benefits make low-slope roofs an attractive choice for residential customers.
Thinking of going with a low-slope roof? Are you searching for an experienced low-slope roofer in your area? Contact Skywalker Roofing at ☎ +1 (336) 627-5596 and let our team of certified low-slope roof experts take care of you!



Get Started Now
Book Your Appointment & Get a FREE Estimate
Awards & Achievements
See Why Skywalker Roofing Company Is Different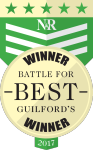 Need A Free Estimate?
Just share your requirements and our experts will provide the best service.
Types of Low-Slope Flat Roofs
Many builders use modern flat roofing material for better protection. For water tightness and water resistance, it is important that these materials are installed with perfection. It's a good idea to do some research on your end before going for one of the various options available. Let's review some of the most popular low-slope flat roof materials:
Single Layer Membrane Roof: A modern, advanced roofing technology that many business owners choose for commercial construction. It is technically known as elastromeric or plastomeric roofing membrane (depending on the material). Skywalker Roofing's certified low-slope flat roofing contractors can install or fix any kind of single-ply roof, including:

Neoprene (polychloroprene)

:

EPDM (ethylene propylene diene monomer)
PVC (polyvinyl chloride)
Chlorinated polyethylene and chlorosulfonated polyethylene sheets
Polymer-modified bitumens
Membrane roofs can be attached in different ways. They can be fully adhered to the roof deck, partially loose laid, or held down with river rock ballast. Of all these types, EPDM (synthetic rubber) is the most common flat roof material for both commercial and residential roofing.
These roof materials are installed as thin sheets 0.030 to 0.060 inches thick. Made of synthetic polymer, their flexibility and elasticity can handle temperature changes better than build-up roofs.
Skywalker Roofing is a trusted installer of single layer membrane roofs in NC and VA!
Modified Bitumen Roofing: Modified bitumen cap sheet roofing is created by starting with the proven technology of buildup roofing and adding polymer-reinforced roof wear layers or cap sheets.
These roofs were developed in the 1960s as a replacement technology for BUR (Build Up Roofs). Skywalker Roofing constructs these flat roofs with excellent craftsmanship, whether they require hot-applied, torch-applied, cold-applied, or self-adhered installation. The polymer attached to these cap sheets also provides flexibility and elasticity in low temperatures.
Buildup Roofs: The buildup roof is considered by some as the "grandfather of roofing." Buildup roofs have solved the problem of low-pitched roofs for ages, something that asphalt shingles could never handle.
Buildup roofs are created using multi-layers of a special type of roofing felt. This felt is asphalt-stuffed and set in bitumen. Roofers apply it using a hot swab.
The hot applied asphalt tar pitch mixes with the bitumen-soaked roof felt and creates a solid roof membrane. The roof felt tar layering is repeated in overlapping layers until the assembly is two to four plies thick.
A wear surface of crushed stone granules is usually applied to the top layer of hot tar to protect the full roof assembly from UV light and weather.
Installing these flat roof materials requires high skill and precision. Do you think leaving your roof in the hands of an amateur is a safe idea? For peace of mind, entrust your home to a certified low-slope roofing contractor – someone like Skywalker Roofing.
Whether you need a new low-slope flat roof, or want to get your existing roof repaired, we are your one-stop destination. Give us a call at ☎ +1 (336) 627-5596, and we can help solve all your roofing problems!
Why choose Skywalker Roofing?
Hiring Skywalker Roofing to perform roofing installation and repair services comes with many advantages. First and foremost, all of our services are performed by experts who have extensive years of experience in the roofing industry. Thorough assessments and evaluations are conducted at the beginning of each job we perform, which allows us to create a custom blueprint for each client we serve.
Our top-class roofing services in NC and VA have earned us many awards over the years, including several Super Service Awards from Angie's List. We are also a Top-Rated contracting company on Home Advisor, as well as an Elite Service provider.