Skylight Installation
It is not uncommon to have skylights leak due to old age or poor installation. If you're having problems with a leaky skylight or if cracks are forming, talk to Skywalker Roofing. We are experts at skylight installation and repair. We use the best skylight products, and our expertise in skylight installation makes us one of the best amongst the roofing contractors in the Piedmont Triad area.
There are a variety of skylight glazing and flashing options to achieve a perfect match for your skylight requirements. Sunscreens, venetian blinds, and shades can add a unique and decorative variation when incorporated with your skylights. Electronic or manual controls add flexibility and accessibility to your skylight system, including a rain sensor. Fixed and venting units are also available.



Get Started Now
Book Your Appointment & Get a FREE Estimate
Awards & Achievements
See Why Skywalker Roofing Company Is Different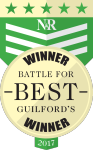 Need A Free Estimate?
Just share your requirements and our experts will provide the best service.
Benefits of Skywalker Roofing's custom interior skylights include:
Interior Lighting
Increased Home Values
Additional Lighting
Moonlit Interior Areas
Custom Dining or Living Areas
Lookout or Viewing Areas & More!
Our Service Area
Do you live in the Piedmont Triad area and have a question regarding one of our many high-quality skylights, sun tunnels, or other products? Talk to us and we'll be happy to answer all your questions! Our main office is in Stokesdale, NC, but we service cities all around the Triad and Triangle regions: Raleigh, Durham, Chapel Hill, Greensboro, Winston Salem, High Point.