Wood Shake Roofing & Siding
Skywalker Roofing has installed hundreds of wood shake and cedar roofs to make our customers' houses stand out from others in their neighborhood. Many homeowners in the Piedmont Triad have spoken to us about the lifespan of cedar roofs. While it's true that cedar roofs can last up to 30 years, it takes excellent craftsmanship and high-quality roofing material to make wood shake roofs last that long. Skywalker Roofing understands the significant cost of a cedar roof, and hence we are fully committed with our excellent and knowledgeable crew to install your roof right the first time!



Get Started Now
Book Your Appointment & Get a FREE Estimate
Awards & Achievements
See Why Skywalker Roofing Company Is Different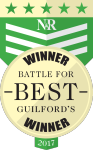 Need A Free Estimate?
Just share your requirements and our experts will provide the best service.
Wood shakes are manufactured from western red cedar, cypress, pine, and redwood trees. Shakes are split from logs and reshaped by manufacturers for commercial use. They are thicker at the butt end than shingles; generally, one or both surfaces are split to obtain a textured effect. A split and resewn shake has a split face and sawn back. A taper sawn shake has a natural taper and is sawn on both sides. Shakes are basically just wooden shingles made from split logs. They are used all over the world, and installed here in North Carolina by Skywalker Roofing. Most wood shakes and shingles have been treated with fire retardant and chemical preservatives to make them less susceptible to fire or decay. They fight off moisture, and are environmentally friendly since they come from a renewable resource.
Wood Shake Roof Restoration
Skywalker Roofing can help you cut down the cost of your wood shake replacement. For a fraction of the replacement cost, we can simply restore your roof if the condition of the existing shake allows for it. So how do we know if we can restore rather than replace? Through a thorough roof inspection!
Once we determine if your wood shake roof can be restored, we provide you with a written estimate of the work needed for restoration. Once the work begins, we remove the moss, dirt, and debris using our environmentally-friendly cleaning process. After cleaning, a thorough inspection of your roof follows. Any damaged, rotting, loose or missing wood shakes are repaired or replaced. We then apply a rust-preventive primer to valleys and flashing, along with checking and curing any skylight seals and chimney flashings. Our crew ensures that we properly protect your surroundings before applying cedar shake preservative. This penetrating oil-based treatment will restore water repellency, prevent the re-growth of wood-destroying mold, mildew and fungus, and protect the roof from photo degradation and hydrolysis by sunlight.
Reliable Residential Roof Repair Company
No roof lasts forever, but if you have your roof inspected twice yearly, you can extend its lifespan and delay having to replace your roof. Qualified residential roofing contractors can perform inspections and repairs that will ward off any excess damage and save you the cost of a full replacement. A roof repair can be as simple as replacing a few missing shingles, or it may sometimes require a bit more time and effort. Whatever the case, your preferred roofing company stands ready to help!