Did You Know your roof represents up to 40 percent of your home's total exterior space? That means your roof plays a very important role in helping to determine the curb appeal of your home. If you're making plans for a new asphalt shingle roof installation or a needed shingle roof replacement, it's also important to choose the right shingle colors to accentuate the look of your home.
These days, when it comes to shingle roofing colors, you're really spoiled for choice. There are now more shingle color combinations available than ever before! The problem isn't about having a large enough selection; it's really about narrowing down your options to find what will really work best for you. And Skywalker Roofing is here to help!



Get Started Now
Book Your Appointment & Get a FREE Estimate
Awards & Achievements
See Why Skywalker Roofing Company Is Different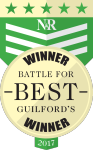 Need A Free Estimate?
Just share your requirements and our experts will provide the best service.
A Sampling of Shingle Roofing Colors Provided by Skywalker
Already like the basic color scheme of your current roof? That's fine! The pros at Skywalker can help you find a close match.
Looking to change things up a bit? We can absolutely help you there, too! We offer a full suite of excellent roofing shingle products in every popular color blend, from blacks to grays, to whites, to browns, reds, greens, and blues. If you've got something particular in mind, we can almost certainly help you find it!
Here are just a few examples of the shingle color options we offer.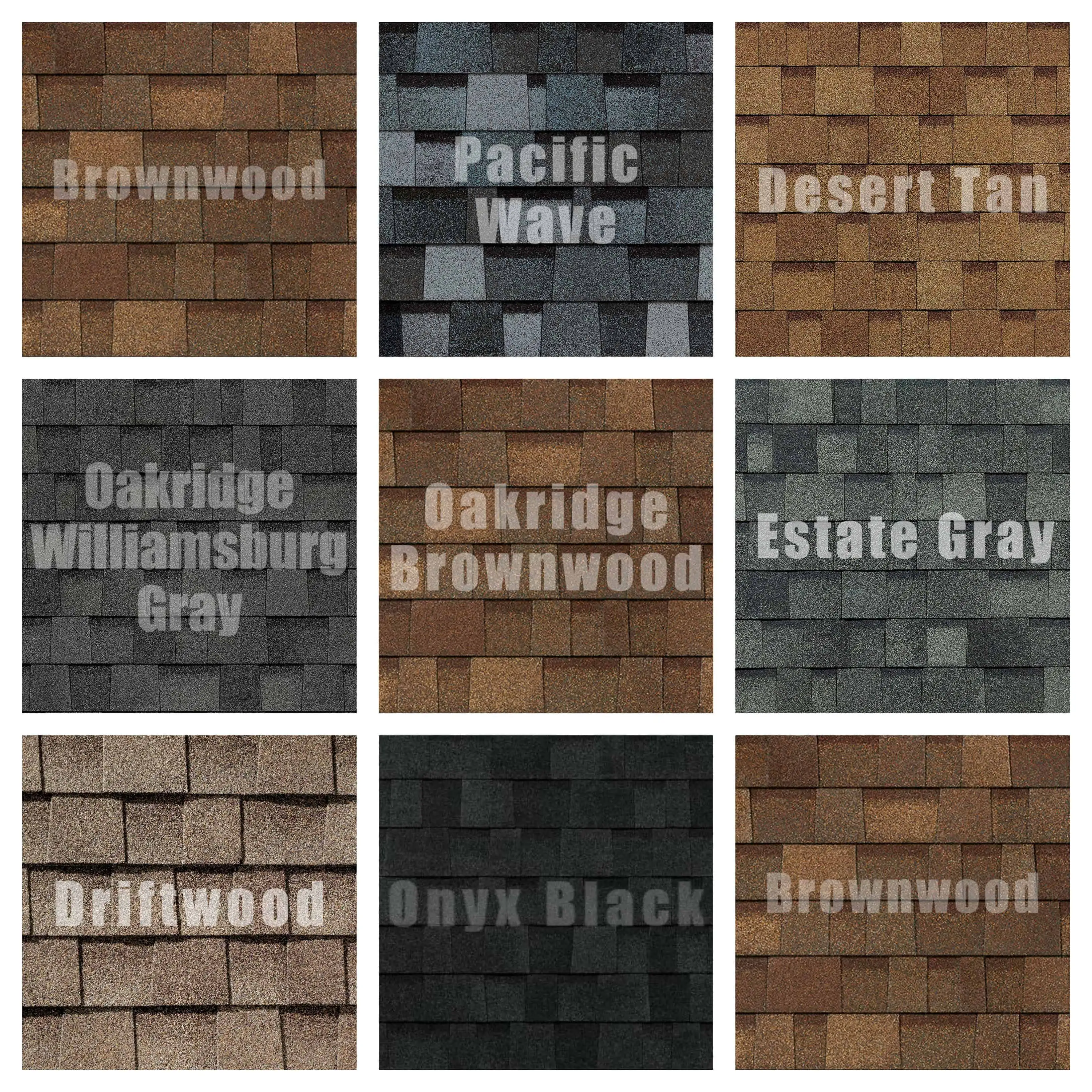 Helpful Tips for Choosing Your Roof Shingle Colors
So, how do you decide which roof colors will work best on your home? That's a great question, and we've got several good tips for helping you to narrow down your available choices.
• Think of your roof as your own personal canvas
Since it covers so much of your home exterior, your roof is a great opportunity for you to express your personal tastes through the dimensional colors and styles available with today's asphalt shingles. So yes, you have a free license to be creative with it and to make it your own!
• Make it match the rest of your house
Are your home exterior colors mostly warm or cool? You'll want to choose a roof color that complements the tone of the rest of your house. For example, if your house features brickwork or other warm elements, you might go with a brown shingle shade. Or, if your home exterior includes blue, green, or gray features, you might want to choose one of the gray roof tones.
• Consider location and geography
Take a look at how other homes in your neighborhood are roofed, and then take that into consideration. Think about your local geography and climate, too. Shingle colors that work well at the beach, for example, may not work quite as well in the Piedmont Triad. And if your house is located in a particularly sunny spot, you'd be wise to choose a lighter-colored shingle which will do a better job of reflecting away sunlight and infrared heat.
• Think energy efficiency, too
Speaking of heat; you probably know that a roof can get pretty hot. (Check out this blog to learn more about roof heat.) Light-colored shingles are naturally more reflective, but color isn't the only thing that matters. Some modern asphalt shingles include reflective granules that are designed to direct more radiation away from your roof. If you're looking for a good, Energy Star-rated shingle product, Skywalker Roofing recommends the Duration Premium COOL Shingle line from Owens Corning.
• Local building codes and HOA stipulations
Some local areas have building codes which actually require cool roofing products to be used for new roof installations or roof replacements. It's a good idea to check with your local building inspector's office to see what regulations may apply. And if you happen to live in an HOA neighborhood, there may very well be certain rules, regulations, and stipulations about which roof colors are permissible. In this case, it's better to ask permission now rather than having to try and seek forgiveness later.
• Visualize the possibilities
You may have found some shingle colors you actually like, but it can be hard to make a pick you're confident about without knowing what it will really look like on your house. Thankfully, you don't have to guess! There are roof visualizer tools available which can give you a pretty good idea of what some chosen shingles would look like installed on your roof. For example, you can click here and scroll down to navigate a visualizer which features several preferred Owens Corning shingle products. This helpful visualizer includes both shingle closeup and full house views. Owens Corning has some good visualizers on their website, as well.
What Are the Most Popular Shingle Colors?
Choosing which color to use for your new roof installation or roof replacement isn't just about comparing yourself with the Joneses. At the same time, it can be helpful to know which shingle colors are most popular among other American homeowners. That can honestly vary quite a bit depending upon which area of the country you're in.
But we can tell you that around the NC Piedmont Triad, NC Piedmont Triangle, and southern VA region, blacks, grays, and browns are very popular. Here are some of the most frequently chosen colors we see at Skywalker Roofing:
Onyx Black
Black Sable
Estate Gray
Quarry Gray
Williamsburg Gray
Slatestone Gray
Brownwood
Driftwood
Teak
Sedona Canyon
Which Shingle Materials Are Best?
That's a great question, too. Honestly, it's more important to settle on the right shingle material first before you even move on to think about color specifics. While there are LOTS of roofing shingle products on the market today, not all are created equal. And in addition to asphalt shingle options, there are also some good, non-asphalt materials that are worth considering:
• Standard Shingles
Also known as regular shingles, classic shingles, or 3-tab asphalt shingles, standard shingles are going to be your cheapest option. But just note that cheaper isn't always better, and that can be especially true when it comes to asphalt shingles. While some other shingle options can cost more, they can last a lot longer, too.
• Architectural Shingles
Architectural shingles also go by many names, including dimensional shingles and laminate shingles. But no matter what you call them, architectural shingles are made to a higher standard. Architectural shingles are thicker, more rugged, and offer more texture. And here's another fact you don't want to miss – architectural shingles can last up to twice as long as standard shingles.
• Wood Shakes
Wood shakes are an attractive alternative to asphalt shingles that many homeowners choose for their texture and real wood look. These are essentially wooden shingles that are cut from real logs, and they're treated for moisture resistance, fire resistance, and pest resistance. And if you're looking for an eco-friendly choice, you'll appreciate the fact that wood shakes are sourced from renewable materials – trees!
• Synthetic Shingles
These are also known as composite roofing, synthetic shingles, or synthetic tiles. The best synthetic shingles are made with virgin polymer resins. Synthetic roofing is engineered to last a long time, needs essentially no maintenance, and doesn't require any shingle granules. Plus, synthetics can be designed to closely mimic the look of natural wood or slate, and they come in a nice range of both color and texture options.
Shingle Roofing Color FAQs
1) What color shingle lasts the longest?
While a light-colored shingle is a better choice than a dark-colored shingle for warmer climates, the color of the shingle doesn't necessarily determine shingle longevity. It's really about which shingle material you choose. And in terms of asphalt shingles, an architectural shingle is a better choice.
2) Does shingle color affect energy efficiency?
It really can. Darker colors tend to absorb more heat, while lighter colors will deflect more UV radiation and discourage heat retention. To that end, it's fair to say that white or light-colored roofs are generally more energy-efficient, especially during the warmer months of the year.
3) What color roof is the coolest?
White is the best color for energy efficiency, thanks to the albedo effect.  With a white roof or a roof with light-colored hues, more of the sun's rays are reflected rather than absorbed.  White and light-colored roofs are known to be more energy-efficient, especially in terms of keeping a home cooler in the summer months.
4) What color roof is most energy-efficient?
As stated above, a white roof or a light-colored roof is more energy-efficient for homes located in the Southeastern U.S. The coolest roofs tend to sport a lighter color, thanks to how the albedo effect works.
5) Does roof color make a difference?
That really depends upon the context of your question. If you're looking for a more energy-efficient roof, then choosing a lighter shade of color can certainly help. But another way to achieve greater energy efficiency is to choose a shingle that includes shingle granules which are designed to reflect away more heat-inducing radiation.
Choose the Right, Local Shingle Roofing Contractor to Serve Your Needs Well – Choose Skywalker in NC and VA!
No matter which shingle colors or materials you end up choosing, it's also incredibly important to partner with the right local professional to handle your roof installation or roof replacement correctly. The Skywalker Roofing team is known for installing the best shingle roofs in NC and VA, and we also install pretty much every other popular roofing material you can think of. One of our roofing specialists would be glad to help you think through the best roofing colors and solutions for your home or business.
We're trusted for both home and commercial roofing across North Carolina and Virginia, and we're proud to serve the NC Piedmont Triad, NC Piedmont Triangle, Mooresville, and Lake Norman areas, and a large portion of southern Virginia, as well.
You can connect with us online, or you reach us faster to schedule your FREE home or business consultation today by simply calling [Phone Number].
Experience the Skywalker difference for yourself!