Metal Roofing Cost
Metal roofing continues to gain popularity for both residential and commercial applications across the country. Metal roofing is now one of the fastest-growing areas in the U.S. roofing industry, and that trend doesn't look to slow down anytime soon. The sound of a metal roof creates a sense of nostalgia for some people, but the attraction to metal isn't just nostalgic. There are many practical reasons to consider putting a durable metal roof on your home or business.



Get Started Now
Book Your Appointment & Get a FREE Estimate
Awards & Achievements
See Why Skywalker Roofing Company Is Different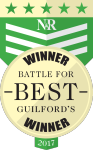 Need A Free Estimate?
Just share your requirements and our experts will provide the best service.
What Are Some Advantages to Metal Roofing?
There are many advantages that go along with selecting metal for your roofing material:
Long-lasting : With quality materials and proper installation, a metal roof can last you a lifetime. If you'd like to have a roof that never needs replacing, metal is certainly a good option to consider.
Directs rain and snow off the roof easily: The smooth, hard texture of metal helps precipitation and debris to slide off your roof more easily than with other roofing materials. It's also hard for moisture to penetrate, so your roof support structure stays dry as well.
Durable: Treated metal doesn't rot or corrode, and it won't host mold, mildew, or moss either. Metal is also unaffected by termites and other pests that can wreak havoc on some materials.
Superior resistance to the elements: Metal roofs have been shown to be effective in resisting strong winds, and metal is essentially fireproof. What about lightning? Though it may seem to sound counterintuitive, the conductivity of metal is an asset in an electrical storm; the metal can help dissipate and deflect the impact of a direct lightning strike.
The sound of metal: No, we don't mean hard rock (not that there's anything wrong with that!). Many folks find the pitter-patter of rain on a metal roof to be soothing. You also have options for quieting a metal roof (if you prefer) through the use of heavier gauge metal, proper insulation, and expert installation.
Pitch-perfect: Unlike some other roofing materials, metal can be used to cover roofs of just about any pitch, from steep roofs to roofs with a very low slope.
Reflects radiation, and more Earth-friendly: Metal reflects solar radiation much better than other roofing materials, which can help keep your home cooler in the summer. Metal roofs are also a perfect base for installing solar panels, if you're ready to become less dependent on the power grid. In addition, the metal components include a percentage of recycled materials, and the metal roofing itself is almost completely recyclable. A metal roof is actually one of the "greenest" roofs you can get!
Which Material to Choose for Your Metal Roof
A metal roof is a good idea, but it's important to understand that not all metals are the same. Which type of metal should you choose for your roof? Some of the best materials include aluminum, copper, and Galvalume steel. Here's some information about each:
Aluminum: Aluminum is lightweight, fairly easy to work with, won't rust, and comes with a cheaper price tag. A downside of aluminum is that it can bend or ding more easily, as aluminum isn't as rugged as other metal options. Aluminum may be fine for your outbuilding, but it doesn't come highly recommended for residential or commercial applications.
Copper: Copper is a beautiful metal that also makes a beautiful metal roof. Copper won't rust, and it has a bright signature color that turns into a nice green patina over time. Copper has been a popular roofing material choice for centuries. One caveat to copper is the fact that it isn't cheap. The seams and joints of a copper roof also have to be custom welded, so some specialty labor is also required for installation.
Galvalume Steel: Galvalume steel is a solid choice for many reasons – it's stronger and more durable than aluminum, and is considerably cheaper than copper. Galvalume steel has become one of the most popular and most recommended roofing options, thanks to its combination of strength, durability, longevity, and affordability.
Metal Roof Cost Considerations
By any measure, installing or replacing any roof is a significant investment, so cost is obviously a concern for many folks when they're considering which roofing material is right for them. And while metal roofing isn't the cheapest option, it isn't necessarily the most expensive, either. As is the case with any roof, the final price will be based on a number of factors, including the square footage of the roof surface, the roof pitch, the number of special roof features present (like chimneys, fans, and vents), and the chosen roofing top layer and support layers.
And while a metal roof may carry a higher price tag than some other material options, you should also balance that against the fact that a well-installed metal roof may be the last roof you'll ever need! You'd almost certainly have to put more than one shingle roof to match the lifespan of a metal roof. Once you look at it that way, one metal roof can actually be cheaper than two (or more) shingle roofs!
Metal Roof Financing
There's more good news, too. If the price tag of metal roof seems prohibitive, you need to understand that there are some good options out there to make a metal roof replacement affordable. If you're interested in exploring some ways to help you afford the quality roof you really need, check out this helpful blog. In addition to seeking financing options from your personal bank or other lender, you should know that the best contractors also provide their own financing options for their customers. Thanks to having exclusive relationships with preferred lenders, a roofing provider like Skywalker Roofing really can help you find a financing payment plan that will work within your budget.
Why Skywalker Is Your Best Local Metal Roofing Solution
There are lots of local roofers who can nail a shingle, but there aren't many local providers with the specialty tools, training, and expertise to handle metal roofing installations with the right care and precision. Skywalker Roofing is the elite metal roofing provider in our region, and we're proud to serve the NC Piedmont Triad, Piedmont Triangle, Charlotte Metro, and Roanoke, VA areas. And not only can we help you by providing a quality standing seam metal roof, we can also provide you with great financing options! We're here to help you meet both your roofing needs AND your budget!
Reach out to us at Skywalker today by calling +1 (336) 627-5596, and let one of our friendly professionals answer your questions about a metal roof. And if you're ready to get started, we can go ahead and schedule your FREE home inspection and personal consultation. We'd be honored to have the opportunity to show you the Skywalker difference!
Check Our Quality Range Of Roof Services
Roofing Services