Standing Seam Metal Roof
Metal roofing has actually been around for many decades, but it's come a long way in recent years. Whenever most folks hear the phrase "metal roofing," they probably still tend to associate that with corrugated metal. But there's more than one way to cover a roof with metal, and standing seam is really a far superior design whenever it comes to choosing a metal roof that's truly built to last you for a lifetime. And nobody in NC or VA installs better lifetime roofs than Skywalker Roofing!



Get Started Now
Book Your Appointment & Get a FREE Estimate
Awards & Achievements
See Why Skywalker Roofing Company Is Different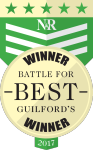 Need A Free Estimate?
Just share your requirements and our experts will provide the best service.
What Goes into a Standing Seam Metal Roof?
The primary feature of a standing seam metal roof is a series of interlocked metal panels. These panels are fastened underneath the ribs to allow panels to glide whenever your roof expands or contracts. But a standing seam metal roof system includes more than just metal panels:
• Roof decking
These are the wooden boards and plywood that are used to make up the base layer of your roof. This is also known as roof sheathing.
• Starter lock strip
Lock strips are what hold – or actually "lock" – your standing seam metal panels to your roof edges, and prevent them from lifting or flapping in the event of a wind burst or other significant storm event.
• Underlayment
Underlayment is a type of vapor barrier or water-resistant material mounted directly to the roof decking or sheathing, which is designed to add an extra layer of protection against weather impacts and moisture infiltration. Three common types of metal roofing underlayment include felt, self-adhering membrane, and synthetic sheet.
• Metal panels
The metal panels themselves go on top of the underlayment, and are the part of your metal roof that you can actually see once installed. In most cases, these panels are made of 24-gauge Galvalume steel or galvanized steel, and are coated with a Kynar 500 finish to protect the panels and also help keep the colors from fading.
• Clips
The clips are the unseen fasteners which are mounted on the underside of the panels, which serve to hold each panel fast to the roof deck.
• Z bar
A Z bar is much what it sounds like. It's a piece of metal flashing formed in the shape of a Z, which is typically 1/8th of an inch taller than the ribs on your standing seam panels.
• Ridge capping
This is the metal roofing trim installed at the peak of a roof, where the two slopes meet.
Variations of Standing Seam Roof Panels
Standing seam panels are available in different shapes and profiles, and can be customized to suit the particular size, design, and slope of your roof. Three of the most common types of standing seam metal panels include snap-lock, mechanical, and batten panels. These panel systems are secured to the roof deck either with concealed clips or clamps, and are seamed together in various fashions.
• Snap-lock panels
Snap-lock panels feature rolled edges with matching male and female legs which snap together, creating an attachment to the roof deck. These panels are easier to install than some other designs, and are typically the most common type used by metal roofing contractors. Snap-lock panels are a reliably low-maintenance solution which work well in many climates.
• Mechanical lock panels
Mechanical lock panels are similar to snap-lock ones, except that the edges on these panels are bent and mechanically seamed together. These panels are more weathertight than snap-lock panels, so they're more suitable for colder climates which receive significant winter precipitation accumulation. The main downside to mechanical lock panels is that they require more labor to install, thus increasing their price point.
• Batten panels
Through roll forming, two legs are placed next to each other with a batten clip drilled to the surface underneath. A metal cap is then placed over the adjacent legs. Batten panels can be either mechanically seamed or snapped on. When mechanically seamed, batten panels are quite weathertight, but snap-on batten panels can present some liabilities.
Common Material Options for Standing Seam Metal Roofs
Standing seam metal roofs can be comprised of several metal material options. Some of the most common include aluminum, copper, and Galvalume steel – here are some more details about each:
• Aluminum
What's good about aluminum? It's lightweight, easy to work with, doesn't rust, comes in many colors, and is the cheapest metal option. The downside is that aluminum is a soft metal which is easier to ding or bend, and simply isn't as rugged as some other metals.
• Copper
Copper is a gorgeous metal with some unique properties. It doesn't rust, and never needs painting. Over time, the natural copper tone will transition to a signature green patina. One of the main downsides with copper is cost – copper isn't cheap. It also requires custom welding of the seams and joints, which means it should only be handled by a trained copper roofing professional.
• Galvalume Steel
Want a metal roof that's stronger and more durable than aluminum, which also offers a range of color options? Galvalume steel is your best choice. A Galvalume roof can last up to twice as long as galvanized steel, and is incredibly strong, durable, and reliable. It looks great on your home, too!
Advantages of a Standing Seam Metal Roof
Standing seam metal roofing has become increasingly popular for residential applications in recent years, and for a good reason. Here are a few specific benefits that come along with choosing a standing seam metal roof from Skywalker Roofing:
• No Exposed Fasteners
Corrugated metal roofing requires fastening with exposed screws. The problem with this approach is that each exposed screw is a potential source for leak development. A standing seam metal roof has no exposed fasteners; rather, the roof is held tight by clips which are fastened to the roof sheathing underneath.
• Ability to Easily Mount Other Roof Features
Want to add a snow retention system, rainwater harvesting system, solar panels, or another external roof feature? With a standing seam metal roof, you can mount such items without having to penetrate the metal or making any holes in your roof's surface – meaning less opportunity for leak development.
• Durable
Metal roofing is durable in itself, but a standing seam metal roof is even more durable. When properly installed, a standing seam roof should last 2-3 times longer than any light gauge, exposed-fastener metal roofing. And with a Kynar coating, your standing seam roof will hold its color much longer, too.
• Wind-Resistant
Standing seam metal roofs provide reliable wind resistance. They've been demonstrated to withstand the equivalent of Category 4 hurricane wind gusts! You'll never get a performance like that out of a shingle roof.
• Engineered for Expanding & Contracting
Metal naturally expands and contracts with temperature variations, but a standing seam metal roof is engineered to take that in stride. The raised metal seams interlock for sure moisture protection, while also being able to float on their clip mounts as they expand and contract.
• Fire-Resistant
Metal is inherently noncombustible, but a standing seam metal roof design is even better suited for preventing any fire danger from penetrating the roof surface. While no roof is truly fireproof, a standing seam metal roof comes pretty close!
Standing Seam vs. Corrugated Metal
There's really no competition between a standing seam metal roof and a corrugated metal roof. Both roof styles are composed of roll-formed metal, but that's about the only thing they have in common. A standing seam system consists of wider, flatter metal panels with vertical legs or ribs on each end. These panels are designed to lock together, and are mounted to the roof by being fastened underneath with hidden clips. No exposed fasteners or seams mean there are fewer opportunities for leaks to develop, and a standing seam system also needs much less maintenance. Standing seam roofs can be customized in many color and profile options, and they're very effective at reflecting solar radiation. Many homeowners also prefer the visual appeal of a standing seam roof, with its smooth panels and sleek lines. Plus, there's the longevity factor – a standing seam roof can easily last you 75 years, or longer!
Standing Seam Metal Roofing vs. Corrugated Metal Panels
The Standing Seam Metal Roof Installation Process
Now that you understand some of the many benefits of having a standing seam metal roof, you'd probably also like to learn how these materials come together through the roof installation process:
1. Remove the old roof
We start by tearing off your old roof down to the decking. The tear-off process is crucial to a successful roof replacement process.
2. Install lock strips at the rakes and eaves
Once the old roof is torn off, the starter lock strips are ready to be installed. The lock strips will be installed at both the eaves (bottom edge of your roof) and rakes (the slanting edge of your roof).
3. Apply the roof underlayment
While there's more than one underlayment option for a standing seam metal roof, a preferred choice is self-adhering, high-heat ice and water shield. This ice and water shield should be installed over the top of the lock strip at the eaves. Otherwise, condensation can run down the fascia board behind the lock strip, eventually leading to roof rot.
4. Install the standing seam metal panels
To begin installing the metal panels, the rib of the first panel will be cut off and hooked onto the lock strip at the rakes. Once the first metal panel is locked into the strips, the rest of the metal panels are attached to each other with clips at the ribs. Every 12 to 24 inches, these clips will be installed on the male (pointing upwards) part of the seam with 2 gimlet screws. Once the clip is installed over the male part, the next panel is snapped onto the clip, which fastens it to the adjacent panel. This process is continued until all panels are fastened together.
5. Install metal flashing Z bar
After the panels are installed, a piece of special metal flashing (called a Z bar) needs to be installed to fill in the space between the ribs of your metal panels and the ridge of your roof. This protects your metal panels from having water infiltrate through the rib gaps at the top of your roof.
6. Lock the ridge capping into the Z bar
Once the Z bars are installed, it's time to lock in your standing seam metal roof to the ridge capping or transition metal. If your panels are coming from a low slope roof to a steeper slope, you'll need transition metal instead of ridge capping. Once the ridge capping or transition metal is installed, your metal panels will be completely locked in, and your new standing seam metal roof is ready to go!
Custom Metal Roof Fabrication & Installation
Standing Seam Metal Roofing Cost
To be fair, metal roofing isn't the cheapest option, and a standing seam metal roof does cost more than some other types of metal roofing. But even so, it's important to understand the overall cost-effectiveness of a standing seam metal roof. Realize that this is a longer-lasting roof investment that requires almost no maintenance. You should also bear in mind what the many advantages of a standing seam metal roof actually are, and weigh that versus a roof system which involves exposed screws or fasteners, the need for increased maintenance, and the ability of other roofing materials to actually keep water out over a long period of time.
The final price of a standing seam metal roof will really depend upon a few key factors, including the square footage of the roof surface to be covered, the pitch of the roof, the number of external features present (e.g. chimneys, fans, vents, etc.), and the type of metal you choose as your substrate.
Skywalker Roofing is the Metal Roofing Expert in NC and VA!
There are probably lots of roofers in your area who can nail a shingle, but there really aren't many local providers with the specialty tools, training, and expertise needed to put up a standing seam metal roof correctly. If you're looking for a trusted local metal roofing contractor who serves both NC and VA, then look no further than Skywalker Roofing!
Got some specific questions about standing seam metal roofing? Ready to get started with your own lifetime roof? Connect with us now by calling +1 (336) 627-5596, and let one of our friendly experts listen to your needs and then answer all of your questions. Let's schedule your FREE home or business inspection and personal consultation today!
Ready to get the last roof you'll ever need? Experience the Skywalker difference for yourself!