Siding Replacement
Are you planning to give your home a face-lift? Siding replacement is an important part of the process when it comes on remodeling the exterior of your home. There are many reasons to consider replacing your siding. Many owners fail to notice the visual signs of deterioration: swollen panels and bowed boards, peeling caulk and peeling paints. But damaged siding not only tarnishes the aesthetic of your exterior; it also creates space for water intrusion, leading to all sorts of other problems.



Get Started Now
Book Your Appointment & Get a FREE Estimate
Awards & Achievements
See Why Skywalker Roofing Company Is Different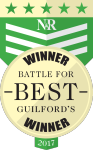 Siding is like a protective coating which shields your home from the sun and the elements. It works as an insulator to keep you comfortable year-round. Here at Skywalker Roofing, we have solutions for all your siding-related needs. Our team of certified and knowledgeable installers improve the exterior of your home with durable, attractive material and skillful craftmanship. We work to provide a wonderful siding replacement experience for our customers.
Types of Siding Replacement
There are a wide variety of choices available for siding replacement. Owners can choose from among the many options according to their needs and preferences. Most products are crafted to mimic a wood look; some of the more popular include vinyl siding, composite boards, and fiber cement:
Vinyl Siding: This is a plastic material which comes in various qualities and thickness. Extremely easy to install, vinyl siding is a highly-durable and long-lasting product. This low-maintenance product comes in a many color choices and variants. A specialized contractor like Skywalker can install these vinyl siding replacements with ample room for insulation behind. We can also treat vinyl siding with insect repellent and rot resistance coatings.
Composite Boards: This product is made from recycled wood pulp (making it eco-friendly), pressed together with glues and adhesives. Composite board comes in various color options, and Skywalker Roofing can pre-finish the material in your choice of color.
Fiber Cement: This material is made with a composition of silica, portland cement, and recycled cardboard. It has many remarkable features like fire-resistance, durability, and hail resistance. Fiber cement comes in many bold color options. It comes pre-finished from the manufacturer, and we can also treat it for insect repellence and rot resistance.
Importance of Siding Replacement
A damaged siding can lead to deterioration of your home's foundation. Sidings protect your home from the beatings of the elements. While siding should enhance the look of your home from the outside, its primary objective is to protect everyone inside. The importance of maintaining and replacing your siding can't be overstated.
Certain siding replacement products leave ample space for appropriate insulation behind. Efficient siding helps the insulation material to perform its task more effectively. There are many signs to look for which indicate that your siding may need replacement:
Signs of damage: Utilization of cheap material, inadequate performance by the original installer, or just the wear-and-tear of time are some of the factors that contribute to problems like missing chunks or material on the edges, chipping or flaking of paints, and other issues. Assigning the replacement task to a certified contractor like Skywalker Roofing will help your siding to last for many years.
Peeling caulk: Don't be fooled as peeling caulk is not just an aesthetic issue. Allowing siding caulk to peel may result in water intrusion, and this can trigger other issues like mold. Let us help!
Peeling paint: Paint acts as a protective coating for your sidings. Allowing siding paint to peel means compromising the security of your sidings. Painted sidings last longer than unpainted sidings. Allow Skywalker Roofing to inspect your siding. We can advise whether it just needs to be painted again, or a whether a replacement is in order.
Why Skywalker Roofing Company is the Best Choice for You
Often, siding professionals deal in just one type of material and want to sell you on that product only. At Skywalker we work with several different siding material options. We start by conducting a comprehensive analysis to determine whether your property needs replacement, and then we provide you an unbiased recommendation and estimate based on the best options for you.
Skywalker Roofing is the highest rated, most dependable roofing company in the Triad. We are a proud recipient of the prestigious Owens Corning Roofing Platinum Award 4 years in a row—all thanks to our company's industry-leading contributions in the field of roofing. This recognition reflects our continued focus on delivering customer-driven and results-oriented approaches.
We are also the proud recipient of the Angie's List Super Service Award 4 years in a row, and have also been named the Best Roofing Contractor in the Triad. After winning these coveted salutes to exemplary customer service, Angie's List founder Angie Hicks commented, "Only a fraction of the roofing companies in the Triad have been able to do it."
Here are a few of our achievements, which speak to our level of expertise and customer service when it comes to your roofing and related needs:
Home Advisor's Top Rated
Triad's Reader's Choice Winner
Shingle Master Certified
Top of the House Certified Contractors
Best of the Best National Award Winner
Home Advisor's Elite Service Award
Need A Free Estimate?
Just share your requirements and our experts will provide the best service.