Rain Gutter Installation
Gutter systems drain the water away from your roof and away from everything your roof covers! Clogged or damaged roof gutters lead to pooling of water on your roof, which over time results in costly roof damage and even more costly water damage to your home's interior. The good news is it doesn't have to be this way!
Skywalker Roofing Company can set you free from the nuisances of a clogged or damaged gutter. There are many things to which a reputable contractor should be paying attention when installing a gutter. Gutter systems that are clogged or improperly installed can lead to roof leaks and damage. Water infiltration can also damage your interior and furnishings, and can eventually weaken your building's infrastructure. Don't take that risk! Skywalker pays attention to the minute details that other roofing contractors tend to miss.
Don't trust an amateur to take care of your roof or its gutters. Go with an expert you can trust; choose Skywalker Roofing for all your gutter installation and repair needs!



Get Started Now
Book Your Appointment & Get a FREE Estimate
Awards & Achievements
See Why Skywalker Roofing Company Is Different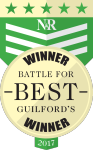 Roof Gutter Installation
We understand that your gutters are an integral part of your roofing system. Skywalker Roofing takes the time to install your roof gutters with care and precision. We're a team of professionals who are dedicated to keeping your roof secure and your home safe from water damage. We install and repair a variety of rain gutter systems in the NC Piedmont Triad, NC Piedmont Triangle, Charlotte Metro, and Roanoke, VA areas.
Gutter and Gutter Guard Installation
How does a roof gutter installation and gutter guard installation save your property from loss? Read on…
Collected moisture on your roof flows down or pools near the foundation. It can cause serious damage to your home. A properly working gutter system prevents these scenarios.
A blocked gutter with debris can't carry water efficiently, which can lead to water damage. Gutter guards are screens that cover your gutters; they serve to prevent debris accumulation and avoid gutter blockage.
That's why you should prioritize timely roof gutter installation. Skywalker Roofing Company ensures that you get the quality roof gutter and gutter guard installation services you need in NC and VA. We don't want you to suffer from the hassles of a damaged gutter.
Roof Gutter Types
The two primary gutter styles we provide for residential roofs are K-style and half-round gutters. As the name implies, half-round gutters resemble half of a tube. The smoothness of half-round gutters allows debris to flow through smoothly.
K-style gutters are more decorative and are available in many different shapes and styles. These gutters can carry more water than half-round gutters, and people usually consider them more attractive; for this reason, K-style gutters are more popular.
Skywalker Roofing also provides full commercial roof gutter services, too!
Gutter Materials
Roof gutters are available in a wide range of materials. Aluminum is most common, as it offers a nice balance between price and quality. Copper is a beautiful material option that works well for homeowners who have the budget for it, but it's usually too expensive to be realistic to use on a commercial structure. Galvalume metal and galvanized steel are both durable, sturdy options that work well for both residential and commercial roofs, preferred by many for their resiliency and longevity. Skywalker is proud to offer custom-made gutters in aluminum, copper, Galvalume metal, and galvanized steel options.
Seamless Gutter Installation
Sectional gutters are smaller lengths of gutter that are linked together, while seamless gutters are just that – seamless – with fewer opportunities for leaks to occur. Seamless gutters really are the best way to go in terms of design effectiveness, and our customers like them for their greater durability, too. Skywalker Roofing has the tools and capabilities to custom-produce seamless gutters for your home or business right on site!
Gutter Installers Near Me
Searching for a local gutter installer? Skywalker Roofing is based in the Piedmont Triad, and provides gutter repair and installation in many areas of NC and VA. Concerned about the cost of gutter installation? Skywalker Roofing is happy to provide some attractive financing options, and we offer affordable maintenance packages, too. Don't expose your home to water damage from a blocked, leaky, or poorly-installed gutter! Contact Skywalker Roofing at ☎ (336) 338-8620 for more information about our gutter services.
Why is Skywalker Roofing Company the best roofer you can choose?
Skywalker Roofing Company consistently rises about the competition, and we're known for our higher standards of safety, workmanship, and customer service. We do the job right the first time, we stand by all of our products of services, and we'll be here whenever you need us. We offer payment options for new installs, provide industry-leading warranties, and also back our roof repair services with a 2-year warranty.
Awards
We're proud to be an Owens Corning Platinum Preferred Contractor, and have earned several awards at both regional and national levels, including:
Home Advisor's Top Rated
Go Triad Reader's Choice Winner
The Triad's Best Roofing Company
Angie's List Super Service Award
Shingle Master Certified
Top of the House Certified Contractors
Best of the Best National Award Winner
Home Advisor's Elite Service Award
Owens Corning Platinum Award for Service Excellence
Owens Corning Community Impact Award
Need A Free Estimate?
Just share your requirements and our experts will provide the best service.