Drywall Repair Contractors
The interior of the home reflects your individuality, and finished walls are a significant contributor to it. Most interior designers use drywall or plasterboard since it acts as a canvas to illustrate their art. But accidents happen, and the impact can damage your drywall and destroy the look of your interior. Moreover, distorted walls may weaken the structure of your building. Damage to these drywalls from a doorknob or a heavy object is a common phenomenon. Furniture rubs can damage your drywall, too.
"Practice makes perfect" is not necessarily true in the case of interior drywall repair. Drywall repair looks easy to perform, but many times it can end up being a big mess. Application of excess amounts of joint compound makes your wall look lumpy and shoddy. Risking to place your drywall installation in the hands of an amateur is something you're likely to regret in the future. Trust Skywalker Roofing for drywall installation that's done right the first time!



Get Started Now
Book Your Appointment & Get a FREE Estimate
Awards & Achievements
See Why Skywalker Roofing Company Is Different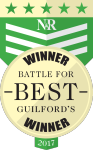 General Interior Drywall Problems
Many times, homeowners can treat drywalls rather carelessly. Still, there are many problems which can crop up on their own:
Plaster Cracks: Due to poor adhesion of plaster or vibration, plaster can lose its key with the base. Visibility of irregular-shaped cracks and unevenness in lath are indications of poor adhesion of plaster. Due to poor quality workmanship, modern plasterboard-lined stud walls suffer from thermal problems and shrinkage at joints. From a minor hairline crack to a long crack, all these problems must be addressed; they won't fix themselves. Allow Skywalker Roofing to inspect your drywalls for better solutions.
Soundproofing Issues: In adjoined houses, sound intrusion or noise pollution from the neighbors is a common problem. It doesn't harm your home, but it might be annoying to your family. This sound intrusion is an outcome of the gap in the party wall or missing party wall, which generally is a construction mistake. Construction of an independent fence of timber stud wood or plasterboard can be a solution of this problem, but you need practiced and knowledgeable drywall experts like Skywalker Roofing for this tricky job.
Damp Interior Walls: Damp patches, mold, and peeling wallpaper are apparent signs of dampening interior walls. Sustained dampness may lead to decay of wooden floors and can also rot your furniture. There are many potential reasons for this dampness, which can be identified by a skilled interior drywall repair provider. Skywalker Roofing can help!
We offer several useful drywall services to our customers based on their needs and situations. From wall and ceiling repair, to creating wall textures, Skywalker Roofing is here to give you quality service and a pleasant interior drywall repair experience. Some of the services that we offer include:
Wall & Ceiling Repair: Suffering from water leakage or dampness? It's not unusual to get water behind your old walls or to see an alarming crack form in a wall or ceiling. We can help with that!
Drywall Installation: We provide the most comprehensive full-service drywall installation and drywall repair in the business. Our team of certified drywall installers will take care of all your needs.
Popcorn Ceiling Removal: Searching for a solution to that ugly coffee-colored stain on your ceiling? When water leaks into a drywall ceiling, it creates multiple problems. Saturation and flaking of texture are the aftermaths of this water leakage. But popcorn ceiling removal is a tricky job. You will need the help of a team of certified popcorn ceiling removers, and Skywalker Roofing is a name you can trust.
Wallpaper Removal: We can remove that ugly, old, nasty-looking wallpaper cleanly and in less time than you could imagine. Skywalker Roofing is an expert wallpaper removal service provider.
Wall Textures: Wall textures are the best alternative to wallpaper. They add aesthetic value to your interior and are longer lasting than wallpapers. Our team of talented artists and skilled certified wall texture specialists aim to meet and exceed your expectations, and are ready to help you create your dream interior.
Why Should You Choose Skywalker Roofing for Your Interior Drywall Repair?
Skywalker Roofing is one of the most respected interior drywall repair providers in all of our service areas, and our customers can expect to receive individualized attention and expert work. We never sacrifice quality for quantity. Skywalker Roofing is an award-winning contractor, and we carry an A+ BBB Rating. We offer roof leak and repair services with lifetime warranties and 50-year non-prorated warranties on labor and materials through the manufacturer. Having served thousands of satisfied customers, we welcome the opportunity to show you why Skywalker Roofing is the trusted name for roof repair and many other services.
Here are a few of our achievements, which speak to our level of expertise and customer service when it comes to your roofing and related needs:
Home Advisor's Top Rated
Triad's Reader's Choice Winner
Shingle Master Certified
Top of the House Certified Contractors
Best of the Best National Award Winner
Home Advisor's Elite Service Award
Need A Free Estimate?
Just share your requirements and our experts will provide the best service.