Commercial Roof Repair
We all know the roof is the most important part of a commercial building. A sound roof protects the rest of the building from water damage and other damaging elements. But when things go wrong with your roof, it can also be one of the most expensive items to fix.
Skywalker Roofing understands this concern, and that's why we offer comprehensive, affordable services for all your commercial roofing maintenance and repair. Whether it's a leaky roof, clogged gutters, or other roofing problems, Skywalker Roofing is your right destination.
Our skilled roof repair contractors are skilled and experienced in commercial roof repair. Contact Skywalker Roofing at ☎ +1 (336) 627-5596 to get your roof fixed fast; our roofing experts will go the extra mile to make sure your roof is done right!



Get Started Now
Book Your Appointment & Get a FREE Estimate
Awards & Achievements
See Why Skywalker Roofing Company Is Different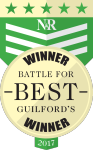 Causes of Roof Damage for Commercial Buildings
Your home is not the only structure that needs roof maintenance. Just like the roof of your home, the roof on your commercial building can get damaged too. So why not contact a certified roofing contractor to handle your commercial building roof needs?
Faulty roof designs, flashing issues, wind up-lift, and just plain old roofs are some of the most obvious causes of roof damage. Timely roof maintenance can protect the value of your asset. Whether you are a small business owner or a large industry, Skywalker Roofing's skilled commercial roof contractors are always available to serve your roofing needs. You can rest easy after choosing us — we are one of the top-rated commercial and residential roofing companies in NC and VA!
Skywalker Roofing's Commercial Roof Inspection Service
Many times, we don't pay attention to what we think are minor roofing problems with our commercial building. But if we do nothing, these problems will only grow over time and become increasingly hard to handle. That is why roofing experts recommend getting your roof inspected regularly by a certified roofing contractor.
Most roofing companies will just say that you need an entire roof replacement, when in fact a skilled repair may be all you need. This is why more and more business owners are choosing Skywalker Roofing to inspect and maintain their commercial roofs!
Our professionals use digital video to show the commercial building owner what is discovered during the inspection, and why repairs may be needed. We will also give you a fair estimate of the cost needed to repair your commercial building.
And how about this? We provide our customers a two-year warranty for any repairs we conduct. If you're ready to get your roof checked out, feel free to call our experts at ☎ +1 (336) 627-5596.
Skywalker Roofing's Emergency Roof Repair Services
The roof over your head is there to keep the interior of your building safe and dry. And as you know, the weather in North Carolina and Virginia can change fast! It sometimes brings heavy rain, damaging wind, and even hail. We know that dealing with severe roof damage in a situation like this is frustrating. That's why Skywalker Roofing is happy to provide emergency roof repair services in your area.
If you're facing severe commercial roof damage, call Skywalker Roofing at ☎ +1 (336) 627-5596. Our roofing experts will walk you through the appropriate next steps on the phone.
If your repair is an emergency, we'll arrange for a roofing team to come to you. Our commercial roof repair contractors will quickly assess the damage and begin the repair as soon as possible.
SAFETY NOTE: We can only repair your roof when it's safe to be on site. We know you don't want to put it off, but for the safety of our workers we must wait until high winds, heavy rain, and lightning have cleared the area before we can come to you. Rest assured that our roofers will get your roof repaired just as soon as it's safe for us to be on site.
Why Contact Skywalker Roofing for Commercial Roof Repair services?
Skywalker Roofing is a name you can trust. Integrity matters to us. We like to earn and develop the trust of our clients. We are professionals, and we use the best labor practices to be able to offer our clients remarkable value through our work and through our relationship with you.
We can do any job, from commercial roof repair all the way to full roof installation or replacement. But don't just take our word for it, ask Owens Corning! Skywalker Roofing is a Platinum Preferred Contractor for Owens Corning, and we've been an Owens Corning Platinum Preferred Contractor Warranties National Award Winner for three years in a row!
We offer payment options and product warranties for new installations, as well as our 2-year warranty for any roof repairs that we provide.
Here are a few more of our achievements, which speak to our level of expertise and customer service when it comes to your roofing needs: 
Home Advisor's Top Rated
Triad's Reader's Choice Winner
Shingle Master Certified
Top of the House Certified Contractors
Best of the Best National Award Winner
Home Advisor's Elite Service Award
Need A Free Estimate?
Just share your requirements and our experts will provide the best service.