Why Has Metal Roofing Grown So Much in Popularity?
Shingles are still a common roofing material used across the country, but more and more North Carolinians & Virginians are now choosing the many benefits of having a metal roof installed. What makes metal so great? For starters, it provides you with a durable roof that can literally last a lifetime. Metal roofing is incredibly durable, and requires much less regular maintenance than a shingle roof. Ready to learn what else makes metal roofing NC and metal roofing VA a popular choice? Keep reading!
At Skywalker Roofing Company, we ensure to deliver the finest roofing services to our customers in Greensboro, NC; from metal roof installation to asphalt, we provide different roofing options for Greensboro residents. We always ensure that our customers are satisfied with our roofing services and that their roofing needs are met. We also offer a variety of other services, such as gutter installation and repair, siding installation, and more. Skywalker Roofing is the best roofing company in Greensboro, NC, and we look forward to serving you!
What Makes a Metal Roof Better?
If you're used to having an asphalt shingle roof, or have perhaps had a roof covered with another type of material, you may be wondering what makes a metal roof better. While each roofing material has its own set of unique pros and cons, there really is a lot to like about a metal roof. Here are a few features and benefits worth noting:
• Impressive longevity
Let's start here, since longevity is one of the key reasons that people are attracted to a metal roof. A well-installed roof that's fabricated with quality metal products is truly a lifetime roof solution. The metal substrate itself really shouldn't wear out, as long as it's covered with a good paint/protection system. The protective cover may need to be refinished after a few decades, but the metal itself should outlast you. Most problems that arise with metal roofs are often due to improper installation by inferior roofing contractors, and aren't a result of the metal roofing product itself.
• An eco-friendly roofing solution
Metal isn't petroleum-based, so it has less of a carbon impact than roofing products like asphalt shingles. Metal roofs also include a minimum percentage of recycled materials, and the metal roofing itself is essentially 100% recyclable. For these reasons, metal is honestly one of the most eco-friendly options when it comes to choosing an effective roofing material.
• Better energy efficiency
You may not think of metal as being an energy-efficient material since it's a natural conductor of heat. However, if you use the proper underlayment and insulation, a metal roof really can help you to conserve energy year-round. And metal's naturally reflective properties mean that your roof actually stays cooler in the summer months, helping you to save on air conditioning costs. Plus, a metal roof makes a great mounting surface for both solar panels and rainwater harvesting systems.
• Lots of color & style options
Metal roofs carry a distinctive appearance which boosts the curb appeal of both homes and businesses. Both standing seam roofs and corrugated metal roofs deliver their own unique style factors, too. Got a particular color in mind? Kynar resin-based coatings can be applied in a wide range of attractive tones.
• Lightweight metal roofing means less stress on your roof's infrastructure
Metal is more lightweight than most other roofing materials, meaning it can actually be easier to work with and faster to install in the hands of a trained professional. Lighter materials also mean less stress on your roof's infrastructure, which also helps to boost its overall longevity.
• Extremely effective at shedding precipitation & debris
The design and texture of a metal roof – and a standing seam metal roofing in particular – is such that rain, snow, and debris are directed off your roof much more effectively than with some other roofing material options. And a well-installed metal roof won't give rain or snow a chance to penetrate either, so any leak development opportunities are greatly minimized.
• Reliable resistance to severe weather
While a metal roof may be lightweight, it's still incredibly wind-resistant. A standing seam metal roof is rated to withstand hurricane-force winds without any issues. Metal is better at dissipating the effects of a direct lightning strike, too. In addition, metal is naturally non-combustible, so it provides better fire protection than some other roofing materials.
• Fewer worries with moss & mildew
Roof systems which retain standing water can develop leaks, and are also favorable breeding grounds for mold, mildew, or moss. A metal roof installed at a proper pitch won't retain water, and the metal itself is also a poor host for any mold, mildew, or moss growth.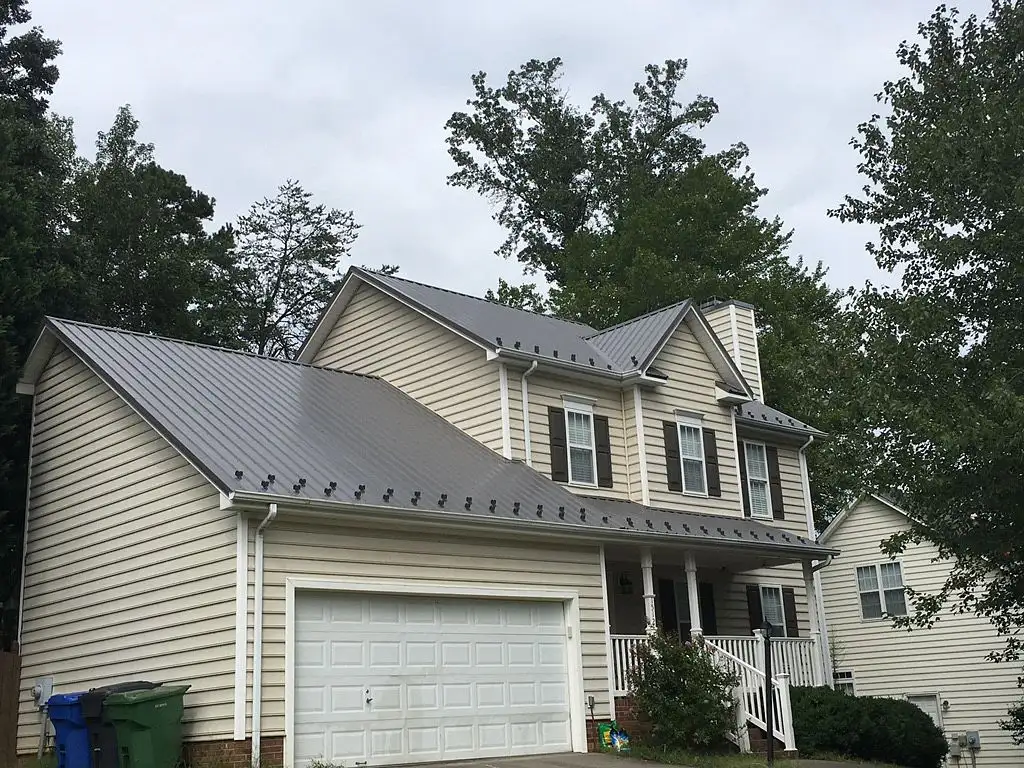 What About Metal Roofing Prices?
Let's be clear – metal roofing isn't the cheapest option. But one of the most important things to understand about metal roofing is its cost-effectiveness. Homeowners and business owners who have chosen to install a metal roof consistently report that longevity is the number one reason they went with metal. For the sake of comparison, an asphalt shingle roof will typically need to be replaced 2-4 times before you'll ever have to think about replacing a metal roof. So over the lifespan of your roof, metal can actually be cheaper than shingles!
We think one of our satisfied customers really put it best when he talked about why he chose to partner with Skywalker Roofing for a roof replacement solution: "I am way too poor to buy cheap. I can't afford to do this twice, so I need this roof replacement done right the first time!"
Looking for the Right Local Professional to Perform Your Metal Roof Installation in NC or VA?
Selecting the right roofing material is important, but just choosing the best materials isn't enough – your roof needs to be installed properly if you really want it to last! Looking for the right local roofing professional to provide an expert level of metal roofing workmanship? If you're located in North Carolina or Virginia, then look no further than Skywalker Roofing.
Skywalker is the premier roofing provider serving the NC Piedmont Triad, Piedmont Triangle, Lake Norman area, and Roanoke/Southern VA region. But don't just take our word for it. Check out the many 5-star reviews our satisfied customers have left for us on Google, Facebook, BBB, and Guild Quality.
Reach out to us today by calling +1 (336) 627-5596. We'll be happy to listen to your needs, and we'll take the time to answer all of your metal roofing questions. Let's schedule your FREE home or business roof inspection and personal consultation now!
Ready to get the last roof you'll ever need? Let us show you the Skywalker difference!