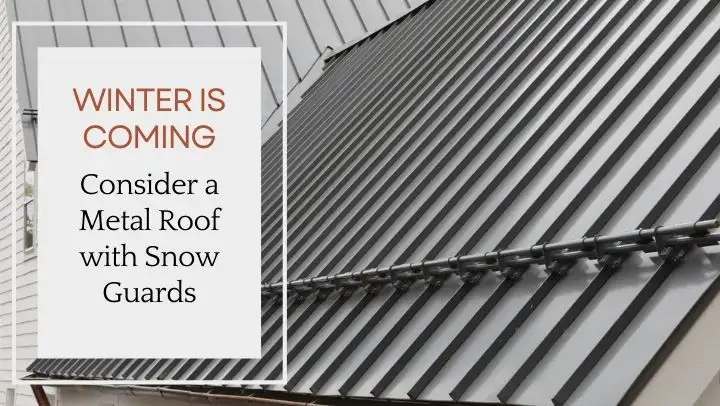 Which Roofing Solution is Best for Your Home? It's Hard to Beat Metal!
If it's time for a roof replacement for your home or business, you'd be hard-pressed to choose a better roofing material than metal. Sure, a shingle roof might be cheaper in the short run, but a shingle roof will also need to be replaced much sooner. It's actually more cost-effective to choose a roof solution you'll never have to replace again; a well-installed metal roof can easily last as long as two or three shingle roofs!
Metal Roofing is a Smart Choice
What's better about a metal roof? Plenty. Consider just a few benefits of choosing metal for your roof:
• Built for a lifetime
The metal substrate itself should last you a lifetime, as long as it's covered with a quality paint/protection system. That's something you simply can't say about shingles. A well-installed metal roof can be the last roof you'll ever need!
• Less stress on your roof's infrastructure
Metal roofs are typically much lighter than roofs covered with other materials. The advantage? Metal roofs put less stress on your building's infrastructure, thus helping to boost its overall longevity as well.
• Better at shedding rain and snow
Metal roofs are sheer and smooth, so rain and snow both glide off with greater ease than with other comparable roofing materials. Metal roofing also offers little opportunity for moisture to penetrate, so the chances of roof leak development are also minimized.
• Wind-, lightning-, fire-, and mold-resistant
Metal roofs have been demonstrated to sustain hurricane-force winds that shingles simply can't endure. Metal roofing is much more effective at dissipating the effects of a lightning strike too. In addition, metal isn't naturally combustible, so it provides more reliable fire protection. Metal also happens to be an unfavorable surface for the development of mold, mildew, or moss.
• No matter your roof pitch, metal works
Some roofing materials can only be used for certain roof pitches, but metal works just as well on steep-pitched roofs as it does for roofs with very little pitch at all. As far as roof angle goes, no other roofing material is as flexible as metal.
• Eco-friendly and more energy-efficient
Let's start with the eco-friendliness of the material. Metal isn't petroleum-based, so it doesn't deplete our fossil fuel reserves. Plus, all metal roofs contain at least a percentage of recycled materials – steel is the most recycled material per ton on Earth. In addition, the metal roofing produced is essentially 100% recyclable. But what about home energy efficiency? Metal roofs are perfect for mounting solar panels or rainwater harvesting systems, and metal's natural reflectivity means a metal roof can help reduce air conditioning costs during the warmer months.
But What About Winter Weather Protection?
If you live in North Carolina or Virginia, you may not tend to think of snow as much of a roof threat – but it certainly can be. The problem isn't necessarily with multiple feet of snow accumulating on your roof in the Southeast; it's more an issue of potential "roof avalanches" spilling off your unprotected metal roof. If you aren't familiar with the term, a roof avalanche describes the sudden release of accumulated snow and ice all at once. This can result in damage to your gutters, lower roof area, skylights & other roof features, and any people or objects who may be located underneath your roof whenever all that frozen precipitation decides to fall off at once.
How Do Snow Guards Work?
Snow guards are devices mounted to metal rooftops which help snow and ice to melt and drift off your metal roof in small amounts, rather than all at once. Without snow guards, a roof avalanche is a real possibility with any significant winter storm event. The fact of the matter is that sliding ice and snow can result in real damage to both property and people, and that's simply a risk not worth taking. Snow guards serve to protect both your building and your property from the potential threat of a roof avalanche.
Snow Guard System Options with Skywalker Roofing
Looking for the best snow guard options for your new metal roof in NC or VA? Skywalker Roofing is a preferred roofing contractor partner of Levi's Building Components, providing effective snow protection for both standing seam and exposed fastener metal roofs:
• Snow Defender 6500
The patented Snow Defender® 6500 is designed for standing seam roofs, and is the snow guard of choice for Skywalker's custom-made standing seam roofs. The strong 304 stainless design and patented non-piercing clamping attachment provides for effective snow retention on standing seam profiles, and is available in over 40 colors so you can create whatever look you want for your metal roof.
• Snow Defender 4500
The Snow Defender® 4500 is the snow guard that delivers long-lasting protection against melting snow for metal roofs constructed of exposed fastener panels. The EPDM rubber seal makes installation quick and easy, and the mounting screws assure these snow guards will stay on your roof. These snow guards are also available in 40+ colors, to match whatever aesthetic you desire for your roof.
Why Skywalker is Your Best Metal Roofing Partner in NC & VA
It's important to choose the right roofing material, but it's just as important to select the right local roofing contractor who can give you the best quality of installation workmanship. And in North Carolina and Virginia, nobody does metal roofing better than Skywalker Roofing! Metal roof installation is best left to the pros, and the Skywalker team has all the tools, experience, and know-how to fabricate and install your custom metal roof the right way.
Simply put, nobody beats our level of roof workmanship – but we don't stop there. The customer experience and customer service we provide are second to none, too! Reach out to us at +1 (336) 627-5596, and let one of our friendly roofing experts answer all your questions. We'll be happy to schedule a FREE home inspection and personal consultation, too. Let's get started on providing you with the last roof you'll ever need!