Winter Has Finally Arrived in North Carolina and Virginia
After a long, pleasant summer which seemed to bleed over into fall this year, shorter days and cooler temperatures have finally arrived in North Carolina and Virginia. The winter solstice occurs on December 21, and that means winter weather is sure to follow. The Farmer's Almanac isn't predicting record snowfall totals for the 2021-2022 winter, but we're still likely to receive our fair share of freezing temperatures and wintry precipitation.
Is your roof ready for winter? If you've taken a look at your roof and realized that you're really due for a new roof, which type of roof replacement should you choose? If you're looking for the roofing material with the best winterproofing potential, shingles really aren't your best option.
At Skywalker Roofing Company, we work 24/7 in order to provide you with top-notch roofing services to our customers in Greensboro, NC. We understand that your roof is one of the most important parts of your home, and we want to help you keep it in top condition. That's why we offer a variety of roofing services to our customers, including roof repair, roof replacement, and even emergency roofing services. We also offer a variety of financing options to help you get the roofing services you need when you need them. So if you're in need of a roofing company in Greensboro, NC, call us today at +1 (336) 627-5596 to schedule a free consultation.
Is a Metal Roof Better for Winter Weather?
Winter weather presents its own set of unique challenges, and can place undue strain on many roofing systems. Your aging or damaged roof really may not be up to the task. But one material that performs incredibly well in winter conditions is metal roofing. Surprised? You shouldn't be. Here are a few reasons why a well-installed metal roof is a better choice for winter weather protection:
• Better at shedding snow
A primary reason that metal roofs come highly recommended by roofing experts for winter weather protection is because metal sheds snow very efficiently. In fact, metal roofing is known to shed snow faster and more effectively than any other roofing material. Thanks to metal's smooth surface and conductive properties, snow simply has a much harder time finding traction on your roof.
• Engineered for ice dam protection
Are sliding ice and roof avalanches a concern with metal roofing, though? Not if you have the right snow guards! As long as you choose the proper snow guards for your metal roof and have them installed correctly, you shouldn't have to worry about potential roof avalanche or ice dam impacts.
• More reliable wind protection
Whenever the winter winds are howling, you need a reliable roof to protect you. Strong winds can peel off shingles, but a modern metal roof is built to stay put. Standing seam metal roofs are rated for hurricane-force gusts, so they provide much better peace of mind during those times when a strong winter front is rolling in.
• Better home insulation value in the winter
Since metal is a natural conductor, you might think that a metal roof wouldn't make a positive contribution towards keeping your home warm in the winter. But it actually does! Studies show that the indoor air temperature beneath a metal roof stays 20° warmer on average than the interior air underneath an asphalt shingle roof on a cold winter's day.
• Easier to install in the winter
Many popular roofing materials require dry and sunny weather conditions for proper installation. Because that's true, you may assume that a roof replacement can't be scheduled during the colder months. But it can! A metal roof can even be installed in the dead of winter, barring a snowstorm of other significant weather events. If you really need a roof replacement, there's no need to have to wait until spring – choose metal, and you can get your new roof now!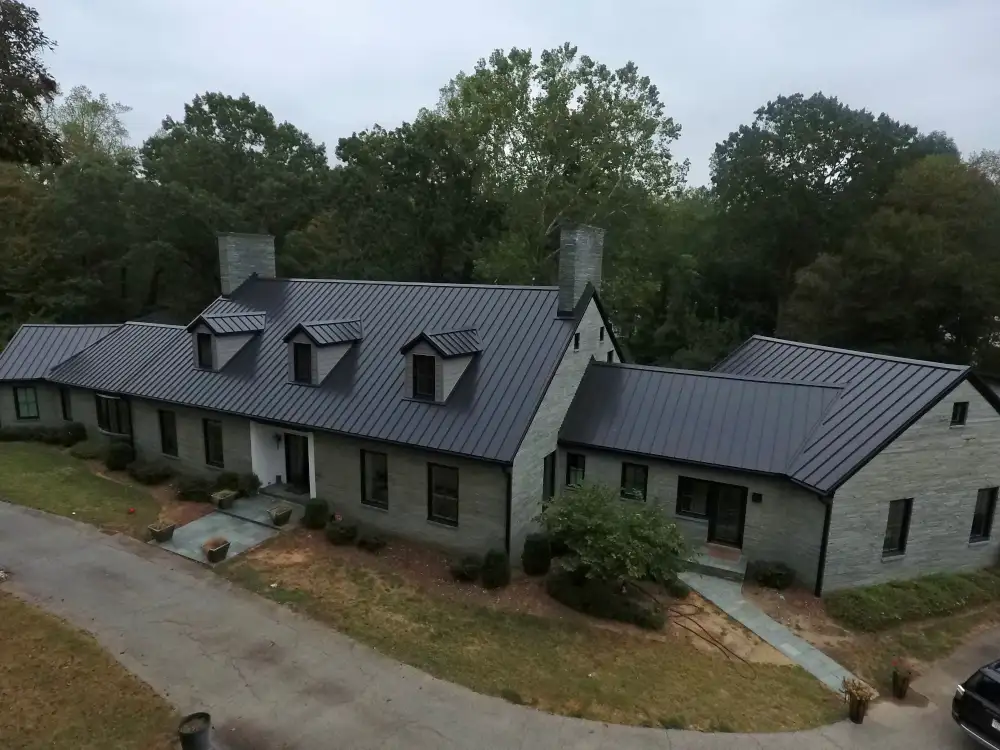 What Makes a Metal Roof Better in General?
Apart from the clear advantages a metal roof offers in the winter, there are plenty of other things to like about metal roofing in general. Here are a few features and benefits which set a metal roof apart.
• A true lifetime roof
Longevity is one of the most attractive features about a metal roof. The metal substrate itself should outlast you, as long as it's protected with Kynar 500 or a comparable resin-based coating. You really can't say the same about shingles or many other roofing materials. A well-installed metal roof should be the last roof you'll ever need!
• Works on practically any roof pitch
Some roofing materials are only suitable for roofs of a certain pitch, but metal doesn't share those limitations. Metal works just as well on a steep roof as it does on a roof with very little pitch at all. In terms of roof slope applicability, there's no more versatile roofing material than metal.
• Reliable performance against an array of threats
Not only is a metal roof reliably wind-resistant, it's also fire-resistant and lightning-resistant. Standing seam metal roofs don't harbor standing water, and really don't provide any opportunity for moisture to penetrate, either. In addition, metal is a poor host for mold, mildew, or moss growth.
• Better year-round energy efficiency
A metal roof doesn't just keep your home warmer in the winter. Metal's natural reflectivity means your roof will absorb less radiation from the sun, helping your home to stay cooler during in the summer months. If you're looking to save on your heating & air costs, a metal roof is a smart investment.
• An eco-friendly roofing solution
A metal roof is a green investment, too. It isn't petroleum-based, so it has less carbon impact than shingles or other roofing products. Metal roofs are 100% recyclable, and also contain a minimum percentage of recycled metal themselves. Interested in installing solar panels or a rainwater harvesting system? Metal makes a perfect mounting surface for these Earth-friendly features.
Metal Roofing Cost
To be clear, metal roofing isn't cheap. At the same, it really is a smart investment to make. A metal roof will add to your home's value, and can also boost the resale price of your home, should you ever decide to put it on the market. Metal's longevity makes it a more cost-effective roofing solution, too. You'd have to replace an asphalt shingle roof multiple times before ever having to think about replacing a metal roof!
Need a Metal Roofing Pro in NC or VA? Skywalker is The Clear Choice.
If you're located in North Carolina or Virginia and are looking for the best local metal roofing contractor, then look no further than Skywalker Roofing! We're proud to serve the NC Piedmont Triad, Piedmont Triangle, Lake Norman area, and Roanoke/Southern VA region. Take a look at all the 5-star reviews our customers leave for us on Google, Facebook, BBB, and Guild Quality, and then experience the Skywalker difference for yourself!
Give us a call at +1 (336) 627-5596 to schedule your FREE home or business roof inspection and personal consultation today! Our team is here to provide the last roof you'll ever need!