Having the Right Roof Makes a Big Difference
It could be argued that having a quality roof in place is every bit as important as having a quality foundation for your home or business structure. Here are just a few reasons why:
1. Protection & Support
A roof is more than just an essential first line of defense in protecting you from the sun, wind, precipitation, and other threats. Your roof also ties into the walls themselves, and adds strength & structural support to the entire building.
2. Energy-Efficient
A structurally sound roof delivers reliable protection & support, but it can do more than that. Quality roofing material coupled with sufficient insulation and proper ventilation also makes your house more energy-efficient, thus helping to lower your heating & air costs.
3. Added Curb Appeal & Value
A sagging roof – or a roof covered in algae & moss – inevitably detracts from your home's curb appeal. But a well-installed roof covered with quality materials will serve to enhance curb appeal. Plus, a roof that's in good shape will benefit your home's valuation and help to raise your selling price (should you ever look to sell).
What Classifies as a Roof Emergency?
Obviously, a tornado, hurricane, hailstorm, or other extreme weather events would clearly count as a roof emergency. But other, less spectacular root issues can result in some serious roof problems, too.
1. Microbursts, Cold Fronts, & Strong Winds
Microbursts and straight-line winds aren't tornadoes, but these results of a thunderstorm downdraft can produce very real damage in a short amount of time. Even the passage of a cold front with no embedded storms can sometimes generate damaging winds.
2. Snowpack & Ice Dams
While severe winter storms aren't a constant threat to most of the Southeast, frozen precipitation can and does still fall here. And whenever a roof faces prolonged freezing weather, snowpack and ice dams can cause leaks and water damage.
3. Roof Leaks
Speaking of leaks, even a small roof leak can quickly become a real emergency. A roof leak can produce internal water damage, mold, and mildew growth. And depending on the leak's location, it can result in building foundation damage, too.
4. Lack of Maintenance
At a bare minimum, you should inspect your roof thoroughly at least once per year. It's an even better idea to give your roof a good look-over after every change of seasons. Failure to do so can result in small roof issues turning into big problems.
5. Poor Installation Workmanship
Most roofing professionals agree that the main cause of premature roof failure isn't a problem with the roofing materials themselves. It's often a product of the roof not being properly installed in the first place! That's why it's incredibly important to partner with the right local roofing professional to begin with.
How to Anticipate & Respond When Roof Emergencies Occur
Roofing emergencies come in many shapes and forms. Many of these can be anticipated ahead of time, but some can still occur with very little warning. How can you prepare for such emergencies? Well, we're glad you asked!
• Purchase some good homeowner's insurance
If you're currently paying a mortgage on your home, then your lender almost certainly requires you to have some sort of homeowner's insurance in place. But even if your home loan is paid off, it's still a good idea to keep a homeowner's insurance policy in place. Most home repair emergencies – including any storm-caused roof damage – are covered by homeowner's insurance. The key exceptions are flood damage and earthquake damage; these require special insurance coverage. Get with your insurance provider to make sure you understand what your current coverage actually includes! Then you can adjust your policy or add extra coverage as needed.
 • Set aside an emergency fund
Financial gurus like Dave Ramsey advise that, in addition to setting money aside to help pay down debt, you really should create a separate "emergency fund" to cover any unexpected calamities that may occur. How much you choose to set aside is up to you, but Ramsey recommends a starter amount of $1,000. As Ramsey puts it, the reason to have an emergency fund is simple: You really don't know what's going to happen. You'll be so thankful you have that money set aside should you suddenly lose your job, or should some other unexpected emergency like a leaky roof occurs. Don't be caught off guard!
• Assess & repair any immediate issues
Start by taking the time to assess your current roof condition thoroughly. If you don't feel confident conducting such a roof inspection yourself, then bring in some roofing professionals to help. Make a visual assessment of your roof, and be sure to note any damaged or missing shingles, any areas where water might pool or leak, and any areas where your gutters have pulled away from the roof. Make sure to inspect inside your home too – look for any ceiling discoloration, bubbling, or any obvious signs of leaks. Then make sure to repair any problem areas you may find.
• Choose a reputable roofer to partner with now
You may not need any significant roof repairs right now – and hopefully, you won't! But whenever the need for emergency roof repair or replacement arises, this can be a particularly stressful and even confusing time. The heat of the moment is really not the best time to make any important, long-lasting decisions. For this reason, the best time to find the right local roofing contractor to partner with is before you actually need them! And to that end, the best local roofer serving both NC & VA is Skywalker Roofing!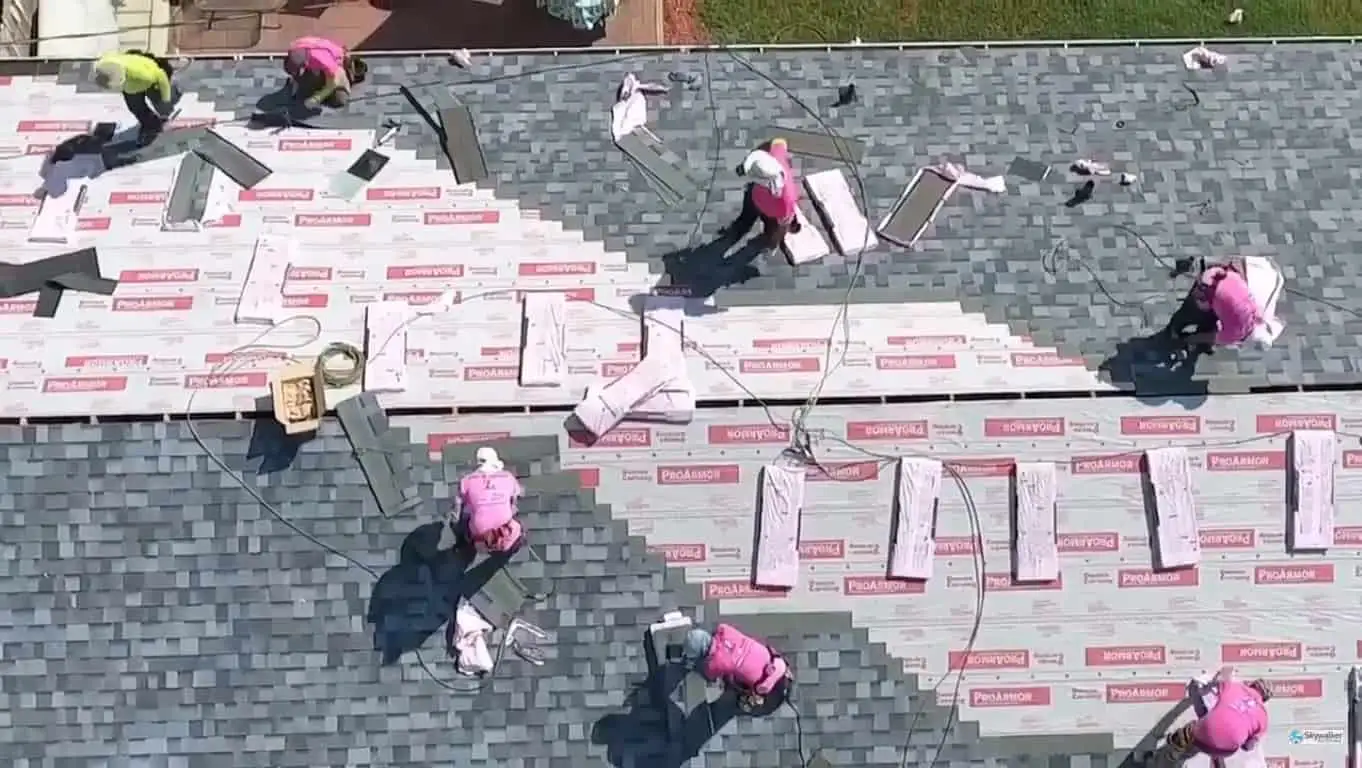 Choose Skywalker Roofing for All Your Roofing Needs in NC & VA
If your roof has become damaged or has simply endured many years of service, then one of the best things you can do to prepare for potential roof threats is to partner with the team at Skywalker Roofing! Skywalker offers a complete selection of preferred roof installation & roof repair services, and they work with all popular materials like shingles, metal, wood shakes, tile, slate, tile, composites, synthetics, and more.
And while choosing the best roofing materials is important, it's also crucial to find the right local roofing professional who can serve your needs while also earning your trust at the same time. And when it comes to roofing, no name is more trusted across North Carolina and southwestern Virginia than Skywalker Roofing! Skywalker Roofing is proud to serve the NC Piedmont Triad, NC Piedmont Triangle, Lake Norman area, and greater Roanoke, VA region. Our team possesses the needed tools, training, and experience to take care of any roofing solution, large or small. And our quality of workmanship speaks for itself, as seen in our glowing customer reviews on Guild Quality.
Reach out to us today by calling ☎ +1 (336) 627-5596, and let one of our friendly experts answer whatever questions you may have. We'll be glad to schedule a FREE initial roof inspection and personal consultation, too. Connect with us today; we'd be honored to help you experience the Skywalker Roofing difference for yourself!