Can You Really Have a Fireproof Roof?
The roof over your head serves many important functions. It's your home or business structure's first line of defense against sun, wind, precipitation, and other natural threats. Your roof also plays a significant role in maintaining the integrity of your building's infrastructure as a whole. And as an added bonus, an aesthetically-pleasing roof serves to offer a nice boost to the value of your curb appeal.
But is there really such a thing as a fireproof roof? Unfortunately not. Even roofing materials that aren't easily flammable can still melt or warp in the face of a raging fire's extreme heat.
Fireproof vs. Fire-Resistant
While a roof that's completely fireproof may not be a realistic possibility, it is possible to have a roof that's reliably fire-resistant. There are several types of fire-resistant roofing materials available which can provide greater fire protection for your home, your property, and your most precious asset – the people that your roof covers! Now that we've established there's really no such thing as a fireproof roof, let's uncover more about what makes for a truly fire-resistant roof.
Roof Fire Rating Standards and Basics
When we speak about roof fire-resistance, what we mean is how effective a roofing material is in terms of fire prevention from the outside of the roof structure. Interior fire hazards are another matter altogether, and potentially-combustible materials inside your building are evaluated by a different set of standards. Here's a look at how roof fire ratings work:
1. Class A Roofing
Class A roofs are the most effective against severe fire exposure. They last the longest before igniting, and are really the preferred choice for any home. Some Class A-rated standalone coverings include metal, clay tiles, slate, asphalt glass fiber composition shingles, and concrete tiles.
2. Class B Roofing
Class B roofs are known to be effective in the face of moderate fire exposure. To be rated Class B, the exterior roofing must last at least one hour before igniting. Two common examples of roofing materials which fall under the Class B rating are pressure-treated shakes and shingles.
3. Class C Roofing
Class C roofing is only rated for light fire protection. Roofing with a Class C rating is only required to last 20 minutes before igniting. Class C materials are not recommended for any application where fire-resistance is a potential concern. Some common Class C roofing materials include untreated wood shakes, shingles, plywood, and particleboard.
4. Unrated Roofing
If the roofing material in question is unrated, this means it's not even fire-resistant enough to qualify for a Class C rating. Any unrated roofing material should simply be avoided; it's simply not worth the risk! In fact, most local building codes won't allow for any type of unrated roofing material.
A Survey of Some Good, Fire-Resistant Roofing Materials
Thankfully, there are plenty of roof sheathing materials that are known to provide Class A fire protection. Here are just a few of the options available to you:
• Slate
Slate is a stone material which combines beauty, durability, and natural fire resistance. Slate is also very slow to weather or break down, and can make for an incredibly long-lasting roof. There are a few drawbacks to slate, though. It's incredibly heavy, it's expensive, and it also requires some specialized knowledge and equipment for effective installation.
• Clay Tile
Clay tiles are also produced with natural, non-combustible materials, and clay isn't as heavy as slate. Rounded clay tiles are popular for Spanish-style architecture, as well as for other buildings which carry a Southwestern or mission theme. In order to maintain Class A fire protection however, it's very important that clay tile be installed correctly. Any gaps that remain between the tile and the underlayment can allow fire embers to penetrate.
• Concrete Tile
Concrete is another great material to consider if you like the look of tile. Concrete tiles are reliably weather-resistant, they're non-combustible, and they're often more cost-effective to use as compared with other tile materials. In addition, concrete tiles come in a wide range of colors, finishes, and shapes. With concrete, you have more options for customization than you do with slate or clay.
• Asphalt Shingles
Surprised to see asphalt shingles on the list? While it's true that asphalt is itself a petroleum-based product, that doesn't mean that shingles can't be fire-resistant. Fiberglass-backed asphalt shingles actually provide some good fire protection, especially when combined with fire-resistant underlayment. And of course, many people like the fact that asphalt shingles are some of the least expensive roofing materials available today. A key drawback to shingles is that they require more upkeep, and a shingle roof will have to be replaced long before any sort of tile roof you might choose.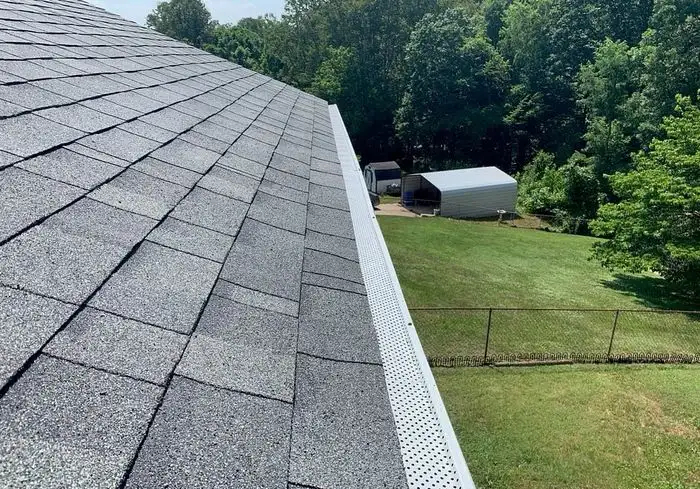 Two More Fire-Resistant Materials That Are Even Better
While there are many good things that can be said about tile and shingles, there are two more available roofing materials that offer even more benefits. Both of these materials provide Class A fire protection, and they also offer great style, great durability, and little need for ongoing maintenance:
1. Metal Roofing
When you get right down to it, there's really a lot to like about metal roofing. Not only will metal not burn, but metal roofing is also lightweight, doesn't corrode, and needs very little maintenance. There's lots more to like, too. Metal roofs have a long lifespan, are very effective at shedding rain and snow, help to dissipate lightning strikes, and can be certified to withstand hurricane-force winds. In addition, metal can be used on roofs of practically any pitch, from very steep to very low slope.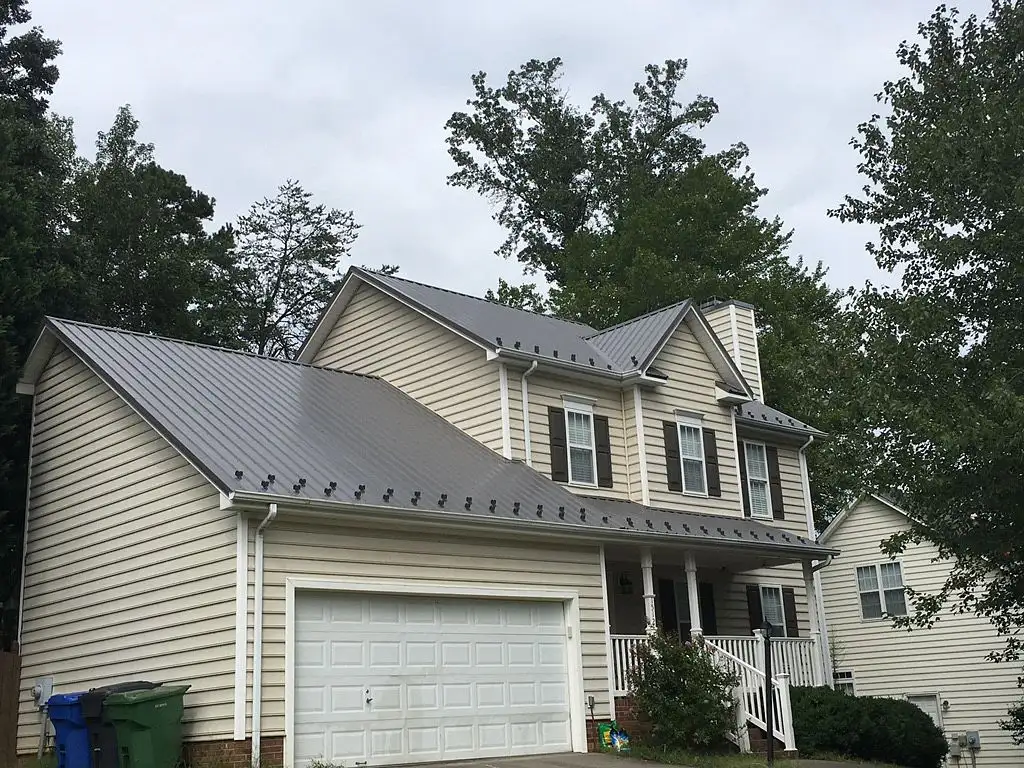 2. Synthetic Roofing
Sturdy synthetics or composition shingles and tiles can be made to mimic the look of wood, asphalt, or natural tile, and they boast some highly reflective properties which can help to reduce your home's cooling costs. For example, DaVinci Cool Roof tiles have earned the ENERGY STAR designation. They're very long-lasting too; in fact, they come with a 50-year warranty. Oh, and one more thing – they're also a Class A-rated material for fire protection!
Ready to Make Your Roof as Fire-Resistant as Possible? Call the Roofing Pros at Skywalker!
Choosing the right Class A roofing materials is certainly important for the protection of your home and family. But choosing the best materials alone isn't enough, especially if they aren't installed correctly in the first place! If you're looking for the highest-rated, most-trusted local roofing company serving both NC and VA, then look no further than Skywalker Roofing! We install ALL the Class A-rated roofing materials mentioned in this blog, and more!
Skywalker is proud to serve the NC Piedmont Triad, Piedmont Triangle, Lake Norman area, and greater Roanoke & Southwestern VA region. If you've got either a residential or a commercial roofing need, we can take care of you. But don't just take our word for it – check out what hundreds of our satisfied customers have to say about us on Guild Quality, too! Connect with us today at ☎ +1 (336) 627-5596. We'd be honored for you to experience the Skywalker difference for yourself!