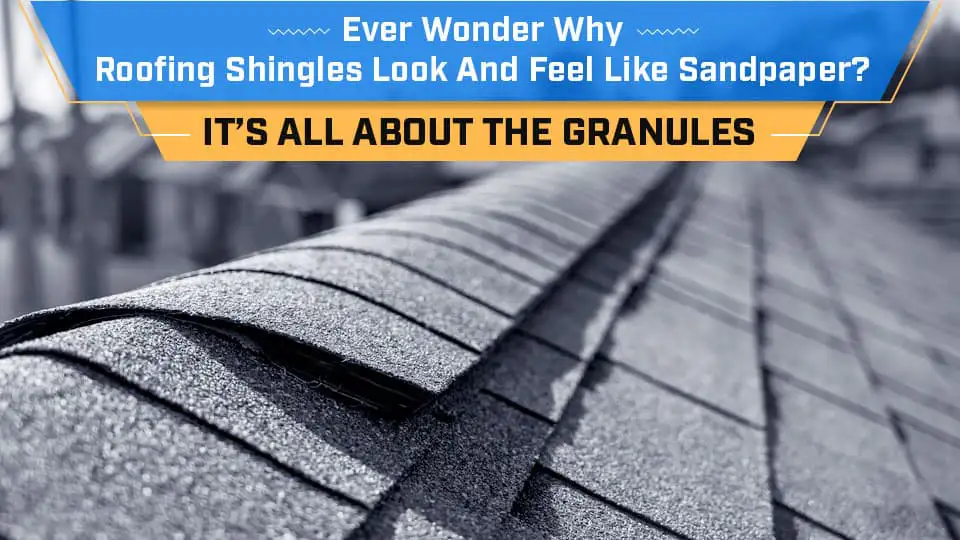 On shingles, granules, and that odd sandpaper feel
Since shingles are still the most common roofing material in America, you're probably pretty familiar with asphalt shingle roofing. You may even have some roof shingles on your home right now, in fact. Shingles continue to be popular for many reasons. They're relatively inexpensive in comparison with other roofing options, they're fairly simple to install, and they come in lots of styles and colors.
But have you ever noticed that shingles feel somewhat like sandpaper? What's the deal with all those little shingle granules, anyway? In this blog, we'll dig deeper to provide you some answers.
Why do shingles feel so gritty? What's the deal with those granules?
Let's start by looking at the anatomy of an asphalt shingle. The basic shingle design is based around three essential components – a layer of asphalt material, a coating of mineral granules, and some sort of backing or base layer. But since petroleum-based asphalt is water-repellent by nature, why are those little granules needed? Those granules actually provide more benefits than you may realize:
• UV protection
While the presence of mineral granules doesn't necessarily make an asphalt shingle more rigid, it does offer surface protection in other ways. The granules help block UV rays from the sun that would otherwise accelerate the deterioration of the asphalt itself.
• Physical stability
The rougher exterior offered by granules also provides the first line of defense against other weathering threats, including rain, hail, and snow. The granules also help protect shingles against impacts from small branches or other types of debris.
• Fire resistance
Petroleum-based asphalt is naturally prone to fire threats. The addition of granules thus provides a greater measure of fire resistance. These granules are usually made from slate, stone, ceramics, or other fire-resistant materials, so they serve to increase fire protection.
• Ease of installation
You may not have realized this, but the granules aren't just on top. The undersides of shingles are usually coated with sand, too. Why? It helps prevent the shingles from sticking to each other until you're ready to nail them down.
• Texture & aesthetics
One other positive feature of granules is the textural and aesthetic value they offer. Without granules, asphalt shingles would really look (and feel) pretty flat and uninteresting. Much of the aesthetic value of shingles is due to the presence of those embedded granules.
So, is asphalt shingle granule shedding normal?
Yes, it is. Shingles are manufactured with more granules than they technically need. You can expect some granules to be lost during the installation process, as a result of the impact of various weather events, and just as a natural process over the course of a shingle roof's lifespan:
• Granule loss during shingle installation
It's perfectly normal for a new roof to display some granule loss. Since the installation process involves moving, fastening, and walking around on the shingles themselves, this will inevitably result in dislodging some granules from the asphalt layer. This granule shedding should taper off within a week or two.
• Normal shingle degradation and granule loss
Some granule loss is to be expected over time, as well. Don't be shocked if you see a few granules around your downspouts after a heavy rain. Daily exposure to UV rays, wind, and other weathering will have an impact. Consistent (yet minimal) granule loss does occur with asphalt shingles.
• Accelerated granule loss on older shingle roofs
If you're starting to see more significant accumulations of shed granules in your gutters or around your downspouts, that may be an indicator that your shingle roof is nearing the end of its service life. Consider having your shingles inspected, and begin making plans for a replacement roof installation.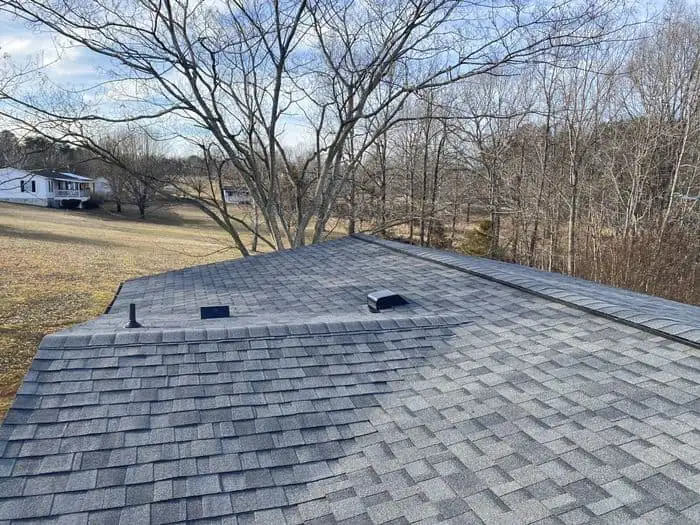 What shingle options are available to me?
Is it time for a roof replacement? If so, the good news is that there are more shingle product choices available to you now than there may have been back whenever your original roof was put on. Here are just a few options for your consideration:
1. Standard Asphalt Shingles
"Standard" shingles go by many names, including regular shingles, traditional shingles, and 3-tab shingles. Many folks gravitate towards standard asphalt shingles because they're simply the cheapest option. Even so, just remember that cheaper doesn't mean better. There are many other shingle products that are better choices in terms of design, performance, and longevity.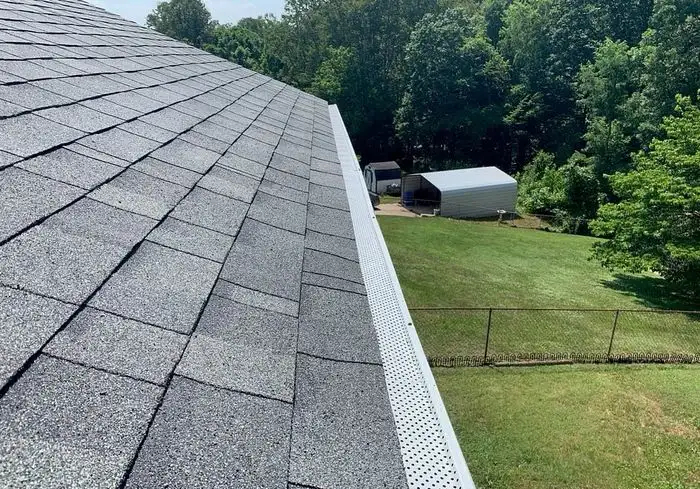 2. Architectural Shingles
Even though they're called "architectural" shingles, don't misunderstand that to mean that these types of shingles are exclusively reserved for architects. Also called dimensional, composite, or laminate, these shingles are better than regular 3-tab shingles for several reasons. They have a thicker base, usually include multiple layers of material, are more rugged, and display a more complex, dimensional appearance. Architectural shingles are around 50% heavier than "normal" shingles, and can also last up to twice as long. Architectural shingles are almost universally recommended by roofing contractors If you're in the market for some good architectural shingles, Owens Corning offers some great solutions through its TruDefinition Duration line.
3. Synthetic Shingles
Perhaps you like the general look and dimensions of shingles, but are open to considering something besides an asphalt shingle product. In that case, synthetic shingles could be a great solution for you. DaVinci shingle tiles are cast from pure virgin polymer resins, and – get this – DON'T require any granules! DaVinci tiles approximate the size of most asphalt shingles, and can also be designed to mimic the look of wood shakes or slate, if you prefer. Another advantage of DaVinci tiles? They actually qualify as energy-saving "cool roofs," and could play a significant role in helping to reduce your home energy costs. They also essentially require no maintenance, and are engineered to outperform & outlast most every other roofing material on the market.
Who to Choose as a Shingle Roof Replacement Partner? Look No Further Than Skywalker!
No matter which type of shingle replacement roof you want to go with, it's also incredibly important to choose the right installation partner. The pros at Skywalker Roofing would be glad to help you explore all your options, and we deliver the best installation solutions in NC and VA!
Skywalker Roofing is a Platinum Preferred Contractor for Owens Corning, so you can trust that we know what we're doing when it comes to shingle roofs. We work with other popular roofing materials too, including DaVinci synthetic shingles, standing seam metal roofing, tile, slate, wood shakes, or whatever you like! Feel free to check out our reviews on Google, Facebook, and Guild Quality, and you'll quickly see why we're the local roofing provider you can trust for all your home or commercial roof needs.
We're proud to serve the NC Piedmont Triad, NC Piedmont Triangle, Lake Norman area, and southwestern VA region, and we'd be glad to serve your needs, too! Reach out to our friendly team of experts today, and experience the Skywalker difference for yourself!