#Didyouknow that your roof space represents anywhere from 25 to 40 percent of your home's total exterior? It's true, and that also means your roof plays a significant role in determining your home's overall curb appeal. And if it's time to make plans for a needed shingle roof replacement or roofing installation, you obviously want to choose the right shingle colors to best accentuate the look of your home exterior. And should you be interested in putting your home on the market, the right shingle color choices can make your home more attractive for potential buyers, too.
Start by Selecting Your Preferred Shingle Materials
The basic asphalt shingle design essentially revolves around having an essential layer of asphalt material, a top coating of mineral granules, and a backing base of some type. But there are lots of varieties of shingle designs and products available, including some non-asphalt materials as well. You'll want to settle on a shingle material choice before you move on to start picking out colors:
• Standard Shingles
Also known as regular shingles, classic shingles, or 3-tab asphalt shingles, these are your cheapest shingle option. But cheaper isn't always better, and that's especially true in the case of asphalt shingles. Other shingle options may cost a little more upfront, but they can also make your roof last much longer.
• Architectural Shingles
Architectural shingles go by many names as well, including dimensional shingles and laminate shingles. But no matter what you call them, these asphalt shingles are built to a higher standard. Architectural shingles are thicker, more rugged, and display more textural depth. But one of the best features about architectural shingles is that they can last up to 2x longer than standard shingles.
• Wood Shakes
Wood shakes are an attractive alternative to asphalt shingles that many prefer for their natural wood look and texture. These wooden "shingles" are cut from real logs, and are typically treated for better moisture, fire, and pest resistance. And if you're ecologically-minded, you'll also appreciate the fact that wood shakes are sourced from renewable materials.
• Synthetic Shingles
Also known as composite roofing, synthetic shingles or synthetic tiles are made from polymer resins. Synthetic roofing is engineered to last a long time, needs practically no maintenance, and doesn't require the addition of any shingle granules. In addition, synthetics can be designed to closely mimic the look of natural wood or slate, and come in a nice variety of color and texture options.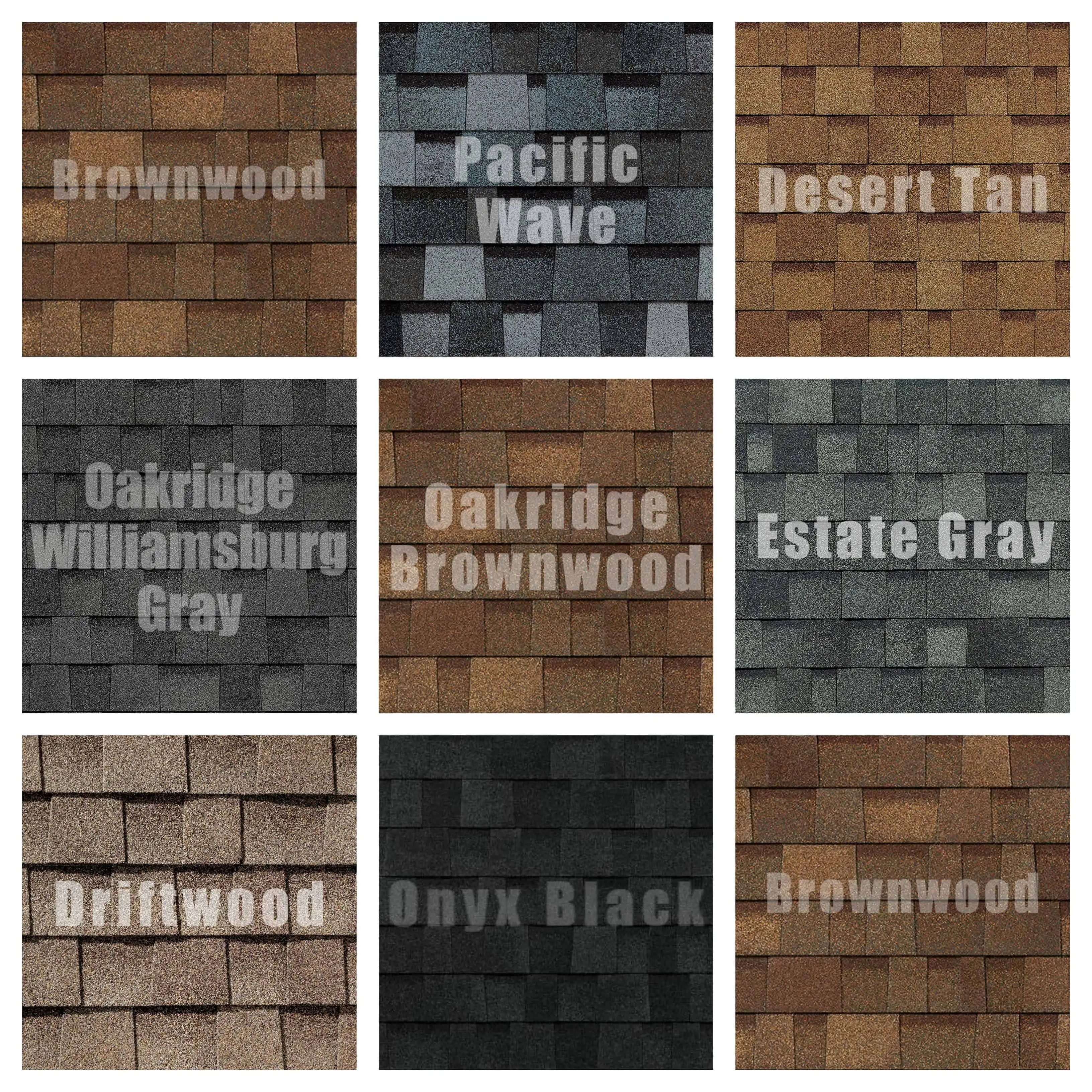 Make a Great Impression by Picking the Right Shingle Colors
Now that you've chosen the type of shingle roofing you want to use, it's finally color-picking time. How do you decide which colors will work best on your home? Here are a few tips to help you make the right choice:
• Match your home's exterior features
Are your home exterior colors generally warm or cool? You'll want to choose a roof color that complements the rest of the exterior. For example, if you've got a lot of brickwork or other warm-colored elements, you might go with a brown shade of shingle. On the other hand, if your home exterior features cool blues, greens, or grays, you might go with a roof that also features a cool gray tone, versus a warmer brown or tan.
• Location, location, location
Take a look at how the homes in your immediate area are roofed, and factor that into your considerations. Think about your geography, too. Shingle colors that work well at the beach, may not work nearly as well on a home in the mountains or foothills. Take your local climate into account, too. If you live in a particularly sunny area and/or tend to experience warmer temperatures in your location, you might choose a lighter-colored shingle that does a better job of reflecting away sunlight and radiation.
• Radiant heat and energy efficiency considerations
Generally speaking, a roof can get pretty hot. (Interested in learning more about roof heat and potential impacts? Check out our blog on the subject.) We mentioned that light-colored shingles are more naturally reflective, but it's not just about color when it comes to energy efficiency. Some modern asphalt shingles now include reflective granules which are designed to direct radiation away from your roof, and these come in a nice palette of color combinations. If you want to go with an Energy Star-rated asphalt shingle, Owens Corning Duration Premium COOL Shingles are certainly worth your consideration.
• Local codes and HOA rules
If you live in an HOA development, there may be certain rules and limitations about allowable roof colors. Some local areas even have building codes which require cool roof products for new installations or roof replacements. Check with your local building inspector's office to see what regulations may apply – it pays to do your homework now, to avoid any potential conflicts you may be asked to address later.
• Visualize the possibilities
Once you've considered all of the above, the final choice of a shingle color or color combination is still ultimately up to you. At the same time, it can be hard to pick a shingle color without knowing what those shingles really look like once installed. Thankfully, there are some good roof visualizer tools available to give you a better idea of what various installed shingles look like on a home roof. For example, you can click here and scroll down to navigate a visualizer featuring several preferred Owens Corning shingle products. This helpful visualizer includes both shingle closeup and full house views.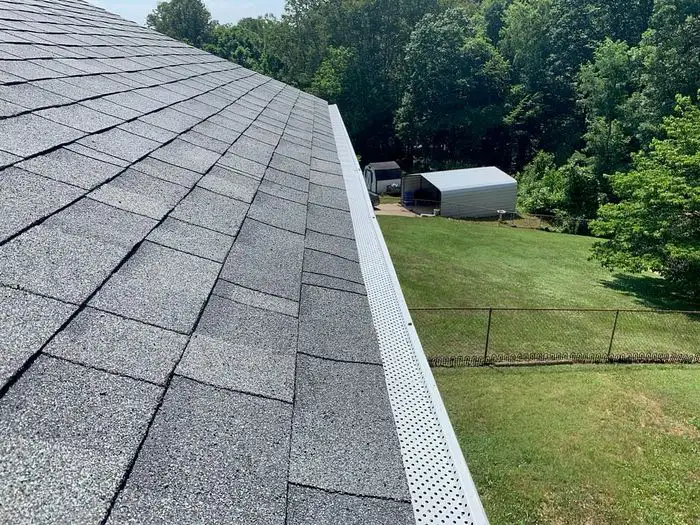 You've Chosen a Shingle Material and Color; Now Choose the Best Roofing Contractor!
No matter which shingle materials or colors you end up settling on, it's also incredibly important to make sure you choose the right professional to handle your roof installation or roof replacement correctly. The Skywalker Roofing team installs the best shingle products, along with every other popular roofing material. One of our personal consultants would be glad to help you consider all the roofing solutions and color options available to you. We're trusted for both home and commercial roofing across North Carolina and Virginia, and we're proud to serve all of the NC Piedmont Triad, Piedmont Triangle, and Lake Norman areas, and we service a large portion of southern Virginia, too. Reach out to schedule your FREE home or business consultation today by calling +1 (336) 627-5596. Experience the Skywalker difference for yourself!