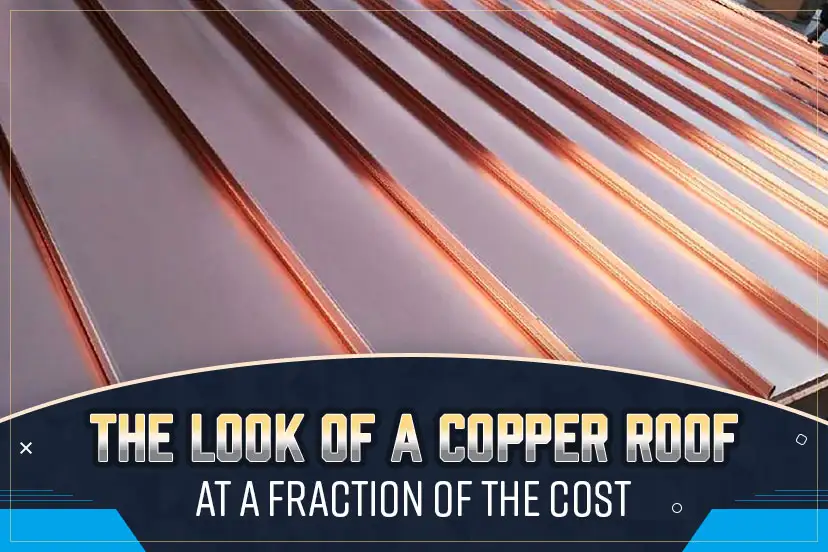 It's Hard to Beat a Metal Roof, and It's Even Harder to Beat Copper
Metal roofing continues to grow in popularity across the country, and for a very good reason. By any metric you examine, metal roofing is now considered to be the fastest-growing sector in residential roofing. And honestly, there's a lot to like about metal as a roofing material. It's dependable, it's long-lasting, and metal roofing needs little in the way of ongoing maintenance, especially in comparison with many other roofing material options. But in the eyes of many, copper still shines as the undisputed gold standard for metal roofing.
What's so great about copper? Natural copper starts with a shiny penny color appearance, and over time will then transition to a blue-green patina finish that can last 100 years, or even longer. Copper can withstand pretty much anything Mother Nature decides to throw at it, and people really appreciate the unique aesthetic it offers. So that then begs the question: If copper is so great, why don't you see copper roofs all over the place?
Copper Does Have Its Drawbacks, Too
Copper is a beautiful metal that makes for a beautiful roof. It won't rust, it never needs painting, and a copper roof should last you a lifetime. Copper is a popular choice for high-end residences and historic restorations – as long as you have the budget for it. One of the chief downsides of copper is its material cost – copper is universally accepted to be the most expensive type of metal roofing. And another caveat to bear in mind with copper is that it isn't simple to install, either. Copper roof installation requires custom welding of every seam and joint, so a copper roofing project is something that most roofing contractors aren't correctly equipped or trained to handle properly.
What If You Could Have the Look of a Copper Metal Roof, at a Fraction of the Cost?
Maybe you really like the idea of a copper roof, but simply aren't willing (or able) to pay the premium price for real copper. Well, what if we told you that investing in an expensive copper roof isn't your only option? Metal that's been pre-painted to look like copper is quickly growing in popularity and availability, and is gaining favor among architects, builders, and roofers alike.
It could very well be worth your while to consider a galvalume steel roof coated with a Kynar copper tone! A galvalume steel roof can easily last you a lifetime with little-to-no maintenance, it comes with its own great warranty, and is also much more affordable than copper. How much more affordable, you may ask? Well, a faux-copper galvalume roof often comes in somewhere around 1/3 the price of natural copper! And if you're curious about what a copper-colored galvalume roof might actually look like once installed, check out this copper penny beauty installed by the pros at Skywalker Roofing: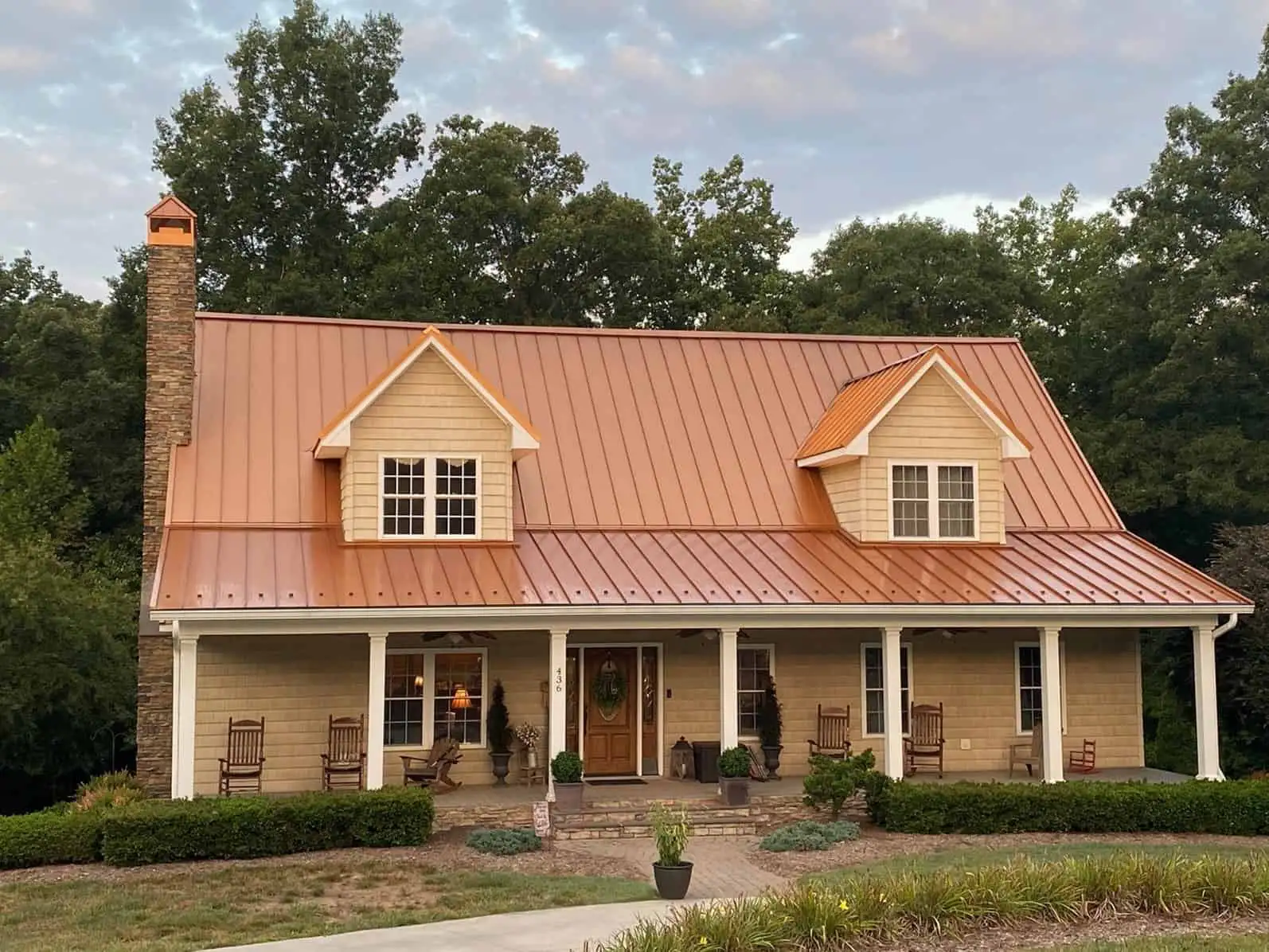 Other Attractive Features of a Galvalume Standing Seam Metal Roof
• No Exposed Fasteners
Many metal roofing designs require fastening with exposed screws. The danger of this approach is that every exposed screw can become a potential leak source over time. You won't have those worries with a standing seam metal roof; there are literally NO exposed fasteners. Rather, the roof is held tight by clips that are fastened to the roof sheathing underneath.
• Easy to Mount Additional Roof Features
If you're interested in adding solar panels, snow retention systems, or other external features, it's really easy to do with a standing seam metal roof. Items such as these can be mounted without any need for penetrating the metal, or making any holes in the roofing surface itself. And fewer holes mean less opportunity for any moisture to penetrate.
• Durable
A properly-installed standing seam metal roof will last you 2-3 times longer than any lighter-gauge, screw-down metal roofing. And a standing seam roof coated with Kynar paint will hold its color for decades, without any need for refinishing.
• Wind Performance
Standing seam metal roofs are incredibly wind-resistant, and have been demonstrated to withstand wind gusts of up to Category 4 hurricane speeds. You simply won't get that kind of performance out of most other available roofing material options.
• Designed for Expansion & Contraction
Metal will naturally expand and contract with temperature changes, but a standing seam metal roof is engineered to take all of these expansions and contractions in stride. The raised metal seams are interlocked for effective moisture protection, but they're also designed to float on their clip mounts, allowing for fluid metal expansion and contraction.
• Fire-Resistant
Metal is naturally incombustible, and a standing seam metal design is particularly well-designed for preventing any fire threats from infiltrating below the metal roofing surface. While no roof can truly be considered to be fireproof, a standing seam metal roof comes really close!
• Kynar 500 Enamel
Kynar 500 resin-based coatings are baked right onto the surface of the metal, and they retain their color tone and gloss much better than traditional metal paints. Another advantage of going with a Kynar coating is that you can choose the exact color you want, without having to worry about any potential color changes due to patination down the road. In other words, the color you pick for your roof now, is the color it will keep!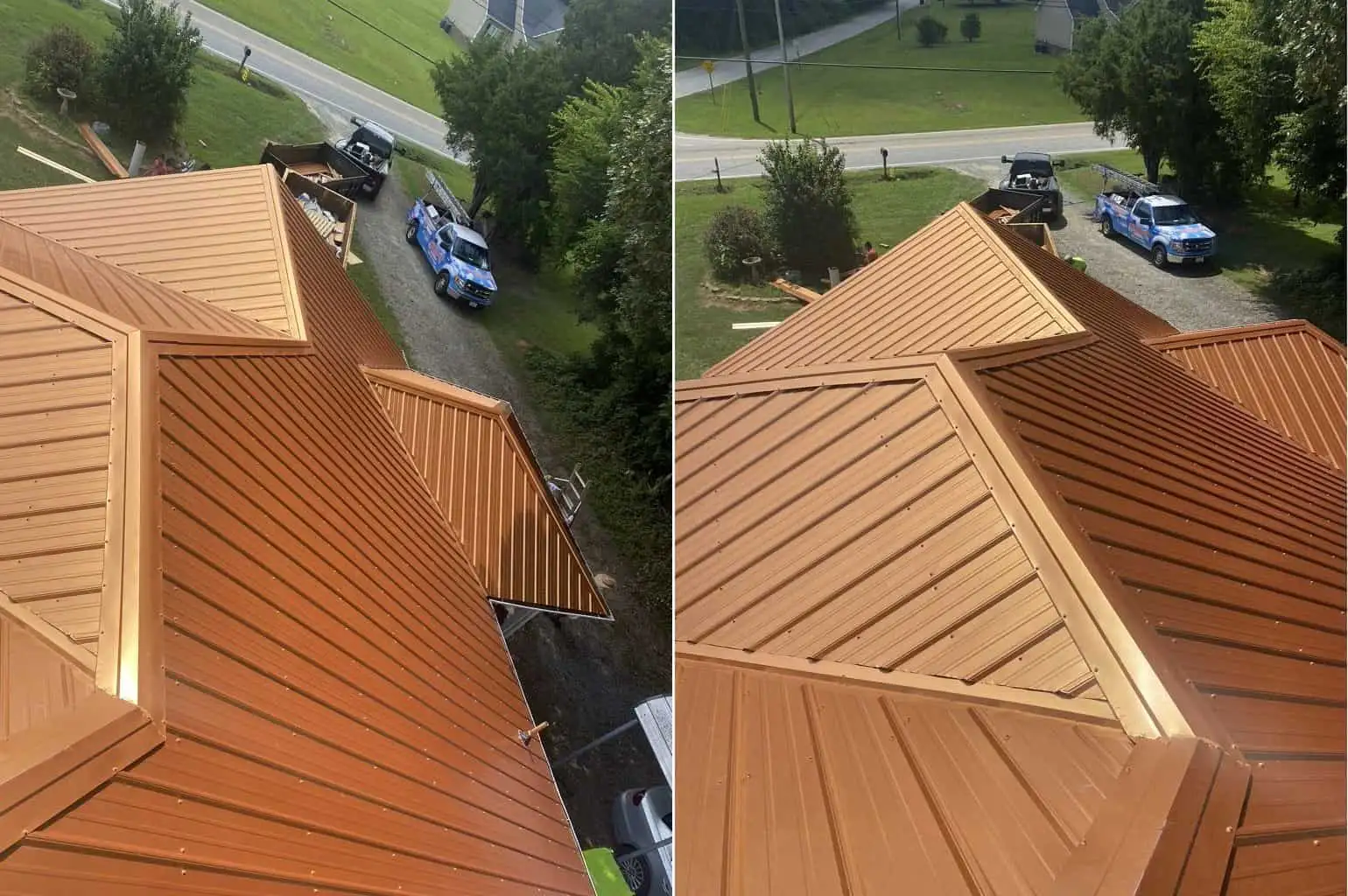 Skywalker Is Your Metal Roofing Provider of Choice in NC and VA
Interested in a metal roofing solution that really looks like copper, without carrying the expensive price tag of real copper? Skywalker Roofing specializes in the custom fabrication and installation of standing seam metal roofing right on your property, and you can select from among a full palette of colors, including copper penny. We're also exploring the option of sourcing aged copper color options like streaked copper, speckled copper, copper patina, green copper, and aged copper. If you'd be interested in exploring any of these aged copper color options for your galvalume metal roof, just let us know!
But perhaps what you'd really prefer is to go with a real copper roof. That's fine, we can do that too! We're a qualified local metal roofing contractor that actually installs copper roofs the right way. Many roofing contractors don't have the training, specialty tools, or experience to handle copper roofing correctly, but Skywalker does! We can install copper dormer and copper flashing accents for your roof, too.
Skywalker Roofing is the elite metal roofing provider serving the NC Piedmont Triad, NC Piedmont Triangle, Lake Norman area, and southern VA region. We'd be honored to take care of your metal roofing needs, no matter what type of material you prefer. Oh, and we install custom gutters and gutter guards, too!
Ready to get your perfect roof installation solution in NC or VA? Reach out to us by calling +1 (336) 627-5596. One of our friendly experts will be happy to answer your questions, and we can also schedule your FREE home or business inspection and personal consultation, too. Get in touch with Skywalker today, and let us show you how we can install the last roof you'll ever need!