If you currently have shingles on your roof, you're in good company. Asphalt shingles are still the most popular roofing material in America and have been for nearly a century. Even so, it turns out that many homeowners don't know a whole lot about shingles! In this blog, we'll give you the basic 411 on shingles, and help you learn when it's time to replace your shingle roof, what your shingle material options are, and how to choose the right shingle roofing contractor.
What's the Deal with Shingles?
Shingles continue to be one of the most popular choices for roofing installations across the globe for good reason – shingles come in a variety of colors, are one of the most cost-effective options, and are also easier to install than most other roofing materials. You may know that much, but do you really understand how a shingle works? The basic asphalt shingle design includes three layers – a backing base, a layer of asphalt material, and a layer of some type of mineral granules.
The backing base can be made with paper, fiberglass or other materials, and its purpose is to help hold the shingle together and to aid with affixing the shingles to the roof and to each other. Asphalt is a naturally water-repellent material, so it does a good job of shielding your roof from moisture and preventing it from penetrating. So, what are those little granules for? They help protect the asphalt layer from UV rays, provide more fire resistance, and also provide aesthetic beauty to the shingle by adding many options for color and pattern combinations.
Shingles are manufactured with more granules than they actually need on purpose, with the expectation that there will be some loss of granules during installation. In fact, granules will continue to be lost from shingles with each weather event over the course of a shingle roof's lifespan; this is just a part of what it means to have a shingle roof. Granule loss doesn't necessarily indicate damage, it's just part of a shingle's natural weathering process.
So, How Do I Know When My Shingles Need Replacing?
A well-installed-and-maintained asphalt shingle roof is designed to last for decades (barring many extreme weather events), but no roof lasts forever. If your shingle roof has seen more than a few years of service, there are some signs you should look for that may indicate it's time to consider a roof replacement:
Shingle Roof Age – Most shingle manufacturers provide warranties for their products from around 15 to 30 years, but that doesn't mean you should wait 30 years before you start paying attention to your shingles. It's really best to do a quick assessment of your shingle roof every year, and even more frequently as your roof gains more and more years of service.
Are Your Shingles Curling? – If you ever notice that parts of your roof are starting to curl upwards, that's a sure sign your roof needs some serious attention, and it may be time to replace it.
Noticeably Cracked or Missing Shingles – If there are visible cracks in your shingles, or if shingles are actually missing, your roof is losing its best line of defense. Some basic repairs and individual shingle replacements may be all that are needed, but it's best to have a trusted, professionally-trained roofer come make your repairs – he or she may be also be able to help you with other preventative issues that you might not think (or know) to look for.
Interior Leaks – This one may go without saying, but if you see signs of water damage forming inside your home, it's high time your shingle roof had some TLC, starting with a proper inspection!
Excessive Granule Loss – You understand that some granule loss is to be expected over time, but how do you know when "some" has become "too much"? As with many things, asphalt shingles lose their adhesion qualities over time. If you're starting to notice more and more granules in your gutters or at your downspout exits, it's time to have a professional come out and take a look with you. If your shingles are getting pretty bald, they are not providing your roof with effective protection from water infiltration.
Which Shingles Should I Choose?
There are many benefits to choosing shingles for your roof replacement. However, there are now more shingle choices than ever, and you should know that not all shingles are made the same. Make sure you weigh the pros and cons of different shingle options before choosing the right shingle for your roof replacement (or new roof installation, for that matter).
Standard Asphalt Shingles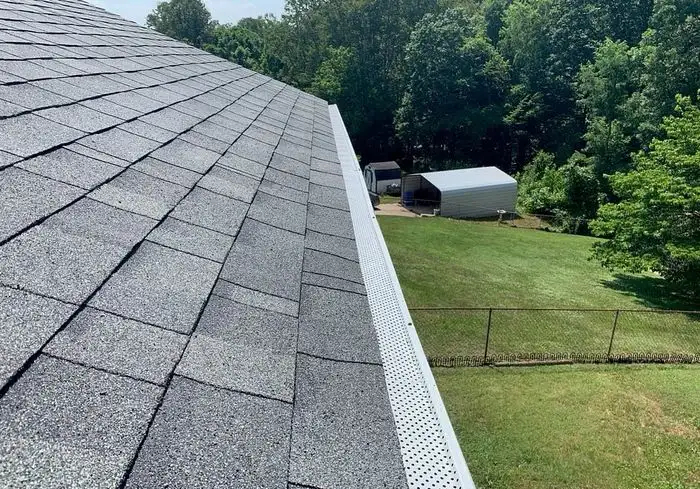 Many folks still opt for traditional 3-tab shingles (often referred to as regular shingles or standard shingles) for the simple fact that they are the cheapest option, but just bear in mind that cheaper isn't always better. There are many other shingle options to choose from that may cost a bit more on the front end, but that will also last much longer than traditional shingles.
Architectural Shingles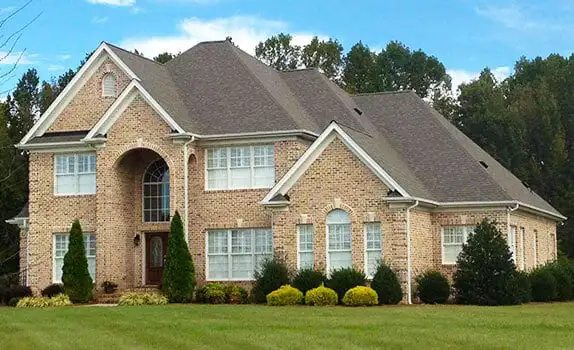 Also known as laminate, dimensional, or composite shingles, architectural shingles carry several advantages over regular 3-tab shingles, as they are a better, more premium grade of asphalt shingle roofing. They're made with a thicker base than standard shingles and have multiple layers of material attached, giving architectural shingles a more complex, dimensional look. Architectural shingles are also more rugged, weighing in about 50% heavier than standard shingles, and they can last up to twice as long. If you're considering architectural shingles, Owens Corning makes a fine product with its TruDefinition Duration line. TruDef Duration Shingles provide dramatic color contrast and dimension to any roof, and are available in an array of popular colors. These shingles come with patented SureNail Technology, and also exceed industry standards for algae resistance and wind resistance. And one of the best features about a TruDef Duration Shingle roof system is that it comes with a full Limited Lifetime Warranty from Owens Corning.
Wood Shakes
If you're looking for alternatives to asphalt shingles, wood shakes can be an attractive option. Manufactured from western red cedar, cypress, pine, or redwood trees, wood shakes are split from real logs and then shaped for commercial use. Shakes are basically just a type of wooden shingles. They are used all over the world, and are valued for their real, "natural" look. Most wood shakes are treated with fire retardant and chemical preservatives to make them less susceptible to fire or decay. Treated wood shakes also resist moisture and are considered to be an eco-friendly option since they come from a renewable resource … trees!
Synthetic Shingles
Another alternative to asphalt shingles that is gaining in popularity is the synthetic shingle. Synthetic shingles are cast in a solid form from pure virgin polymer resins, with no need for traditional asphalt or shingle granules. DaVinci is one of the leading synthetic roofing manufacturers on the market, and their tiles (which are basically the size of a normal shingle) can be designed to mimic traditionally higher-end products like wood shakes or slate. DaVinci tiles come in a large palette of colors, are classified as energy-saving "cool roofs," and are engineered to outperform and last longer than other roofing materials. DaVinci tiles also require very little in the way of ongoing maintenance or repairs.
Why You Should Choose Skywalker For Your Shingle Roofing Replacement
No matter which shingles you opt to go with, choosing the right material for your new roof or roof replacement is incredibly important. The pros at Skywalker Roofing would be glad to help you explore all the materials listed above, as well as other options that might be good choices for protecting your particular roof.
And while choosing the right material is important, it's even MORE important that you choose the right local roofing contractor who is best-suited to provide you the best quality of workmanship! If you're looking for an award-winning, manufacturer-authorized, trusted local roofing contractor for your home or commercial roof installation or replacement, look no farther than Skywalker Roofing!
Skywalker Roofing is the premier roofing contractor serving both the NC Piedmont Triad and Triangle areas, as well as Roanoke, VA, and surrounding communities.  Skywalker has now completed over 15,500 projects, and their commitment is to provide individualized attention and expert craftsmanship for each and every customer. Skywalker Roofing is proud to have earned the elite statuses of Platinum Preferred Contractor through Owens Corning and Quality Master through Certainteed, and Skywalker offers some of the best warranties in the business. They even offer a 2-year warranty on their roof repair services! If you need a roof install or replacement in the NC Piedmont Triad, Triangle, or Roanoke, VA areas, check out Skywalker Roofing and let them show you why Skywalker is THE best roofing contractor for the job!