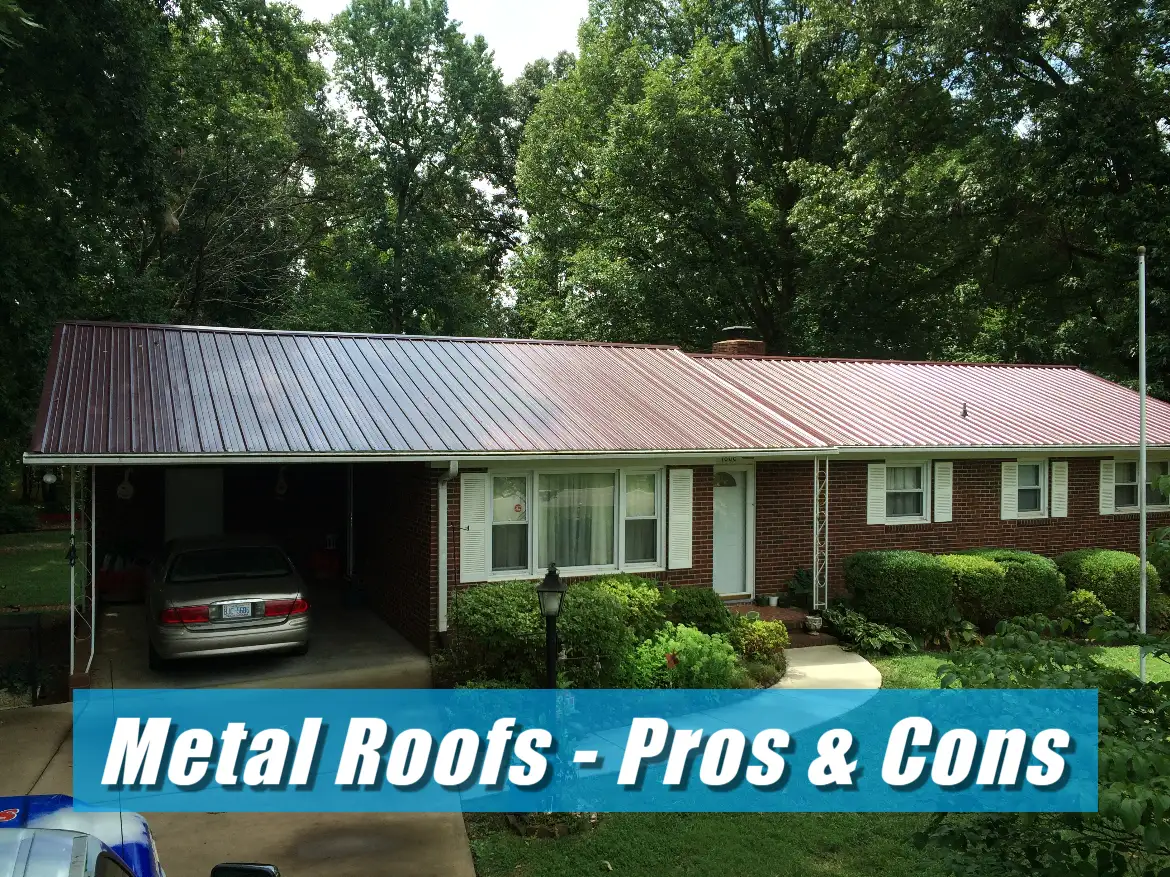 To Metal Roof, or Not to Metal Roof?
MAYBE YOU'VE HEARD the buzz about metal roofs – they are becoming a more popular option, not just for businesses, but for homeowners as well. Perhaps you're just tired of having to patch your old roof and are looking for a more durable solution that requires less maintenance. Regardless of what brought you here, the only reason you're reading this right now is that something has led you to consider choosing a metal roof as a replacement for what's covering your home right now. Whether you're just researching the topic, or whether your roof is on its last legs and you know you need to make a call on a replacement soon, we're here to help. Let's examine some of the pros and cons of residential metal roofing.
Pros of Residential Metal Roofing
There are certainly a lot of advantages to going with a metal roof. Here are some reasons that make a metal roof a good option to consider:
• Metal Roofs Have A LONG Lifespan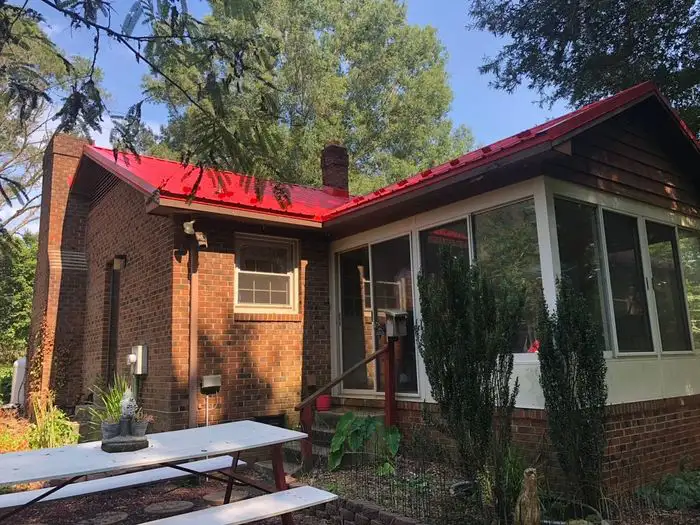 Honestly, this is one of the main factors that lead people to consider a metal roof. A well-installed metal roof can last as long as your house. A low-end lifespan estimate of a metal roof is 40 years, and they have been known to last much longer than that. The thought of installing one roof that will last you the rest of your life is certainly an attractive feature!
• Metal Roofs Are Lightweight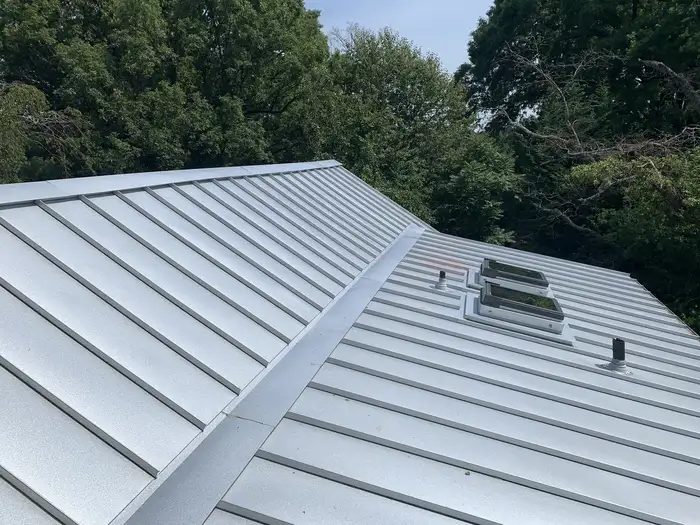 Metal roofs are MUCH lighter than tile and are lighter than many other roofing materials as well. Why does lightweight matter? Metal roofs need less of a roof support structure, and less weight on your roof also means less strain on the infrastructure of your home, boosting its longevity as well.
• Speed and Ease Of Installation
Metal roofs tend to go up faster and easier than many other roofing materials. If speed of installation matters to you, then a metal roof can be a good choice. Because of metal's versatility, some even choose to apply metal roofing directly on top of existing roof materials. While this can work, many professional contractors do recommend that old materials be removed first so that a proper inspection of the underlayment can be conducted before laying down a new metal roof – it really is better to be safe than be sorry when it comes to replacing your roof.
• More Effective at Shedding Rain And Snow
The makeup and texture of metal roofs is such that rain and snow can be directed off your roof much more efficiently than with other roofing materials. And a well-installed metal roof really doesn't allow rain or snow a chance to penetrate, so the chances of leaks are greatly minimized as well.
• Safety from Wind, Lightning, And Fire
For starters, metal roofs are more wind-resistant than many roofing materials. Some metal roofs are even demonstrated to sustain hurricane-force wind gusts up to 140mph. No material is completely lightning-proof, but metal's conductive characteristics can actually help to dissipate the effects of a lightning strike. Metal won't ignite either, so it provides better protection from fire as well.
• Maximum Durability and Resistance to Mold, Mildew, And Moss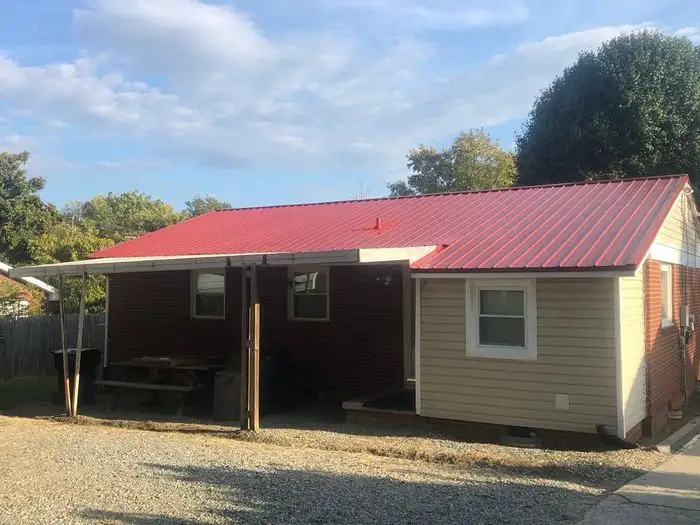 The durability of metal is one of its more well-known traits. Metal roofs won't crack, but rather will expand and contract in response to temperature extremes. A properly-treated metal roof won't corrode either, and metal is an unfavorable surface for mold, mildew, or moss to be able to take hold.
• Metal Can Be Used on Roofs Of Almost Any Pitch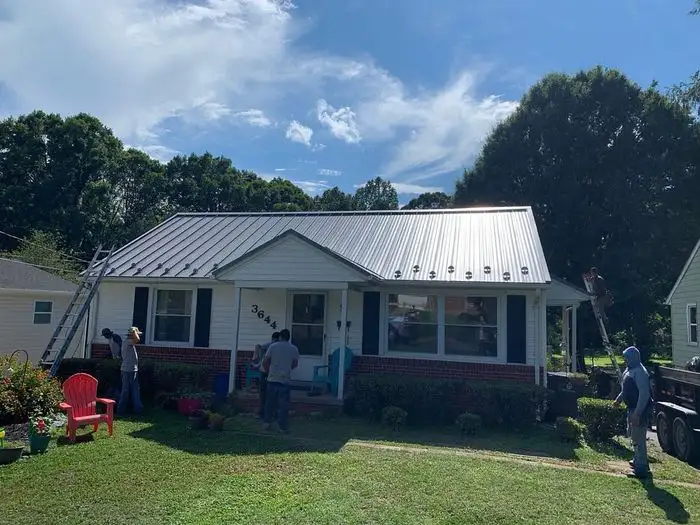 Some roofing materials are limited to use only on roofs of a certain pitch, but metal works equally well on roofs with a steep pitch or with very little pitch. In terms of roof pitch limitations, no other roofing material is as adaptable as metal.
• Eco-Friendly, Energy-Efficient, And Recyclable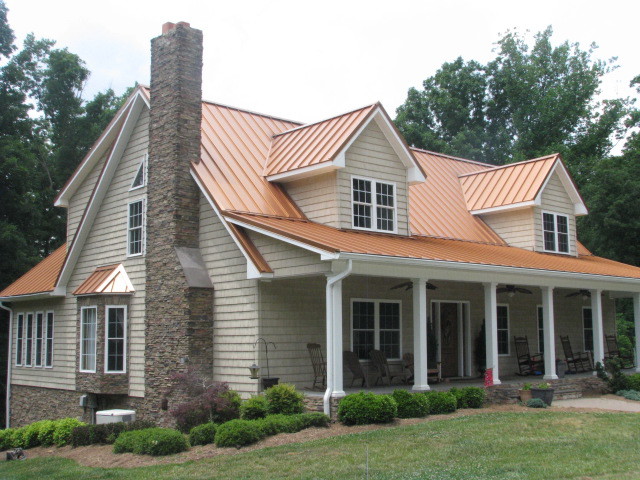 Metal roofs are a more sustainable alternative than materials like traditional asphalt shingles. Metal isn't a petroleum-based product, and metal roofs are also much longer-lasting than shingles. New metal roofs contain at least a percentage of recycled materials and are 100% recyclable themselves. Metal roofs are also ideal bases for attaching solar panels or rainwater harvesting systems. And thanks to metal's light-reflecting capabilities, a metal roof can help reduce your air conditioning energy costs, as well.
• Unique Look and Sound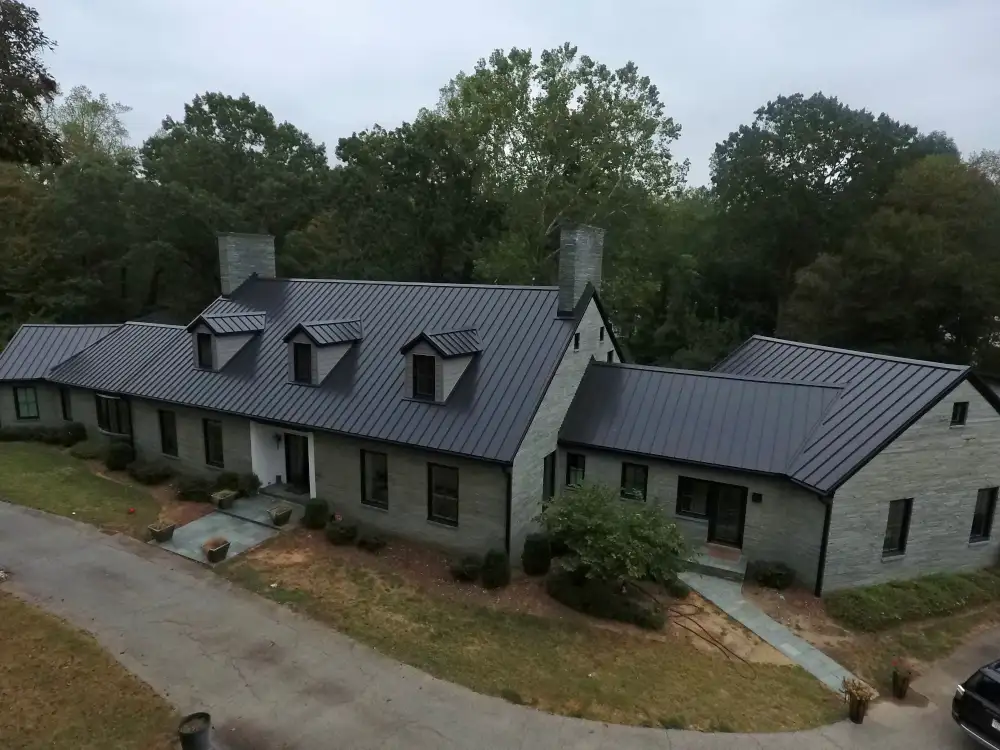 One more feature to consider is the look and sound of a metal roof. Metal roofs have a distinctive look all their own, which can add to your home's curb appeal. Some metal roofs can even be customized to mimic the appearance of other roofing materials like wood shakes or tiles, if you prefer. And then, there's the sound quality. Many folks find the pitter-patter of rain on a metal roof to be soothing to the ears.
Cons of Residential Metal Roofing
We've documented some of the many positive reasons to consider a metal roof, but there are a few cons you might want to bear in mind, too:
• Metal Roofs Are More Expensive
Since price is one of the first things people consider when it comes to choosing a roofing material, we can't avoid the fact that a metal roofing materials and labor tend to cost a good bit more than putting up shingles. It's a higher price tag on the front end, but this should be weighed against the fact that a metal roof can outlast multiple shingle roofs. You just have to decide whether it's worth it to invest in a quality metal roof that may never need replacing for the rest of your life.
• Metal Roofs Can Dent
Metal is an incredibly durable material over time, but since metal is also malleable it can be dented by large hail or heavy branches. Some of this will depend on which type of metal you choose. Aluminum and copper are softer metals and more prone to denting, while steel is a much stronger, more dent-resistant metal.
• Inconsistent Color Matching
If repair is ever required for your metal roof, or if you should decide to add a house extension at a later point in time, it can sometimes difficult to find an exact match for your original metal.
• Repair Considerations
A well-made, well-installed metal roof is built to last, but if damage does occur repairs can be more complicated than for some roofing materials. Metal roofing that is installed in large panels can be more difficult to replace than patching a few damaged shingles.
• The Sound
While many find the sounds of rain falling on a metal roof to be soothing, others may find a metal roof to be too loud or noisy during a heavy storm. Note that there are steps that can be taken during installation to help buffer metal roof noise, but the general sound factor that goes along with having a metal roof is something to keep in mind.
Why You Should Choose Skywalker For All Your Roofing Needs
Whether you decide to opt for a metal roof or something else, choosing the right material for the job is incredibly important when planning for your new roof or roof replacement. The pros at Skywalker Roofing would be glad to help you explore all the features of the many different roofing materials available for your consideration.
While it's important to choose the right roofing material, it's perhaps even MORE important that you select the right local roofing contractor that can give you the best quality of installation workmanship! If you're looking for a top-quality, manufacturer-authorized, local roofing contractor for your home or commercial roof installation or replacement, Skywalker Roofing is a name you can trust.
Skywalker is a premier roofing contractor serving both the Piedmont Triad and Triangle areas of NC, as well as the Roanoke, VA area. Skywalker has now completed over 15,500 projects, and they are committed to providing individualized attention and expert craftsmanship for each and every customer. Skywalker Roofing is proud to have earned the elite statuses of Platinum Preferred Contractor through Owens Corning and Quality Master through Certainteed, and Skywalker offers some of the best warranties in the business. They even offer a 2-year warranty on roof repair services! If you need a roof install or replacement in the NC Piedmont Triad, Triangle, or Roanoke, VA areas, check out Skywalker Roofing and let them show you why Skywalker is THE best roofing contractor for the job.