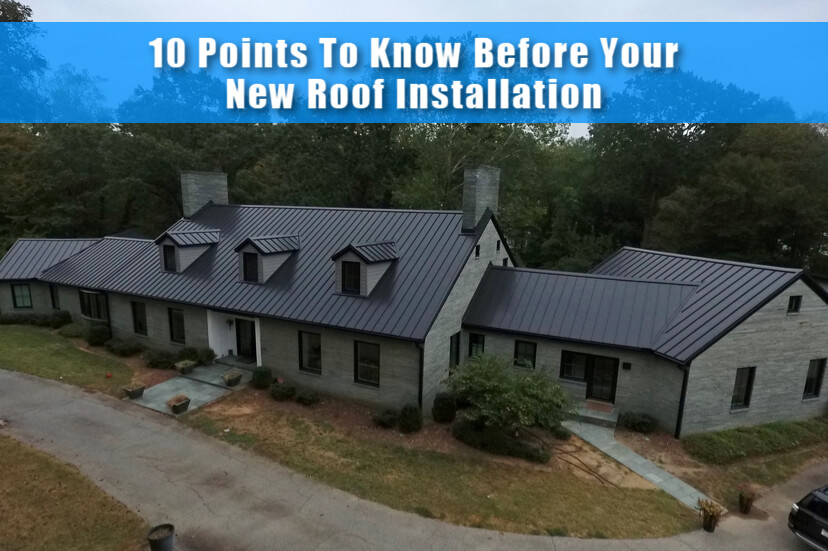 Replacing a storm-damaged roof, or a roof that's just seen one too many seasons of service is one of the smartest investments you can make in protecting your home and your family. If you're reading this, we're going to assume that you're a smart person who:
has already scheduled a roof replacement, or
is making plans to schedule a needed roof replacement.
Either way, you're making a wise decision! So, what are some things you need to be mindful of as you count down the days until your new roof gets put on? Here are a few items you should have on your new roof preparation checklist.
1. Choose the right roofing contractor
The first, most important step to take in getting ready for your roof replacement is to choose the right company for the job in the first place. How do you know where to go? Who can you trust? Check here and here to learn some of the right questions you should be asking of any contractor you're considering.
2. Ask your contractor if they provide a roof replacement readiness checklist
Many reputable contractors will offer their own "preparing for your new roof" checklist for homeowners and business owners. Ask your contractor if they have a preparation list like that to give you. If not, no worries – that's what this blog is for!
What follows isn't intended to be THE definitive list for all situations, but here are some things you'll definitely want to consider before roof installation day arrives:
3. Take down any fragile interior decorations
Having several people on your roof tearing off old roofing and putting on a new one can create a fair amount of vibration that can travel down through your attic and walls. To be on the safe side, walk through the level of your home that's directly below the roof and consider taking down anything that isn't firmly secured.
4. Remove valuable things from your attic, and cover up the rest
If you store any particularly valuable items in your attic, you might consider relocating those items until after your new roof is installed, for the same reasons that you took down your fragile interior decorations. Once you've sorted through what to remove from your attic, it's a good idea to throw a tarp, plastic sheet, or drop cloth over the rest of your stored items. Even if you've partnered with a responsible contractor that's intentional about taking precautions, a roof replacement can still create some dust and debris in your attic. Covering your items beforehand will offer some protection, and it makes cleanup much easier afterward.
5. Think about your kids and pets
Roofing is not a quiet process, and it can cause some anxiety and stress for the children and animals in your home if you're not prepared for it. Decide ahead of time how you want to handle this; the day of roof installation may be a great day for your children and pets to spend some time with other family members or friends. If that's not an option for you, figure out the safest (and least stressful) places in your home where your kids and pets can hang out while the roof work is going on.
6. Think about your neighbors, too
It would also be very neighborly of you to notify those who live adjacent to you about your upcoming roof installation. They may have kids and/or pets too, and they will certainly appreciate the heads-up. Remember, you still have to live with these people long after the roofers are gone; treating them with a little courtesy now will go a long way towards preserving the neighborhood peace down the road.
7. Identify which power outlets need to be accessible for the roofers
Your roofers will probably need access to electrical outlets in order to operate some of their equipment. Exterior outlets are best, but if none are present or easily accessible, your contractor may need to run some extension cords through a window or door. Try to anticipate this ahead of time, and make plans accordingly.
8. Prep the outside of your home
Some contractors like Skywalker Roofing go to great lengths to make sure they place protective tarps over any landscaping that may be affected during your roof replacement. Even so, it's a good idea to do a walkaround outside your home and identify what will need covering, and what (if anything) you may be able to move yourself or need to have removed ahead of time. Go ahead and take down any hanging plants, and make plans to put toys, grills, and patio furniture in a shed or garage, or at least move them away from your house. Also, if you have a satellite dish on your roof, you'll need to reach out to your provider and ask what steps need to be taken in preparation for a roof replacement.
9. Do your mowing and pruning before installation day
If you have trees or large bushes that grow near your roof, you'll want to ensure that they are properly trimmed or pruned enough that your roofers will have room to work. It's also smart to go ahead and mow your lawn before the roofing crew arrives – short grass doesn't hide fallen nails and debris as well as tall grass, and this will make cleanup go faster and more effectively afterward.
10. Relocate your vehicles
One of the last things you'll need to do before the crew arrives is to place your vehicles out of the way and keep the driveway clear. The roofers will need easy access to their tools and trucks throughout the day, and they'll need to be able to load shingles, debris, etc. as well.
Choose Skywalker Roofing for Your Roof Replacement
For your peace of mind, it's best to partner with a local roofing contractor you can trust, who provides quality products and services they stand behind, and who makes your overall experience as pleasant and as painless as possible. For services in NC and VA, you should really start by considering Skywalker Roofing. Want to learn more about what to expect when you choose Skywalker for your roofing project? Click here.
Skywalker has completed over 15,500 projects, and now offers roofing and select home improvement services to the NC Piedmont Triad, Triangle, and Charlotte metro areas, as well as to Roanoke and nearby portions of southwestern Virginia.
Ready to schedule your FREE home or business site inspection and consultation? Just give us a call at ☎ +1 (336) 627-5596 and experience the Skywalker difference for yourself!