An obvious question that most every homeowner and business owner asks at some point is this: "What will it cost me to replace my roof?" That's a good question, and it's also an honest question. But in order to truly understand the answer to this question, you also need to ask yourself a second question at the same time: "What will it end up costing me if I don't spend the money to address my roof situation now?"
Your roof overhead is honestly one of the most crucial lines of defense your home has in terms of protecting you, your loved ones, and your belongings from the threats of sun, precipitation, wind, and storms. If your roof is now in a state where it can no longer do its job properly, then the cost of putting off a needed roof replacement could end up being much higher than simply choosing to invest in the right roof solution now!
How do you decide when it's time for a roof replacement?
You should do a quick check of your roof seasonally, as well as after every significant storm passes through. It's also wise to do a more thorough assessment of your roof's condition at least annually. The earlier you catch any roof issues, the more options you'll have for addressing them, and the better your chances of being able to prevent more serious problems. What should you be looking for? Here's a quick checklist:
• Damaged or Missing Exterior Roofing
Warped, curled, broken, split, loose, or bald shingles should be replaced. The same principle applies to wood shakes, tiles, metal panels, or whatever roofing material you currently have in place, ESPECIALLY if you have any holes or missing pieces. Exposed underlayment or decking can very quickly result in some serious leaks which can cause some serious damage.
• Loose Nails & Fasteners
Look for roofing nails or fasteners which are obviously exposed, loose, or have popped up. Every one of these sites is a potential source of leak development, if left unattended.
• Missing or Damaged Flashing
If you find any metal flashing to be loose, corroded, or rusted – or missing altogether – you'll need to address that promptly.
• Chimneys, Vents, Skylights, & External Features
Cracks, damage, or improper seals around any of these features can lead to leaks in a hurry.
• Gutter & Downspout Flow
Make sure all your gutters and downspouts are flowing properly; blockages can lead to gutter damage, fascia & soffit damage, roof rot, and other structural damage. If it's time to replace your roof, then it might be wise to go ahead and plan for gutter replacement.
• How Many Seasons of Service?
Some roofing materials are much longer-lasting than others, but no roof lasts forever. Sun, wind, and many cycles of precipitation all take their toll over time. Barring no significant damage along the way, how long should you really expect your roof to last? You can check out this blog to learn more.
What about roof repair options?
That's a fair question, too. Perhaps you have found a couple of issues with your roof that do need addressing, but the rest of your roof still appears to be in good condition. Could roof repair be a viable option for you? Possibly. The answer to that question will really come down to several key elements, including the age of your roof, how much of it is still structurally sound, the nature of your exterior roofing (some materials are much easier to replace just in a few trouble spots than others), and the workmanship quality of your original roof installation. Many roofing contractors will simply tell you that an entire roof replacement is required, regardless of your particular roof situation. At Skywalker Roofing, our first priority is not just to push for a sale. We're actually here to help people, and we'll never try to bully you into making a roof investment you don't really need. We'll always be honest and objective when it comes to laying out all your available roof solution options. We also take the time to listen, and we'll make sure to answer all of your questions.
How much does a roof replacement cost?
After making a fair analysis of your roof, a roof replacement really may be your best solution. So, now it's time to bite the bullet and start thinking about costs. What will a new roof end up costing you? The answer to that question can vary widely depending upon a range of factors, including the following:
The style and pitch of your roof, along with the age of the structure itself
The amount of decking and underlayment that will have to be replaced
Any skylights, chimneys, vents, or other roof protrusions that might also need addressing or replacing
Which roofing material (architectural shingles, metal roofing, tile, wood shakes, or one of the many other available options) you decide to go with for your new roof
Whether you also plan to include a new gutter installation or replacement
Who you choose to partner with to provide your roof installation
Since we're speaking honestly, let's also be honest about this – there's honestly no such thing as a cheap roof. Sure, you can try and shop around to save a little money here and there, but a roof replacement is going to be a significant investment, no matter what. There's really no way around that fact.
When it comes to roofs, cheaper isn't better
And price tags aside, you really don't want to have a cheap roof covering your home or business, anyway. When it comes to choosing the right protection for your home & family (or for your business & employees), it's just not worth it to cut any corners or take any chances. If your roof needs replacing now, you want the job done right, and you'd really prefer not to have to replace your roof again!
You need something better than a cheap roof. And that's Skywalker Roofing operates by this principle – a Skywalker roof is the last roof you'll ever need! Isn't it worth investing in a roof that's designed to last you a lifetime? We've had many, many customers come back to us after partnering with us for a roof replacement, and say something interesting to us. They say they're GLAD they spent a little more now, rather than having to having to come back and spend a lot more later on by having to purchase another new roof in just a few years!
We think one of our satisfied customers put it best when he had this to say about why he chose Skywalker:
"I am way too poor to buy cheap. I can't afford to do this twice, so I need this roof replacement done right the first time!"
A new roof ain't cheap, but it can be affordable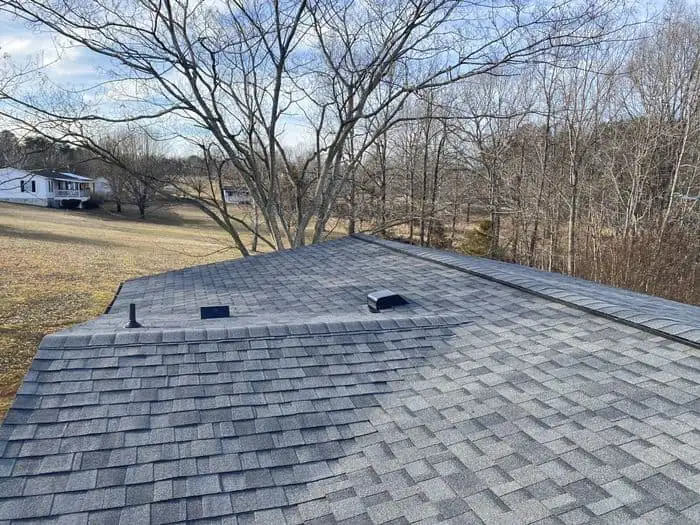 A new roof ain't cheap, but if your current roof really needs replacing, you don't have time to sit around and do nothing, either. But don't get stressed out – nobody says you have to pay for everything out of pocket! There are lots of benefits to choosing a roof financing plan that will help you to meet your needs. Some plans require no upfront payment, have no looming balloon payments, don't make you go through any funny business with fees, and also allow you to make more than the minimum monthly payment with no penalty.
In other words, when it comes to roof financing, there really are some good options out there. And the team at Skywalker is 100% committed to helping you find the best way to afford the quality roof you really need. Skywalker is happy to partner with preferred lenders to help you be able to fit a needed roof replacement squarely within your budget.
Choose Skywalker for all your roofing installation & replacement needs in NC & VA
No matter what else you decide about your roof, it's best to do business with a local roofing contractor you can trust. If quality roofing products, superior installation workmanship, and customer service that's second to none are important to you, then look no further. Skywalker Roofing checks off every box on that list! If you need a roof install or replacement anywhere around the NC Piedmont Triad, Piedmont Triangle, Lake Norman area, or Roanoke & southern VA region, connect with us today at +1 (336) 627-5596. Come experience the Skywalker difference for yourself!