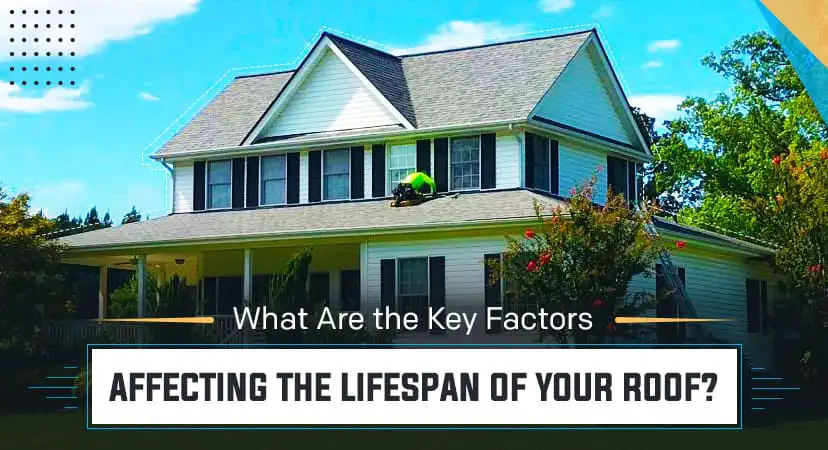 How long will a particular roof last? That's a great question, and it's a question that's probably on the mind of every building owner – especially when it's time to think about replacing a roof that's given many seasons of service. The answer to this question will depend upon many factors – not least of which is the particular material you chose to cover your roof in the first place. Prevailing climate and significant weather events are also significant factors, along with the quality of the original roof installation workmanship. There are other factors to note as well; keep reading to learn more!
What Are the Major Factors Affecting Roof Life Expectancy?
At Skywalker roofing, we understand that you want your roof to be able to do its job of protecting you, your loved ones, and your possessions as long as possible. What are some of the key factors which determine how long your roof will actually last? Here are several important influences to keep in mind:
Roofing Material
Most roofing professionals agree that the roofing material itself is one of the most important factors in determining your roof's longevity. The fact of the matter is that some roofing materials are simply more durable and long-lasting than others. Asphalt shingles are incredibly popular across America thanks to their up-front affordability, but their average lifespan typically only runs between 20-30 years. If you're looking for a more durable and long-lasting investment to make, you should give some thought to going with metal, tile, slate, or concrete. You could also consider some composite products. For example, Da Vinci synthetic tiles actually offer a 50-year warranty, and they can be engineered to mimic wood, tile, or asphalt shingles if you prefer.
Weather Conditions
A roof is designed to provide your home or business structure with a reliable shield from the elements. However, extreme weather conditions or strong storm events can put some undue pressure on your roof, cause damage, and even reduce your roof's lifespan. There's not much you can do to predict the weather, but you can choose a more durable roofing material, and can also partner with a reliable roofing installer to get your roof put on correctly the first time.
Solar Exposure
A moderate amount of sunlight is good for your personal health, but the long-term effects of solar exposure can be bad for your roof. Built-up heat in your attic and on your roof can accelerate wear and tear, and UV radiation can be another factor in accelerating degradation of your roofing materials – eventually leading to crack formation in some products. It's best to choose a roofing product that's engineered to endure the effects of the sun. Some products can also include special coatings which improve overall UV resistance.
Roof Pitch
The slope of your roof is an important factor in determining how it sheds water runoff. A steeper roof facilitates faster runoff, while a lower pitch can lead to a greater propensity of standing water. There are pros and cons to each roof design approach, but one of the most important things you can do is to choose a roofing material that's designed to perform effectively for the pitch of your particular roof. Got questions about which materials are best for certain roof pitches? Reach out to the friendly team of experts at Skywalker Roofing, we'd be happy to answer your questions and make some helpful suggestions!
Ventilation
Is your roof equipped to "breathe" properly? While that may sound a little odd, it's actually very important for your roof to be designed in a way that it allows for proper ventilation. Poor ventilation can result in too much heat and moisture building up in your attic, and it can also lead to accelerated degradation of many roofing materials. One issue that many property owners face is that their current roof simply may not have enough built-in vents for proper air intake and exhaust.
Insulation
Proper roof ventilation is important, but so is proper roof and attic insulation. An under-insulated roof and attic makes it much harder for your climate control system to regulate indoor temperatures. This means your air conditioners and heaters will be unnecessarily overworked, and will ultimately result in inflated energy costs. Most roofs in America are actually underinsulated, even if they're built to the minimum required legal regulations. A general rule of thumb is that you really can't over insulate your roof and attic, and there's a good chance you would benefit by adding more insulation to what you already have in place. Adding some blown insulation is an effective way to achieve this goal.
Roof Usage
One question to ask yourself is how you're using your roof beyond simply asking it to provide you with essential protection from the elements. For example, any installed solar panels can put some extra pressure on certain roofing materials and shorten their expected life of service. If you're looking to take advantage of the many benefits of going solar, a standing seam metal roof is really one of your best material options.
Roof Age
While some roofs are engineered and designed to last longer than others, no roof lasts forever. Time and the effects of the elements will take their toll on any roof eventually. Depending upon the expected life expectancy of the roofing materials you're using now, it may time to look at some good roof replacement options. Making a proactive decision about replacing your roof now can save you from a lot of potential headaches and prevent a lot of potential roof-related damages incurred down the road.
Roof Maintenance
Lack of regular maintenance can eventually lead to the premature demise of any roofing material. It's important to do regular self-inspections of your roof to look for any obvious damage. And if you have gutters installed, it's also important to make sure your gutters stay clear and free-flowing. Nervous about climbing a ladder or getting on top of your roof? You can always enlist the help of a roofing contractor to help maintain your roof. Bear in mind that a  lack of proper maintenance can also result in the voiding of some of your manufacturer-supplied roofing product warranties, too.
Roof Installation
We saved this one for last, but proper roof installation may honestly may be the most important factor in determining the longevity of your roof! The most common cause of premature roof failure is faulty installation workmanship to begin with. Installation defects can lead to a whole host of roofing problems. The best preventative solution is to make sure your entrust your roof installation to a local professional who really knows the business, has the best-trained installers, and is licensed, bonded, and insured.
Trust Skywalker roofing with ALL of Your Roofing Needs in NC & VA
Skywalker Roofing is the best-trained, best-equipped, most committed team to taking care of you and your individual roofing needs, whether you're a homeowner or a business owner. We work with all popular roofing materials, including shingles, metal, slate, tile, wood shakes, composites, and a range of flat roofing materials. And we don't just provide the best in roofing installation and replacement services; we also offer comprehensive roof repair services, too. Ready to schedule your FREE roof inspection and consultation? You can reach out to us online, or just give us a call at +1 (336) 627-5596!
Skywalker Roofing is THE choice for residential and commercial roofing in the NC Piedmont Triad, Piedmont Triangle, Charlotte Metro/Lake Norman region, and Roanoke, VA area. We invite you to experience the Skywalker Roofing difference for yourself!