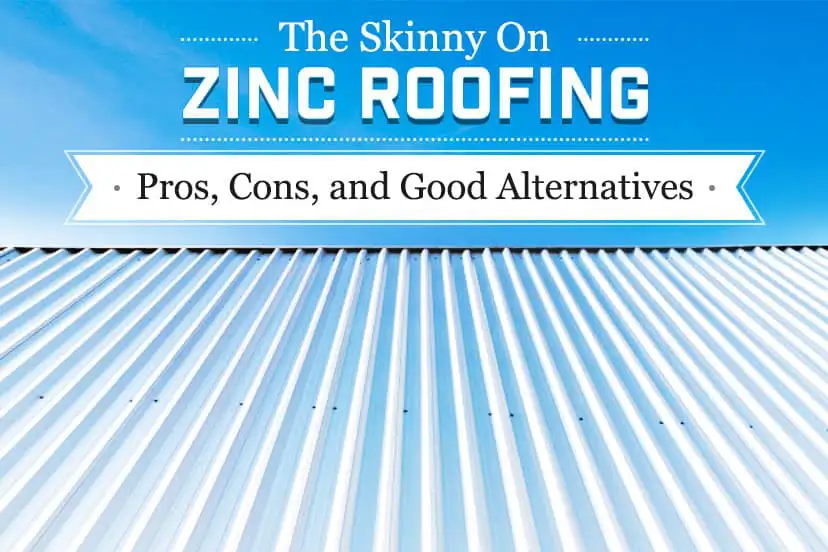 The Buzz About Zinc
Looking for a metal roofing material option that's both beautiful and long-lasting? You'd be hard-pressed to choose a better metal roofing material than zinc! If you live in the US, it's possible that you haven't considered zinc before, up to this point. But here's a fun fact you should know – 70% of all European residential roofs are now covered with zinc metal paneling. Of course, just because Europeans do something does NOT mean that Americans will, or even necessarily should, follow suit. This is America after all, and ain't NOBODY gonna tell us what to do! But even so, zinc does carry lots of distinctive features, and we would be remiss if we didn't discuss its pros and cons here, along with some good zinc metal alternatives.
Looking
For Home
Improvement Services?
Advantages and Drawbacks Where Zinc Is Concerned
So, is zinc something that should be on your radar if you're planning for a metal roof? Let's do a quick run-down through some of zinc's pros and cons.
PROS
Incredible Longevity
If you're looking for a roof that's really built to last a long time, this is one of the real selling points of zinc. Zinc panel roofing commonly lasts well over 100 years. The only other common metal material with a comparable lifespan is copper.
Distinctive Patina
Another similarity that zinc carries to copper is the fact that it creates its own unique patina through the oxidation process. This patina layer helps to protect the zinc, and small scratches on the zinc will amazingly fill themselves in over time.
Presents an Engaging Look
Another great thing about zinc's patina is the distinctive & attractive appearance it's able to create. Zinc can start out as a dark shade of grey, but then over time it will change to a lighter grey, and can even take on a more bluish tone.
Essentially No Maintenance Is Needed
Once the zinc goes on your roof, there's very little you'll ever need to do to it. The patina constantly renews itself, so aesthetic repairs shouldn't ever be necessary. As long as the zinc is installed right the first time, your zinc roofing should need little to no maintenance.
Conserves Natural Resources
Zinc is a metal that's 100% recyclable, and can be reused over and over. Zinc also requires less energy resources and fewer carbon products to produce than many other popular roofing materials, including asphalt shingles.
CONS
It's Expensive!
One of the biggest disadvantages to zinc as a roofing material is its higher cost. In comparison with most other roofing materials, zinc can carry some real sticker shock. To the point, the only common roofing material that's more expensive than zinc is copper. This is probably one of the main reasons why zinc has yet to gain much of a real footing in the US market.
The Patina Process Can Be Slow & Hard to Predict
Many people like a metal patina appearance, but one issue with zinc patina is the fact that it's hard to predict what your actual patina will end up looking like. If you have a specific color tone you're going for, then zinc patina may not be your best option. Zinc patination can also be a slow process – it can complete itself in as fast as 2 years, or in some situations, the process can drag out for up to 30 years!
Risk of Improper Installation
Poor installation practices are a potential issue for any roofing material, but the stakes are even higher when it comes to zinc and other metals. If water is given a chance to intrude behind or beneath the metal paneling, moisture can get trapped inside, and that can end up doing extensive damage to your entire roof system.
What's Good About Metal Roofing in General
While zinc may – or may not – be the best choice for your particular roof situation, there really are many reasons you should consider a metal roof in general. Here are just a few to keep in mind:
Metal roofs are built to last
As long as you choose quality materials and have them installed properly, a metal roof really can be the last roof you'll ever need to install!
Wind, lightning, & fire resistance
Some metal roofs have been rated for wind gusts of 140+ mph. Metal also doesn't burn, so it offers better fire protection. And metal is better suited for dissipating the impacts of a lightning strike, too.
Won't rot, and doesn't host mold & mildew
Metal doesn't rot, and won't corrode as long as it's given a proper protective coating during the manufacturing process. Metal also plays a poor host for mold and mildew growth.
Works on roofs of any pitch
Whether your roof is steep, or it has a relatively low pitch, metal can be a good solution for your roofing needs. Most other roofing materials aren't nearly as versatile in their application potential for roofs of various slopes.
Looking
For Home
Improvement Services?
Looking for a More Affordable Zinc Alternative? How About a Metal Roof with Zinc Patina?
Not sure you're ready to pull the price trigger on paying for a zinc roof, but you still like the look of zinc? Then it would be worth your while to consider a galvalume steel roof painted with a Kynar zinc patina! A galvalume steel roof can easily last you 40-60 years with little-to-no maintenance, and it comes with its own great warranty. Galvalume steel is more affordable than zinc, too. Kynar 500 resin-based coatings are infused right into the metal, and they retain their color tone and gloss much better than other metal paints. Another advantage of going this route is that you can choose the exact patina look you want, without having to worry about what the final result of a natural zinc patination process might end up looking like down the road.
Choose Skywalker for All Your Metal Roofing Needs in NC & VA
Zinc may not be big in the US just yet, but metal roofing is something that is continuing to gain in popularity across the country. And while choosing the right roofing material is important, finding the right local roofing professional to install your roof is perhaps the most important step in the entire process! Many local roofers may know how to hammer a shingle, but not nearly enough have the proper training, specialty tools, and experience to be able to handle installing a metal roof the right way.
Thankfully, the Skywalker Roofing team includes plenty of trained professionals who specialize in metal roofing! We serve the entire NC Piedmont Triad, Piedmont Triangle, Lake Norman area, and southern Virginia region. We're very well-versed in all popular roofing materials, including everything from standing seam metal roofs, to slate, to wood shakes, to composite and synthetic materials, to all types of asphalt shingles.
Just let us know what you're looking for, and we can steer you in the right direction! Check out our website, or just give us a call today at +1 (336) 627-5596. We'll take good care of you throughout the entire process, and we'll make sure you get the last roof you'll ever need!