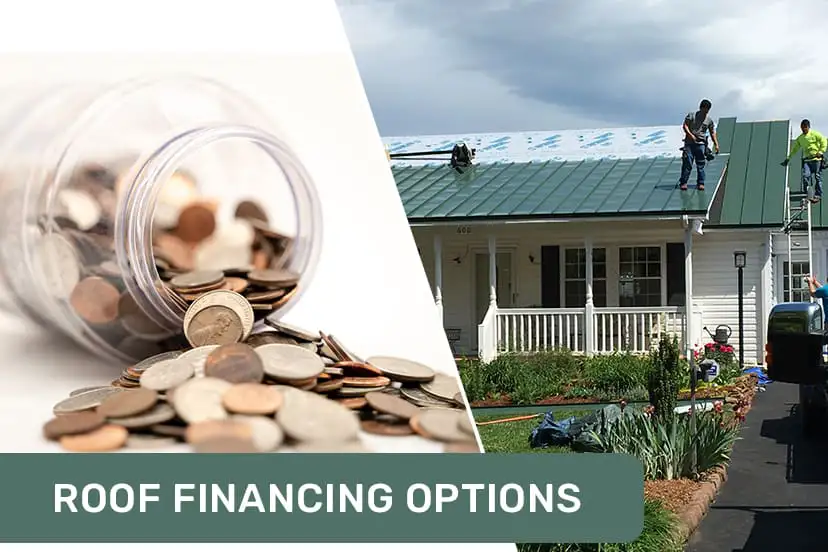 Is your roof finally standing on its last leg? Are you one of many NC and VA residents who know you need a new roof, but just aren't sure how to fit a roof replacement into your budget? If you answered "yes" to these two questions, we have some good news for you. You're not alone; in fact, you're actually in good company. And the really good news is that there are some proven solutions available to help you afford the new roof you need!
Because let's face it – a new roof isn't cheap. Sure, you might be able to find a roofer who uses cheaper materials and is willing to cut corners to save a buck – but is that really the kind of roof you want protecting your family? Honestly, you don't want your roof to be cheap. You want a well-made roof that's installed to last. What you simply need is a way to make a quality roof affordable.
Why Roof Financing Makes Sense
Like many other fine folks in similar situations, you just may not have the cash in hand to be able to pay for a needed roof replacement up front. We get it! And the good news is that when it comes to getting the roof you need, there really are some good roof financing options! Financing is an affordable path that many homeowners just like you take to be able to go ahead and have a quality roof installed now – because when it comes to a needed roof replacement, that's something you really can't afford to wait on.
 Benefits of Considering Roof Financing
There are several good reasons that roof financing makes sense as a way to pay for your new roof:
No large down payment needed – Don't have a bunch of money to put down up front? With qualified roof financing, you won't need to!
Get the roof you need NOW, before the next storm hits – A roof that's in poor condition won't get better on its own. If you keep putting it off, you run the risk of incurring even more expensive problems and headaches. Roof financing can help alleviate that unnecessary stress!
Get other needed work done, too – With secured financing, you can do more than just replace your roof. Maybe you also need to have a chimney repaired, would benefit from upgrading your gutter system, or need to take care of some other things at the same time. Going ahead and getting those issues taken care of now can save you lots of money and frustration down the road.
Save your money for other things – Maybe you could afford to pay for your new roof now, but you'd really prefer to set that cash aside for other things you have in mind to do. By taking advantage of roof financing, you can stay on track with your other projects, or can simply keep that "emergency fund" intact.
Roof Financing Features
You can try to secure financing on your own from a bank or other lender, but there are some advantages that go along with choosing a professional roofing provider that offers their own preferred financing options. Thanks to having special relationships with home improvement lenders, a company like Skywalker Roofing is well-equipped to help you find a financing rate and payment plan that will fit your budget. A qualified roof financing program can offer you several attractive features, like these:
No large up-front payment needed
Competitive interest rates with fixed monthly payments (subject to credit approval)
No balloon payments, and no hidden fees
Easy payment options, including the option to bundle with your property tax bill
Fast credit decisions
You also have the option to pay for part of your roofing project balance now, and then simply choose to finance the rest
No penalty for paying down your balance or paying it off early
Your roof may also qualify you for federal credits that could save you on your taxes
The potential energy savings you'll enjoy from having the right roof in place could also help your new roof to pay for itself over time!
Choose Skywalker for Roof Financing, and for All Your Home Improvement Needs
Want to learn more about Skywalker's preferred roof financing options? Just check our Roof Financing options for more details, or give us a call at +1 (336) 627-5596 and we'll be glad to discuss it with you further. We're committed to helping you find ways to afford the quality roofing and other home improvements services you need.
And no matter what your financing strategy may be, it's best to partner with a local roofing contractor you can trust, who provides quality products and workmanship they stand behind, and who offers exceptional customer experience and customer service. If you'd like to find someone who can check off every box on that list, look no further than Skywalker!
Skywalker Roofing is all about taking care of you and your individual needs, but don't just take our word for it. Take a minute to check out some of what our customers have to say about us on Guild Quality, one of the most respected home construction and home improvement contractor review forums you'll find anywhere!
Skywalker is a premier roofing and home improvement contractor serving the NC Piedmont Triad, Piedmont Triangle, and Charlotte Metro areas, as well as a large portion of southwestern VA including Roanoke. We'd love to serve your needs, too! Reach out to us today, and experience the Skywalker Roofing difference for yourself!