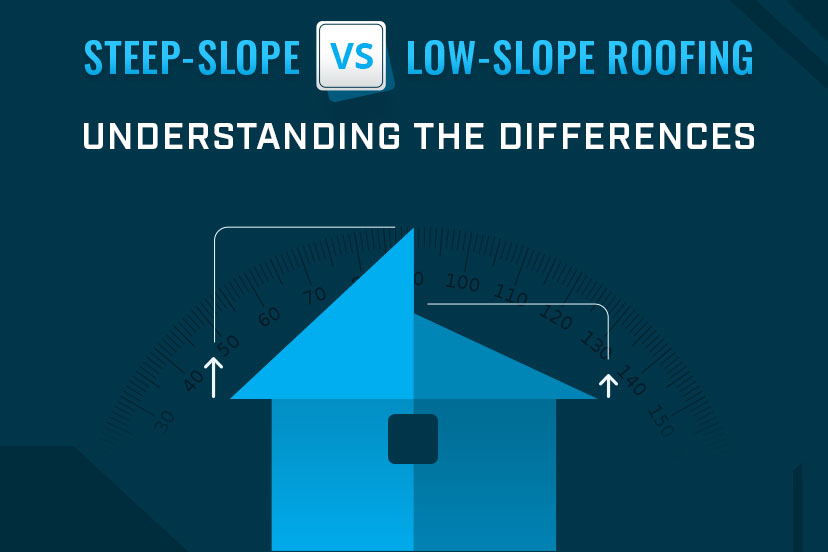 Many components contribute to the overall design of a roof, but one of the essential components is the slope or the pitch of the roof. The pitch of a roof is something that every homeowner and contractor needs to take into consideration when it comes to roof installation and repair. Read on to learn more about slope roofs, like what value they add to your home, types, and more.
Different Slopes Require Different Roofing Systems
Roofs are designed to provide essential protection for buildings of all shapes and sizes. But many factors combine to decide which type of roofing system is best for your building, not least of which is the particular slope or pitch of your roof. Roof pitch is something that every homeowner, business owner, and roofing contractor must take into consideration when it comes to choosing and providing the right roof installation, roof repair, and roof replacement services. Keep reading to learn more about how and why roof slope matters.
A Roof is a Roof, Right?
At a very basic level, all roofs perform the same essential function – but the way they go about it can be quite different. The basic definition of a roof? Whatever comprises the top envelope of your building. And what is a roof's essential function? Your roof exists to cover the top of your structure and to protect its people and contents from the elements. The support framing and various components of a roof system help to support the building structurally as well, and a proper roof also adds needed insulation value.
But aren't all roofs basically the same? No, not at all! Modern roofs can be designed to accommodate a wide variety of slopes, are constructed with all sorts of materials, and can add various functional features and aesthetic value, depending upon which type (or types) of roofing you choose. In this blog, the pros at Skywalker Roofing will take you through a deeper dive of the differences between steep-slope and low-slope roofs.
Steep-Slope Roofs
A steep-sloped roof is what you will often see on most residential buildings. To be technically classified as a steep roof, the roof must have a pitch of 18 degrees or more. This type of roof design is very common for homes, and is also common for small business buildings which are designed to mimic the look of a home. The most common type of steep-slope (also known as pitched) roofing in America is asphalt shingles. Other popular roofing materials used for pitched roofs include metal, slate, wood shakes, natural tile, and synthetic tile, shakes, or shingles. To learn more about the best material options for pitched roofs, see here.
Low-Slope Roofing
Low-slope roofing is more or less exactly what it sounds like – it's a roof designed to cover a low-slope surface. In order to meet the low-slope criteria, a roof must have a pitch of below 18 degrees. When many folks mention low-slope roofs, what they're often talking about is a flat roof (or something very close to flat). Because most commercial and industrial buildings entail significantly more square footage than residential roofs, flat or low-slope roofs are usually a much more cost-effective design for these types of facilities. Some of the most common materials used for flat and low-slope roofs include metal, modified bitumen & buildup roofs, PVC, TPO, and EPDM. Want to learn more about the best materials for low-slope and commercial roofs? Check out this helpful blog.
Looking
For Home
Improvement Services?
Pros & Cons of a Steep-Slope Roof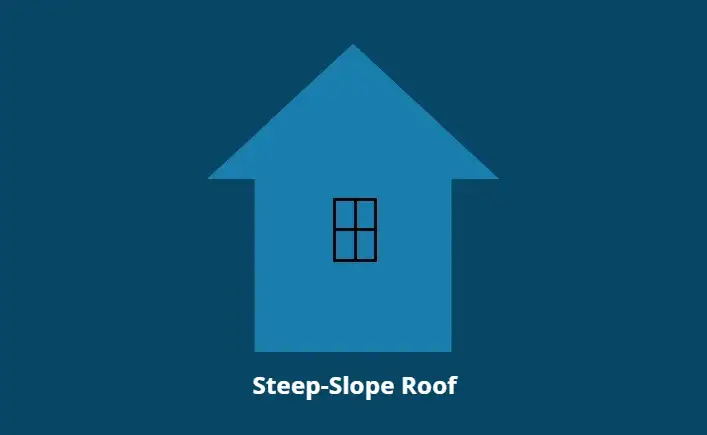 What are the advantages of having a steep-slope or pitched roof? One of the main advantages has to do with gravity. A pitched roof has a significant amount of slope by definition. And as a rule, the greater the roof slope, the easier it is for rain, snow, and debris to flow off of your roof and then get channeled away from your building. Here are a few specific pros of steep roofing:
• Better flow of water
Water that falls onto a pitched roof has nowhere to go but downhill – off of your roof and into your gutters. Because water can't collect on a steep roof, your roof also stays drier over time. This helps to prevent mold & mildew development, which can serve to help lengthen your roof's lifespan.
• Less snow & ice buildup
Having a steep roof doesn't just help with liquid water; it's a better solution for preventing frozen water accumulation, too. If you live in an area that tends to get some heavier snows, this is definitely something you'll want to keep in mind when it comes to choosing the best roof system for you.
• Extra storage space
Pitched roofs are usually built on some type of A-frame design. The greater the roof slope, the more attic space you'll have built-in to your roof as a result. If having more available attic space for storage matters to you, then a steep slope roof is a great way to help you get there. Depending upon the pitch specifics, you can even opt to insulate and finish your attic as additional living space!
Of course, there are a few potential cons that go along with having a pitched roof, too. A steeper slope means it will be harder to access and navigate around your roof. This could mean increased labor costs for roofing installation, and can make roofing maintenance a little more challenging as well. Another liability of steep-sloped roofs is that they're not a practical or cost-effective solution for commercial buildings or most other large facilities.
Pros & Cons of Low-Slope Roofing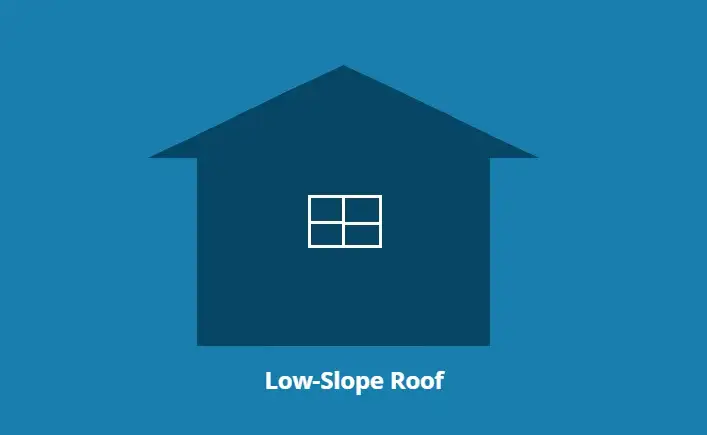 Low-slope and flat roofs have their own sets of benefits, as well. Flat roofs lend themselves better to buildings with a significant amount of square footage to cover. Low-slope roofs can also work well for certain residential applications, like covered porches and decks. Here are a few more key pros to keep in mind for low-slope and flat roofs:
• Simpler & cheaper to install
Because flat roofs don't mandate the addition of a complicated rafter system for support, they require less framing building materials than steeper-sloped roofs. The fact that flat roofs are simpler to install also tends to help cut down on labor costs, too. If a flat roof will meet the needs of your building design, then it's certainly a cost-effective option worth considering.
• Can help minimize heating & air costs
Constructing a steep-sloped roof also necessarily involves the creation of extra attic space. This added air space can have a significant effect on how hard your heating & cooling system has to work to keep your living space comfortable. A low-sloped roofing system limits the amount of unused air space inside your structure, meaning your HVAC system shouldn't have to work as hard to keep your building warm in the winter and cool in the summer.
• Offers options for multipurpose roof usage
While a pitched roof may offer you some extra storage space in the attic, a low-slope roof offers you some other creative ways to use your roof itself. For example, it's much easier to include a sun deck area on a flat roof than it is on a pitched roof.
But as is the case with pitched roof options, there are some potential cons that go along with choosing a low-slope roof, too. Since overlapping roofing materials (like shingles, tiles, or shakes) won't work in a low-slope environment, you're somewhat limited by your available roofing material choices. And if you live in a particularly snowy area, low-slope roofs aren't recommended as they can allow for significant snow accumulation on your roof. If the snow gets heavy enough, that can even lead to a roof collapse. Another issue to bear in mind with low-slope roofs is there's a greater need for ongoing upkeep. Flat roofs carry a higher potential for leak development, and thus require more frequent inspection and maintenance.
Looking
For Home
Improvement Services?
Choose Skywalker Roofing for ALL Your Roofing Needs in NC & VA
No matter what pitch of roof you currently have or are looking for with your building, and no matter which roofing material you prefer for residential or commercial applications, Skywalker Roofing is the name you can trust for roofing solutions in NC & VA! We work with all the best pitched roofing materials, and can also install flat roofing materials like PVC, TPO, EPDM, and BUR. In addition, our custom-crafted standing seam metal roofing is a perfect solution for both steep roofs and low-slope roofs alike!
Skywalker Roofing is proud to treat each customer as if you were our ONLY customer, and we've been operating that way for some 20 years. We provide comprehensive roofing services for the entire NC Piedmont Triad, NC Piedmont Triangle, Lake Norman area, and southern VA region. And we do LOTS more than just roofing. Skywalker offers many valuable home improvement services, like gutter & gutter guard installation, siding replacement, windows & exterior doors replacement, deck & porch additions, skylight installation, blown insulation services, and more.
In other words, we aren't just roofing experts, we're really building exterior transformation experts!
Ask around for yourself, check out our glowing customer reviews, and then go ahead and give us a call today at +1 (336) 627-5596. We invite you to come experience the Skywalker Roofing difference!