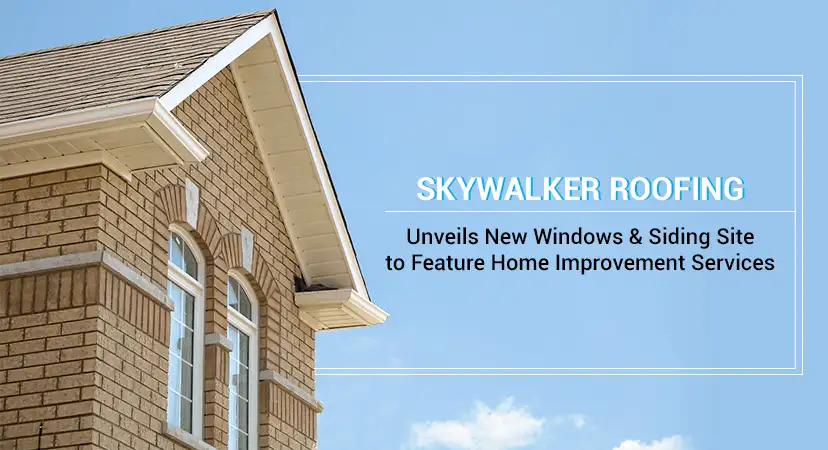 STOKESDALE, NORTH CAROLINA – You may know that Skywalker Roofing has been faithfully serving the roofing installation, replacement, and repair needs of both home and business owners in the greater Triad region since 2003. You may also be aware that Skywalker has since expanded its service area to now include all of the NC Triad, NC Triangle, Charlotte Metro, and Roanoke, VA areas. But did you know that Skywalker also provides several other valuable home improvement services that go far beyond just roofing?
To help create awareness around all of our professional home improvement service offerings, Skywalker is pleased to announce the release of our new sister site, www.skywalkerwindowsandsiding.com. This site highlights Skywalker's exterior and interior specialty services which go beyond roofing, including window installation and replacement, siding installation and replacement, gutter and gutter guard installation, fascia & soffit work, and blown insulation services.
Owner Luke Wilson wants folks across Skywalker's NC and VA service areas to know that Skywalker isn't just about providing the best residential and commercial roofing services; Skywalker is also here to provide the best home and business improvement services, too. As Wilson puts it, "At the end of the day, we're really about helping people, about personally connecting with each and every customer, and about benefiting the communities in which we serve. Hopefully, this new website will help us to meet the needs of even more individuals and organizations across our ever-expanding Skywalker footprint."
Beyond visiting the new site itself, you learn more about Skywalker Windows & Siding by checking us out on all our social media channels:
In addition to clicking around, you can also just pick up the phone and give us a call at +1 (336) 627-5596! We'd love to answer any questions you may have, and we'd be happy to tell you a bit more about the professional home and business improvement services we have to offer. We invite you to reach out to us today, and experience the Skywalker difference for yourself!
ABOUT SKYWALKER ROOFING AND SKYWALKER WINDOWS & SIDING
Established in Stokesdale, NC in 2003, Skywalker Roofing has grown its service area to now include all of the NC Piedmont Triad, Piedmont Triangle, Charlotte Metro, and Roanoke, VA areas. Skywalker specializes in all things roofing, and also offers a range of other valued home improvement services through its Skywalker Windows & Siding division, including windows replacement, siding replacement, fascia & soffit work, gutter and gutter guard installation, blown insulation, and interior drywall repair. Skywalker is one of the most awarded, trusted contractors in the area, and is proud to consistently deliver the highest level of workmanship and personalized customer service for both residential and commercial clients. Skywalker has completed over 15,500 projects and counting carries a 99% approval rating from its customers and is also proud to maintain an A+ rating with the Better Business Bureau.