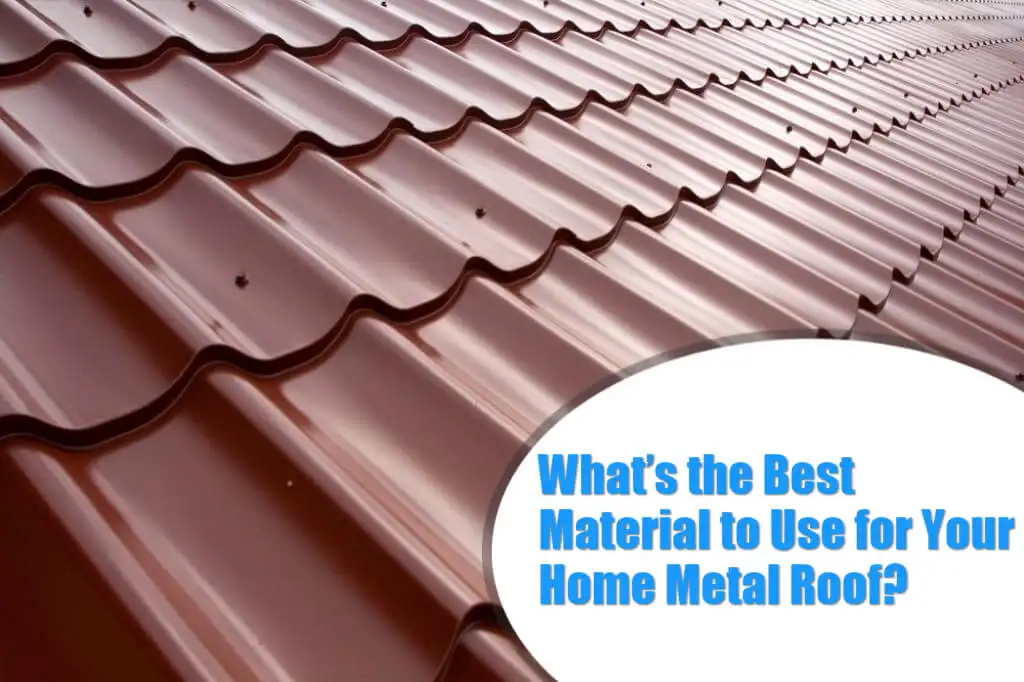 The Buzz About Metal
Metal roofing continues to grow in popularity across America, for both homeowners and business owners alike. Roofing Contractor Magazine reports that metal roofing is one of the fastest-growing areas in the roofing industry, particularly in the residential sector. Some folks are simply drawn to the nostalgia of being able to hear raindrops fall on a metal roof, while many others are attracted to the numerous practical aspects of choosing metal as a roof covering. If you're currently considering putting a durable metal roof on your home, you're certainly in good company!
Benefits of Metal Roofing
There are many advantages that go along with choosing a metal roof. Here are just a few to consider:
Metal roofs are made to last
As long as you choose the proper materials and have them correctly installed, a metal roof can be the last roof you'll ever need. The thought of installing a single roof that never needs replacing is one that continues to gain more attention and interest, for good reason!
Metal roofs are effective and efficient
The material and texture of metal roofs make it easier for rain, snow, and debris to be directed off of your roof than with other comparable materials. A well-installed metal roof really doesn't allow any opportunities for moisture to penetrate, so the chances of leaks are greatly reduced.
Metal is more resistant to wind, lightning, and fire
Depending on the material you choose, metal roofs have been demonstrated to withstand wind gusts of 140mph or greater. And since metal is conductive, it can actually help dissipate and deflect the impacts of a lightning strike. Metal doesn't burn either, so it offers better fire protection than other potentially flammable materials.
Doesn't rot, and won't host mold, mildew, or moss
A properly-treated metal roof won't rod or corrode over time, and metal is also a poor host for mold, mildew, or moss.
Can be used on roofs of nearly any pitch
Metal is versatile in that it works just as well on low-sloped roofs as it does on steep roofs. This simply isn't the case with some other roofing materials.
Energy-efficient and eco-friendly benefits, too
Thanks to metal's natural reflectivity, a metal roof can help prevent solar radiation from penetrating, thus helping you to save on air conditioning costs. Metal roofs are also made with at least a percentage of recycled materials, and are completely recyclable themselves. A metal roof also makes a sturdy base for attaching solar panels, and is perfect for implementing a rainwater harvesting system.
Many folks just like the sound of rain on a metal roof, and find it to be soothing. But if you'd prefer a quieter metal roof, insulation and proper installation techniques can help buffer metal roof noise. Choosing a heavier gauge of metal for your roof will help reduce the potential of sound transfer, too.
Material Options for a Metal Roof
Ok, you like the idea of a metal roof – great! But which type of metal is right for you? Some of the most common roofing metals include aluminum, copper, and Galvalume steel. Here are a few more details and some pros and cons about each:
Some positive aspects of aluminum include the fact that it's lightweight and easy to work with, doesn't rust, comes in a nice array of colors, and also comes at the cheapest price point. Aluminum also brings along some liabilities to consider as well. It's a softer metal that is easier to ding or bend, and simply isn't as rugged as other metal material options. Skywalker Roofing can provide you with an aluminum roof by request, but it isn't a roofing material that we'd typically recommend in most cases.
Copper really is a beautiful metal that also makes for a beautifully-unique roof. Copper won't rust, never needs painting, and starts out with that bright, familiar, metallic copper tone. Over time, your copper roof will then gradually develop its signature green patina. Copper is a popular choice for high-end residences and historic restorations, and also makes for some beautiful gutters … if you have the budget for it. One of the main downsides of copper is its material cost — as a premium roofing metal option, copper isn't cheap. It also requires custom welding of the seams and joints, and really should only be installed by a professional. Skywalker Roofing has plenty of experience working with copper, and we'd be happy to take care of your copper roofing or gutter needs by request.
If you want a metal roof that's stronger and more durable than aluminum, while also offering you a range of color options, then Galvalume steel really is your best bet. Unlike traditional galvanized steel which is only dipped in zinc, Galvalume steel is coated with a combination of zinc, aluminum, and silicon, providing even greater corrosion resistance and longevity. A Galvalume roof can last up to twice as long as a traditional galvanized roof, and is a much more popular option for residential applications. In fact, Galvalume steel is far and away the most common roofing option that our customers choose at Skywalker, thanks to its combination of strength, durability, and reliable performance.
Gauging Metal Roof Thickness
If you're a hunter or shooting sports fan, then you're probably familiar with the term "gauge" as it relates to the diameter of a firearm bore. When it comes to guns, a lower gauge number refers to a larger bore diameter; for example, a 12-gauge shotgun has a larger bore than a 20-gauge. In terms of metal roofing, however, "gauge" simply refers to the thickness of the metal itself. When it comes to a Galvalume steel roof, there are three common gauge options: 29-gauge, 26-gauge, and 24-gauge.
29-gauge is typically the thinnest metal option. 29-gauge is commonly used on metal storage buildings, garages, and farm buildings, and it can be used on residential buildings in certain situations (and if your local building codes will allow it). 26-gauge metal is really a better option for home roofs, while a heavier 24-gauge metal is preferred if you live an area that's susceptible to high winds or extreme weather. Skywalker offers both 26-gauge and 29-gauge Panel-Loc roofing options, but we really specialize in providing custom-fabricated, standing seam metal roofs crafted with premium 24-gauge metal. If you choose a premium standing seam roof from Skywalker, we can guarantee it'll be the last roof you'll ever need!
There's Paint, and then There's Kynar
Another advantage of choosing Skywalker for your standing seam metal roof is that we don't just cover your metal roof with some inferior acrylic paint. Rather, we infuse the color into your metal with premium Kynar 500 resin-based coatings. Kynar is simply the best metal paint in the industry; no other coating retains the same color and gloss, or protects your roof from the rigors of weather and time like Kynar. It keeps your roof looking beautiful, and helps the metal resist chalking, pitting, chipping, or aging prematurely.
How Much Does a Metal Roof Cost?
We understand that initial price is one of the first things people consider when it comes to choosing a roofing material, and it's true that metal roofing isn't the cheapest option out there. The materials, tools, and labor required to install a metal roof do tend to be more than are required for putting on shingles, for example. Even though a metal roof does carry a higher price tag on the front end though, this should be weighed against the fact that a well-installed metal roof will far outlast any shingle roof. In fact, you'll probably have to put on more than one shingle roof to match the longevity of a single metal roof. And choosing one metal roof that  never needs replacing is actually cheaper than having to purchase roof replacements over the life of your structure! And the other good news? Skywalker Roofing partners with several preferred lenders to help you get the metal roof you need, with payment options you can afford!
Why You Should Choose Skywalker For Your Metal Roofing Needs
We noted at the beginning of this blog that metal roofing is growing in popularity across the U.S., but there is also one factor which limits its growth potential – the lack of qualified contractors and installers that can do the job right. Choosing the right roofing material is certainly important but having great roofing material won't do you much good if it isn't handled and installed correctly. Many local roofers are well-versed in working with shingles, but don't have the training, specialty tools and equipment, or experience to handle metal roofing the right way.
Thankfully, there is a solution! Skywalker Roofing is the elite metal roofing contractor which serves the NC Piedmont Triad, Piedmont Triangle, Charlotte Metro, and Roanoke, VA areas. We specialize in ALL preferred roofing materials, including metal, slate, wood shakes, composite materials, architectural and dimensional shingles, and more! Reach out to us at Skywalker today by calling +1 (336) 627-5596, and let one of our friendly experts answer all your questions and you get you scheduled for a FREE home inspection and personal consultation. Let's get started on helping YOU to get the last roof you'll ever need!