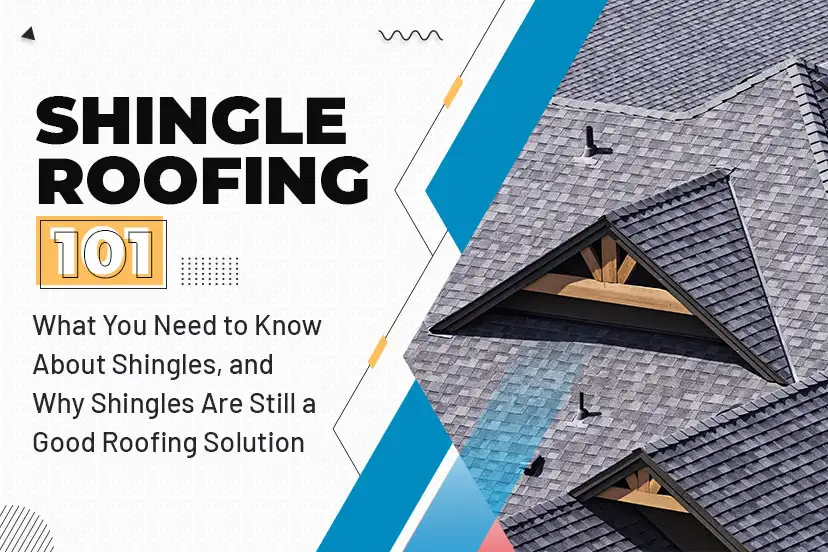 Shingle roofs are everywhere.
If you're a homeowner, chances are very good that you currently have a shingle roof or have had one at some point in the past. How do we know? It's simple statistics. Asphalt shingles are the most popular roofing material in America and have been for about a century. So, if you're thinking of installing an asphalt shingle roof or are planning a shingle roof replacement in Winston-Salem, Greensboro, Durham, Raleigh, Mooresville, Roanoke, Danville, Martinsville, some other town in NC or VA, or anyplace else – you're certainly in good company!
Let's look closer at the facts about shingles. We'll also help to answer when it's time to replace your shingle roof, what your shingle material options are, and how to choose the right shingle roofing contractor.
What are roof shingles, and how do they work?
There are several reasons why shingles continue to be popular. Shingles are generally one of the most affordable roofing materials, come in a wide variety of colors and profiles, and are relatively easy to install as opposed to some other roofing options. But what is a shingle, exactly? The basic asphalt shingle design involves three layers – a backing base, a layer of asphalt material, and a covering of mineral granules.
• The shingle backing base can be made with paper, fiberglass, or other materials. The base helps to hold the shingle together and also provides structural support for affixing the shingle to the roof.
• Since asphalt is petroleum-based, it's naturally water-repellent. This makes asphalt a great material for covering a roof and helping to shield it from moisture penetration.
• What's the point of those little granules? They actually serve several functions. The granules add UV protection for the asphalt, boost fire resistance, and improve aesthetics by adding more color and texture to the shingle.
More about shingle granule loss
You probably already knew that shingles have granules. And if you've had a shingle roof for any length of time, you've probably also noticed that some granules are shed over time. It's not uncommon to find shingle granules in your gutters and around your downspout drainage areas.
In fact, shingles are manufactured with more granules than they actually need on purpose. This is due to the fact that granule shedding is a natural phenomenon with asphalt shingles. Some granule loss can be expected during the shingle roof installation process, and granules will continue to gradually be lost with each significant weather. Granule loss in and of itself shouldn't alarm you; that's just part of what it means to own a shingle roof.
How to know when your shingles need replacing
A well-installed shingle roof should last for 20 years or longer, with proper care and maintenance. But even so, there will come a point when you need to think about a roof replacement. Here are some signs that your shingles may be coming to the end of their service life:
• Age of your roof
Various shingle manufacturers will provide warranties ranging from 15 to 30 years – but that doesn't mean you should necessarily wait that long before doing anything. You should really be assessing the condition of your shingle roof on a regular basis and even more frequently as your roof gains more years of service.
• Got curls?
Starting to notice some curling shingles? That's a sign that your shingle roof needs some attention, ranging from some individual shingle replacement up to a full roof replacement.
• Cracked or missing shingles
If there are visible cracks in your shingles, or if you've actually lost some shingles (storms can certainly do that!), you need to take action. All that may be required are some basic repairs and individual shingle replacements, but it's hard to know that without professional consultation. To that end, it's best to entrust roof repair and roof replacement to a trusted local roofing contractor like Skywalker Roofing.
• Attic or ceiling leaks
This one goes without saying, but if you're seeing interior leaks or water damage in your attic or in your living space, you really can't afford to wait. The triage step is to get some tarps on your roof to "stop the bleeding," and then you'll want to have a professional roofer come take a look to help you decide your best roofing solution options.
• Excessive loss of shingle granules
We mentioned above that some granule loss is to be expected over time, but once your shingles start to become "bald," it's time to act. If you're noticing more and more granules collecting in your gutters and/or around your downspouts, you should really have a professional come out and take a look. Once your shingles lose too many granules, their ability to protect you and your roof will eventually become compromised.
So, it's time for a shingle roof replacement. But which shingles should you go with?
These days, there are more shingle choices than ever, but it's also important to note that not all shingles are made the same. It's smart to weigh the pros and cons before deciding on the right shingle replacement material for you.
• Standard asphalt shingles
Many folks choose traditional 3-tab shingles by default because they're usually the cheapest option. Just remember that cheaper isn't always better. Some other shingle products may cost a bit more on the front end, but they're also engineered to last longer than traditional shingles and won't have to be replaced as often.
• Architectural shingles
Architectural shingles go by many names, including laminate shingles, dimensional shingles, and composite shingles. This shingle design does carry some significant advantages over a regular 3-tab shingle. Architectural shingles are thicker and more rugged, featuring multiple layers of material. These shingles are more robust, weighing about 50% heavier than standard shingles. Architectural shingles can last up to twice as long, too, and deliver a more complex, dimensional aesthetic for your roof.
If you're considering architectural shingles, Skywalker Roofing recommends the TruDefinition Duration line from Owens Corning. TruDefinition Duration Shingles provide dramatic color contrast and add a greater visual dimension to any roof. These shingles come with patented SureNail Technology, and they exceed industry standards for algae resistance and wind resistance.
Oh, and here's another benefit of choosing a TruDefinition Duration Shingle roof system – it comes with a Limited Lifetime Warranty provided by Owens Corning!
• Wood shakes
Wood shakes, and shingles are beautiful options, too. Wood shakes are split from real logs (like cedar) and then manufactured for use as a roofing material. Modern wood shakes are treated with both fire retardants and other chemical preservatives and do a good job of resisting moisture infiltration. And if you like the idea of an eco-friendly roofing option, it doesn't get much more natural than trees!
• Synthetic shingles
Another alternative to asphalt shingles that's gaining popularity is synthetic shingles (also known as composite shingles). The best synthetic shingles are cast from pure virgin polymer resins and have no need for any granules. Skywalker Roofing recommends synthetic shingles from DaVinci Roofscapes. These tiles can mimic the look of shingles, wood shakes, or even slate. DaVinci tiles are also designated as energy-saving "cool roofs" and are made to outperform all traditional shingles. And another benefit of choosing DaVinci tiles is that they require almost no ongoing maintenance.
Which roofing contractor to choose? In NC and VA, the name to trust is Skywalker!
No matter which shingles or other roofing materials you decide to choose for your new roof installation or roof replacement, it's just as important to choose the right local roofing contractor who can get the job done right for you. And if you're looking for an award-winning, manufacturer-authorized, locally-trusted roofing contractor that consistently receives 5-star reviews, the clear choice is Skywalker Roofing!
Looking for roofers in Winston-Salem, Greensboro, or elsewhere across the Triad? Skywalker Roofing is the premier roofing contractor serving the NC Piedmont Triad, NC Piedmont Triangle, Mooresville & Lake Norman area, and southern Virginia. You're welcome to connect with us online, or for an even faster response, just give us a call today at +1 (336) 627-5596.
Get in touch now, and experience the Skywalker difference for yourself!