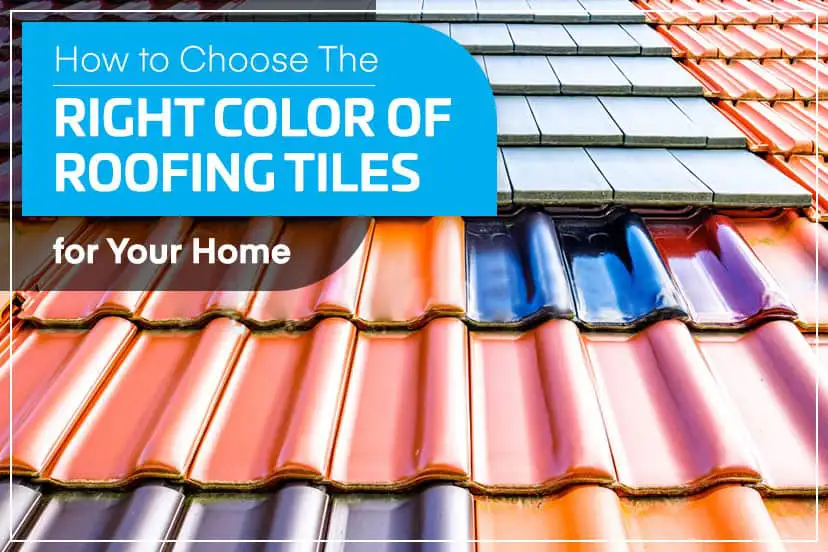 Choosing the right look for your roof matters. Why? Well, if how folks view your home from the street is important to you, then you should recognize that a typical roof accounts for anywhere from 25% to 40% of a home's total visible exterior!
Thus, the look of your roof really does play a key role in determining how others see your home, as well as how you see it yourself. If you're making plans for a tile roof installation or replacement, it's important to pick the right color (or color combination) to really enhance the aesthetics of your home. The right roof can also give your curb appeal a boost if you're looking to sell your home down the road, too.
Start by Choosing a Tile Style & Material
There's really a lot to like about a tile roof. From a practical performance standpoint, tile offers fantastic protection for your roof. Tile sheds water very effectively, and it's also a good choice for wind resistance and other extreme weather situations.
But which tile style or material to choose? There are many popular products available these days, in both natural and synthetic material options. Here are a few choices to consider before moving on to focus on a specific color:
Clay Tiles
Clay tiles have been around for hundreds of years, and are still one of the most popular roofing materials around the world. Clay tiles comes in many natural shades of tan and red, and is a perfect match for Spanish-style homes. Clay is also waterproof, fireproof, and very durable.
Slate
Slate is another fantastic natural material that is highly sought-after for premium roofing applications. Slate really does look fantastic on most homes, and is another long-lasting roofing solution. Just know that slate often comes with a more premium price tag, as well.
Concrete Tiles
Concrete tiles continue to gain in popularity, and they offer many benefits as well. Concrete tiles can be designed to be thicker than natural tiles, while not adding any more additional weight. Concrete tile is very weather-resistant, doesn't transfer much in the way of solar heat, and is actually one of the longer-lasting available roofing materials.
Synthetic Tiles
Fabricated from sturdy polymer resins, synthetic tiles are engineered to last, and they require essentially no maintenance. DaVinci Cool Roof tiles actually come with a 50-year warranty, and can be designed to mimic the look of wood shakes or natural tile roofs. They're available in a nice range of textures and colors, too.
Make a Great First (and Second, and Fiftieth) Impression with the Right Tile Colors
Now that you're closer to choosing your tile style & material, it's time to consider colors. Which tile color will work best for your home, and will help to make the best first impression on your neighbors and visitors? Here are a few tips to help guide you through the selection process:
Look to match your home's other exterior materials & features – If your home has a brick exterior, then it might make sense to choose a tile color that's similar to that of your bricks. On the other hand, if you house features some lighter colored siding, then you may want to opt for a darker tile color that really sets it apart. In any case, you still want to ensure that your roof tiles won't clash with the other visual features of your house.
Consider your particular geography and climate – Tile colors that work great on a coastal home may not work as well in the piedmont, foothills, or mountains. Take a look at how other homes in your region utilize tiles; you may want to factor that into your selection of a color. And don't forget your particular climate. If your location tends to be warmer or more sunny, you might want to choose a lighter-colored tile for better reflection of solar radiation. This will ultimately help to keep your home cooler and save you on air conditioning costs.
Energy efficiency matters – Honestly, a roof can get pretty hot. Check out our blog to learn more about roof heat and potential impacts. This video also speaks more to how hot a roof can get on a sunny day. The good news is that tile is a roofing material which doesn't tend to absorb as much heat. Tile roofing is also designed to allow air to be able to circulate underneath, which also helps to remove moisture and moderate temperatures. Even so, a lighter color shade will reflect more light and heat than a darker shade, so that's something to keep in mind when it comes to maximizing energy efficiency.
Local HOA rules, and other regulations – Your local HOA or subdivision may have some particular guidelines when it comes to acceptable roof colors. It's a good idea to educate yourself about any rules which may apply, before you make a final color selection for your home roof. Better to be safe now, than sorry later!
Visualize your own style, and then pursue it – Once you've taken the above factors and guidelines into consideration, your final tile color choice is really up to you. Still not sure about how a particular tile color or style will look on your home? The good news is that there are virtual visualizing tools available which can give you a better idea of what a particular tile will look like once it's installed on your home. A quick internet search can lead you to a tool which will allow you to upload a picture of your home, and then be able to see what different tile options and colors will look like against the background of your actual property.
You've Chosen Your Tiles and Colors; Now Choose the Best Local Tile Roofing Provider!
No matter which tile materials or colors you end up choosing, your next important step is to partner with the right local professional who's best-suited to handle your tile roof installation or replacement. The team at Skywalker Roofing is experienced in working with tile, as well as with all other popular roofing materials. Skywalker is an award-winning, manufacturer-authorized, locally-based and locally-recommended roofing contractor you can trust for any home or commercial roofing applications. We're proud to serve the NC Piedmont Triad, Triangle, Charlotte Metro/Lake Norman region, and Roanoke, VA areas, and we're one of the highest-rated roofing providers that serves both NC and VA. Reach out today either online or by phone, and let us show you the Skywalker Roofing difference!