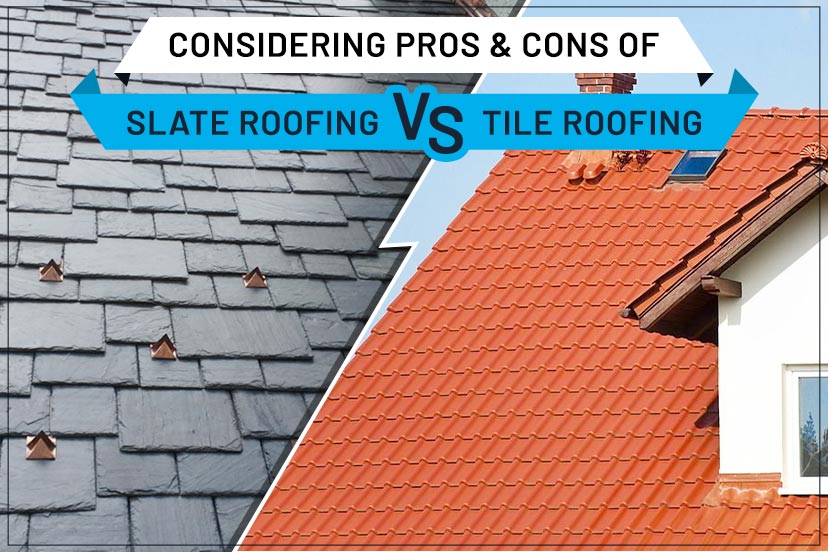 Deciding what to plan for your roof replacement
If you've come to the point of realizing that it's time to plan for a roof replacement, we'd like to start by congratulating you. Far too many homeowners make the mistake of tending to put off a needed roof replacement, and as a result they end up paying an even higher price in the long run for having to deal with many issues that were completely preventable.
Choosing the best roofing materials for the job is an important decision, and choosing the right local roofing contractors who can take care of you the right way is equally important. Thinking about replacing your shingle roof or other types of roof with something different? Slate roofing and tile roofing are both solid, long-lasting options worth considering. In this blog, your friends at Skywalker Roofing are here to share some helpful information about both of these roofing material solutions.
Looking
For Home
Improvement Services?
The first contender: slate roofing
Slate roofing is one of the longest-lasting roofing materials around, and people have been putting slate on roofs for castles, cathedrals, and homes for centuries. In fact, many still believe that slate maintains its position as the gold standard for roofing.
⇒ What is slate?
Slate is essentially a type of rock that's very dense and compact. Natural slate often takes on a grayish-blue hue, but it's also available in a wider range of colors, depending upon the exact mineral composition and size of mineral grains. Geological particular aside, slate is a relatively hard material that doesn't absorb water easily. For all intents and purposes, slate is essentially waterproof. When installed properly, these formed plates of slate can provide very effective roof protection for your building.
⇒ What are some of the slate's advantages?
For one thing, slate is a natural insulator. This can help to benefit the energy efficiency of your home, and potentially save you in heating & air costs. And besides being waterproof, slate is also incredibly wind-resistant. It's naturally inflammable and non-conductive as well, so slate provides very effective fire and lightning protection. Slate is a long-lasting material, too. It's often warranted to last between 75-100 years, but many slate roofs continue to provide reliable service for centuries. For the sake of comparison, you would have to replace an asphalt roof many times before you'd equal the longevity of a single slate roof.
⇒ What are some of slate's disadvantages?
Slate is impressively resistant to weather, pests, and fire. But one thing slate doesn't handle very well is direct impact damage. Slate is brittle, and as such, an impact event can result in cracked or broken tiles. Even so, individual slate tiles aren't difficult for a professional slate roofing company to replace. To that point, slate is harder to work with than some other roofing materials, and really should be installed and serviced by a slate roofing professional. Slate is also a heavier roofing material, and can add some weight that many standard roofs aren't equipped to handle. That being the case, a slate roofing installation often requires that corresponding reinforcements be added to your existing roof infrastructure. Slate isn't cheap either, but its durability helps to make a slate roof a very long-lasting investment.
Next up: tile roofing
A tile roofing installation can complement practically any style of home architecture. And with so many color options available, it's easy to coordinate your roof with the rest of your home exterior. Thinking about putting your home on the market? Houses with tile roofs also tend to sell much faster than comparable homes with asphalt shingle roofs.
⇒ What is tile?
Roofing tile can be composed of either clay or concrete. Clay tiles are manufactured from earthen clays that are fired for durability, while concrete tiles are formed with special concrete developed for roofing applications. Both types of tile are noted for reliable protection against sun, precipitation, high winds, extreme weather, and fire. Tile is also known to be a long-lasting roofing solution.
⇒ What are some of the tile's advantages?
Clay tile has been one of the most popular roofing materials in the world for centuries. It's waterproof, durable, and essentially fireproof. Concrete tile performs similarly to clay, can last just as long, and is a cheaper alternative to clay. Concrete tile comes in a wide range of colors, too. A properly-installed tile roof can outlast several asphalt roofs, and a tile roof can help to keep your attic cooler, thus saving you on your air conditioning bills. Tile roofs generally need very little maintenance, but concrete tile will need to be checked more frequently as it can tend to absorb some moisture.
⇒ What are some of the tile's disadvantages?
Like slate, tile is known to be a heavier roofing material, so a tile installation may require that your roof infrastructure be reinforced. Clay or concrete roof tiles can cost twice as much as asphalt shingles, too. But with that increased up-front cost, you also receive a roof that's more durable, longer lasting, and has a higher curb appeal. In humid climates, mildew, and algae can accumulate on tile, but these can be easily removed or treated without compromising tile durability.
Partner with the right local roofing company
While each has its own set of pros and cons, both slate and tile are smart choices for roof replacement materials. But either way, you'll need to find some local roofers who are professionally trained and experienced in working with these materials to ensure that the job will be done right. And if you're located in North Carolina or Virginia, Skywalker Roofing is the name to trust.
We're experts at installing all kinds of popular roofing materials, including asphalt shingles, standing seam metal roofs, slate, tile, wood shakes, and synthetic roofing. If it can go on your roof, Skywalker knows how to make it happen for you, and we do it better than anyone else.
Skywalker provides comprehensive residential and commercial roofing services for the NC Piedmont Triad, Piedmont Triangle, Lake Norman area, and southern VA region all the way up to Roanoke. Give us a call at +1 (336) 627-5596, and let's schedule your free personal consultation today!