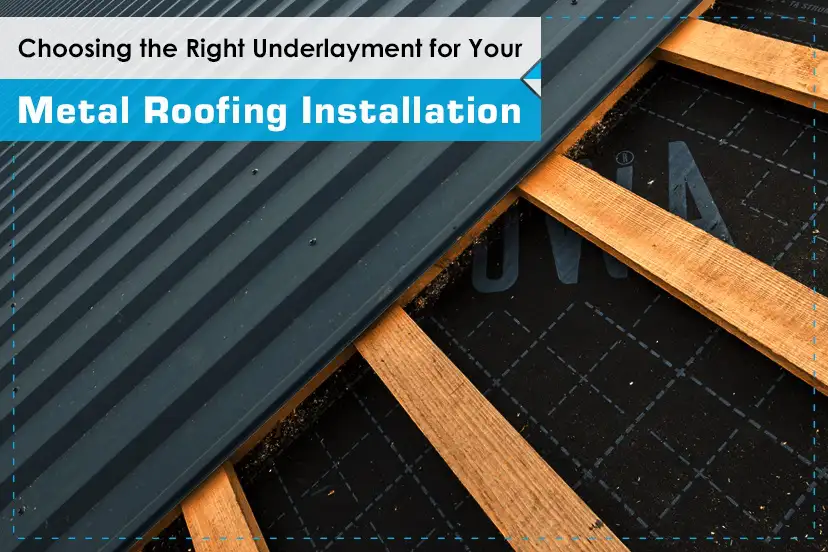 Metal Roof Installation
Metal roofing has become a popular roofing option in the USA. When you decide to install a metal roof, you must know about its proper underlayment. Choosing the right underlayment for residential and commercial projects is as essential as choosing the right roofing material. Underlayment is the layer beneath your roofing system that works as a weather resistance barrier, ultimately providing greater moisture protection. You can consider it as an extra layer of protection to your metal roof. Want to know how to choose the right underlayment option for a metal roofing system? Then read on.
A Metal Roof Is Really a Better Choice
Shingles are still a popular choice for American residential roofs, but asphalt shingles are honestly far from the best material option available. Looking for a truly durable roof which really lasts, and should never need replacing during your lifetime? Think metal! It's amazingly durable, requires significantly less maintenance than shingles, and can last many times longer with a proper coating applied during metal roofing manufacturing. Plus, modern metal roofing looks great, provides a signature, soothing pitter-patter sound during a rainstorm, and is also better rated for handling wind and snow loads.
Some Specific Benefits of Metal Roofing
A modern metal roof is engineered to be durable and long-lasting, but there are several other aspects of metal roofing that also worth noting. Here are just a few:
Can easily last 75 years or longer with proper coatings and careful installation.
Designed to withstand strong wind gusts, flying debris, hail, and snow accumulation better than other roofing materials.
Metal is a class A fire-rated roof covering, and metal is also much better at deflecting & diffusing the impact of lightning strikes.
Metal roofs don't crack, warp or peel over time, unlike asphalt-based or wood-based roofing.
Metal roofing helps to decrease the ambient roof temperature as compared to an asphalt roof; this can help to extend the service life of your roof, attic, and connected infrastructure.
Metal roofs contribute towards a more energy-efficient structure thanks to their ability to reflect more solar radiation and absorb less heat. One positive result is lesser cooling needs during the warmer months, which means you'll save both energy and
What is Roof Underlayment?
Underlayment is a type of vapor barrier or water-resistant material that's placed beneath the top roofing layer, and is designed to add an extra layer of protection against weather impacts and moisture infiltration. It's usually placed underneath all the other roofing materials, and is typically installed directly onto the roof decking or sheathing. Three common types of underlayment for metal roofs include felt, self-adhering membrane, and synthetic sheet.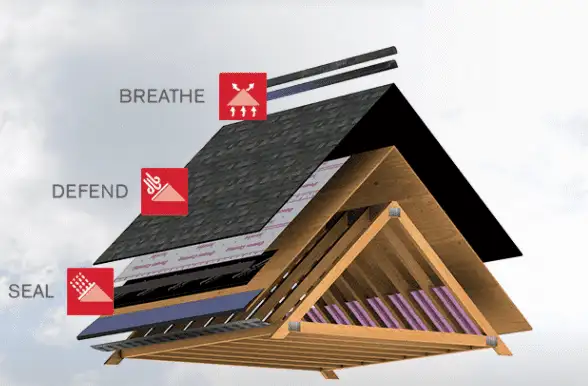 Without an underlayment in place, the roof (and consequently, the rest of the home) are more prone to exposure to the elements like wind and moisture. A proper underlayment can also help prevent the infiltration of chemicals or resin which can leach out of other roofing materials over time. Finding and using the right underlayment for your metal roof is an important way to protect your roof and also help promote its longevity.
Looking
For Home
Improvement Services?
But, Does a Metal Roof Need an Underlayment?
It's a fair question to ask. You probably know that underlayment is essential for a shingle roof, but is it really needed for a metal roof? There's a popular misconception that underlayment or similar insulation isn't a requirement for metal roofing. While it's true that a vapor barrier or similar layer isn't necessarily essential in terms of maintaining the metal's structural integrity, it does provide important benefits for your roof system and home. Having the right underlayment in place will help prevent moisture from infiltrating, and will also help prevent condensation from collecting inside your attic space. The fact of the matter is that entrapped moisture can accelerate the deterioration of any roof, even one which is comprised of sturdy metal roofing. It's also a good idea to choose an underlayment which is designed to match the anticipated lifespan of your metal roofing materials, in order to help ensure the longevity of the entire roof system.
Common Underlayment Options
What's the best underlayment choice for your metal roof? A standing seam metal roof is a significant investment, so it's important to create the best support system which provides the best protection for your roof system and home. Here are some things to keep in mind when considering three common metal roofing underlayment options:
Felt Underlayment (Asphalt Felt or Tar Paper)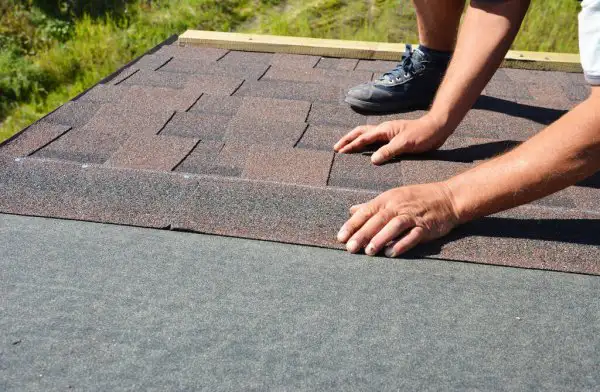 It's known by many names, including felt paper, tar paper, and asphalt-soaked felt. But no matter what you call it, felt underlayment is the most common underlayment material used for steeper-sloped metal roofs. One of the biggest reasons for its popularity is the simple fact that it's the cheapest material option. But just keep in mind that, as is true for many things, cheaper isn't always better. Asphalt felt is reliably water-resistant, but it doesn't tend to endure high-temperature environments very well. It also doesn't last as long as other underlayment materials, and is likely to fail long before your metal roofing is set to expire. In addition, felt underlayment isn't the best design option for low-slope metal roofing protection.
Self-Adhering Membrane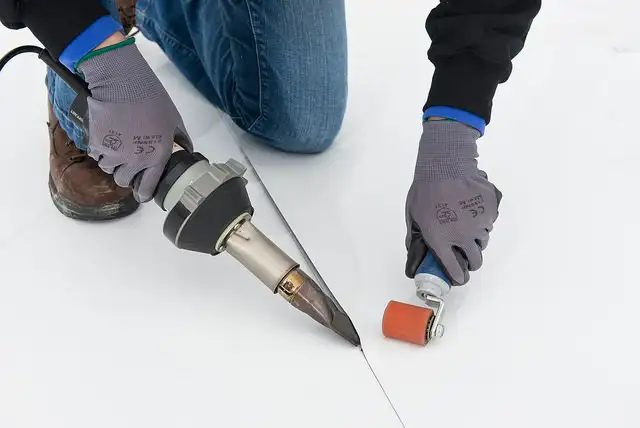 Self-adhering membrane underlayment is a peel-and-stick product designed to be applied directly to roof decking. It usually includes either a rubberized asphalt or butyl-based adhesive which is mounted on a polyethylene carrier sheet. Self-adhering membrane performs better than felt underlayment in high temperature environments, offers more of an air barrier, and is more helpful for ice dam protection in places like eaves, valleys, and dormers. One downside of self-adhering membrane is that it's not known to perform very well in low temperature environments. Another challenge with self-adhering membrane is getting it installed properly. If not handled correctly, a botched installation can result in your membrane becoming peeled back over time, which leaves your roof vulnerable to infiltration.
Synthetic Sheet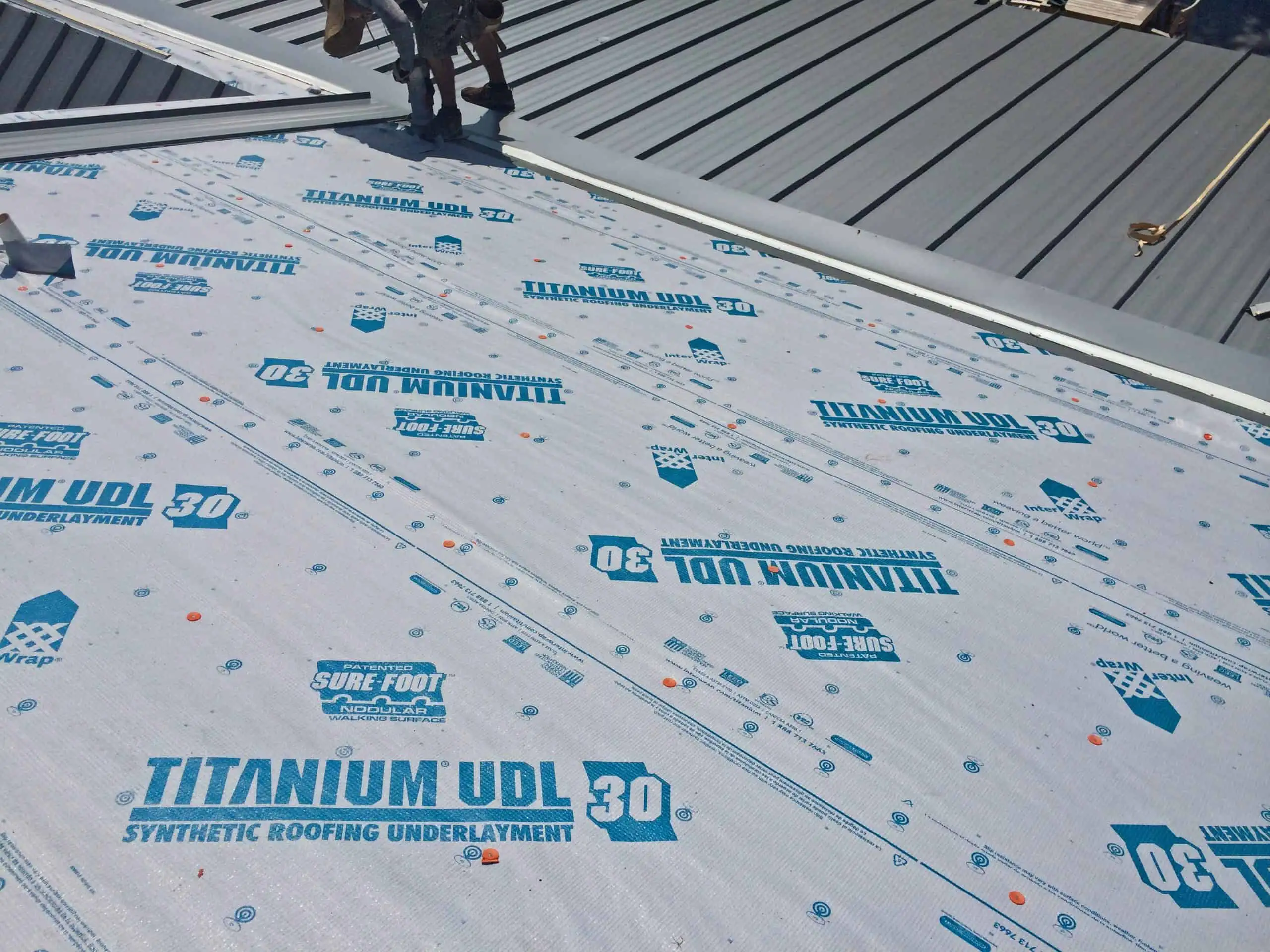 Synthetic underlayment for metal roofing is a newer technology that's become more prevalent in recent years. It's manufactured by weaving or spinning together either polyethylene or polypropylene with a polymer to form a protective barrier between the roofing material and decking. Synthetic sheeting offers lots of advantages over other options. It's very durable because it uses thermoplastic polymers which are more resistant to tearing, moving, and other damage. It's also very tolerant of high temperatures, and delivers the longest underlayment lifespan. Synthetic is also incredibly effective at keeping out moisture, so it will also be important to build in a proper ventilation system for your metal roof. Synthetic sheeting is typically more expensive than other options, but it also provides the most reliable performance and product longevity.
Corrugated Metal Panels vs. Standing Seam Metal Roofing
Looking
For Home
Improvement Services?
Partner with the Right Roofing Provider – Skywalker Roofing!
At Skywalker Roofing, we pride ourselves on installing roof systems of superior quality with superior workmanship. There's a reason we often say that a Skywalker roof is the last roof you'll ever need! We have all the materials, tools, training, and expertise needed to craft and install your custom standing seam metal roof right onsite. In addition, we believe in creating the best possible support system for your roof, which is why we offer a Total Protection Roofing System from Owens Corning which features Titanium Synthetic Underlayment. In fact, Titanium Synthetic is really an ideal choice for both asphalt shingles and metal roofs alike.
While selecting the right roofing materials is certainly an important decision, choosing a local roofing contractor you can trust is even more important. We offer premium quality metal roofing in your location. Get an A-grade roofing service for all types of projects. If you're looking for the right roofing provider in NC or VA, then look no further than Skywalker! We're proud to serve the NC Piedmont Triad, Piedmont Triangle, Charlotte Metro/Lake Norman areas, and southern VA region (including the greater Roanoke area). In addition, our happy customers give us an average rating of 4.9 stars on review platforms including Google, Facebook, BBB, Guild Quality, Shopper Approved, and Angie's List!
Ready to get the last roof you'll ever need? Reach out to us today by calling +1 (336) 627-5596. One of our friendly experts will listen to your needs, and we'll take the time to answer your questions. We'll also be glad to schedule your FREE home or business inspection and personal consultation. We'd love to have the opportunity to show you the Skywalker Roofing difference!