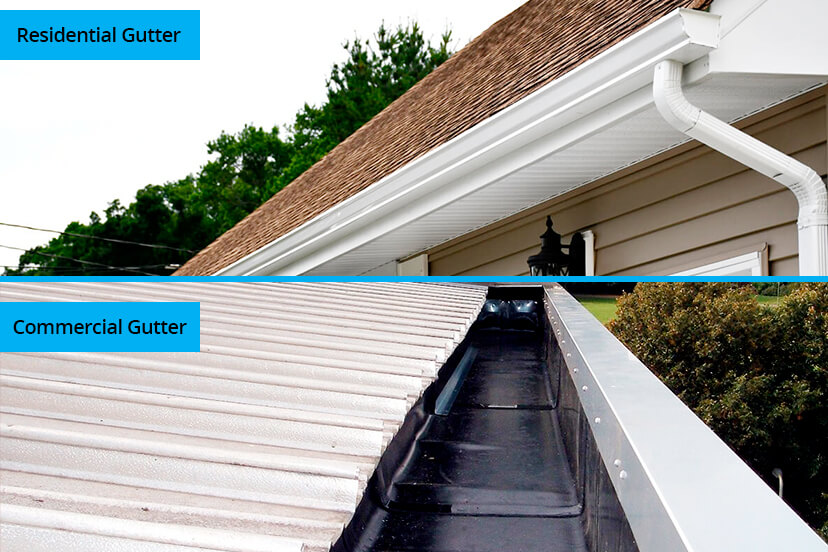 Why are Rain Gutters Important?
Before we answer the commercial vs. residential gutters question, let's start with a more basic question – why do gutters matter?
Gutters are perhaps not the most glamorous part of your home or business, but this is one instance where keeping your mind in the gutter can be a good thing. Not only do gutters direct rain and snow melt off of your roof in an efficient manner, but they also help curtail flooding, avoid foundation problems, stabilize nearby soil, and prevent water damage to both the exterior and interior of your building. In short, the importance of a properly installed and maintained gutter really can't be overstated.
Looking
For Home
Improvement Services?
The Differences Between Residential and Commercial Gutters
While all gutters are meant to serve the same basic, essential function – to drain water away from your building and its foundation – not all gutters are the same. A gutter system that is going to be installed on a business or commercial facility usually needs to be designed differently from a gutter system that's going up on a residential home. Here are a few factors to consider when it comes to choosing the right gutter for the right situation:
Building codes are almost always different for commercial zones than they are for residential zones, and these differences also help determine which types of gutter you can and can't use in either circumstance. In the case of a commercial building, there may be specific local regulations related to the allowable size of a gutter and how much water it should be able to drain, along with stipulations regarding how the gutter is installed and where its water is ultimately drained.
Commercial gutters tend be bigger and have a larger draining capacity than residential gutters, for good reason. Commercial facilities tend be larger than residential buildings, and there's often a much larger square footage of roof area to drain. Sometimes homeowners are tempted to choose a larger commercial gutter system for their home, thinking that a commercial gutter will provide better coverage and performance. However, bigger also usually means more required maintenance, so homeowners are often advised to choose a gutter system that is better designed to match their individual home's size and roof style.
Roof gutters are available in a wide range of materials. Vinyl is an economical option, but it also isn't the sturdiest of gutter materials, and usually won't work with a commercial facility. Aluminum is a common choice for both residential and commercial gutters due to its friendly price point and multiple color options. Copper is a beautiful material option that works well for homeowners who have the budget for it, but it's usually too expensive to be realistic to use on a commercial structure. Galvanized steel is a durable and sturdy option that many business owners like, and some homeowners choose to opt for, thanks to the strength and longevity of steel gutters.
Style and Design Differences
Because residential and commercial gutters are fabricated to work best on different types of buildings, there are certain styles and designs that work better for each, respectively. Residential gutters usually provide more available style options, including the popular K-style and half-round gutters. Commercial gutters tend to be bigger and boxier, usually out of necessity.
Installation Requirements
Residential and commercial gutters don't go on the same way, either. Residential gutters are typically installed on fascia board at the bottom edge of a sloped roof. Commercial gutters, on the other hand, are typically attached to larger buildings with flatter roofs, and thus have to be mounted a little bit differently.
Looking
For Home
Improvement Services?
Why Skywalker Roofing is Your Best Choice for Both Residential and Commercial Gutter Installation and Repair
Looking for a local contractor you can trust to provide reliable gutter installation services for your home or business? Skywalker Roofing has been serving the NC Piedmont Triad, Piedmont Triangle, and Roanoke, VA areas for years, and we have the specialized training, knowledge, experience, and equipment to provide you with the best in custom-made seamless gutters. We can also consult with you about the best gutter guard options to consider that will help keep your gutters flowing freely, with less need for maintenance.
In addition, Skywalker Roofing is one of the highest-rated, most-awarded contractors you'll find in NC or VA. Here are a few more reasons why Skywalker Roofing is the BEST choice for your gutter and other building improvement services for both residential and commercial applications:
A+ Rating on BBB
100+ Years of Combined Experience
Unsurpassed Quality and Workmanship
The Best Customer Service in the Business
Awards and Accolades at both Regional and National Levels
We founded Skywalker Roofing with a desire to help people, and we'll take care of you like no one else can. Contact us today, and let us show you the Skywalker Roofing difference!