Copper: The Gold Standard of Metal Roofing Materials
Metal roofing continues to grow in popularity across America. In fact, most roofing practitioners will tell you that metal roofing is the fastest-growing area in the residential roofing sector. Many folks like hearing the pitter-patter of raindrops on a metal roof, and there are many practical reasons to choose metal thanks to its dependable longevity, reliable protection, and low ongoing maintenance needs, especially in comparison to other roofing materials. But while there are several metal options from which to choose, one material continues to shine as the gold standard of metal roofing: copper.
Copper dormers are distinctive roof accents that really help to set apart the architectural features you'd like to showcase. Here are some recent photos of custom copper flashing dormers crafted & installed by Skywalker Roofing.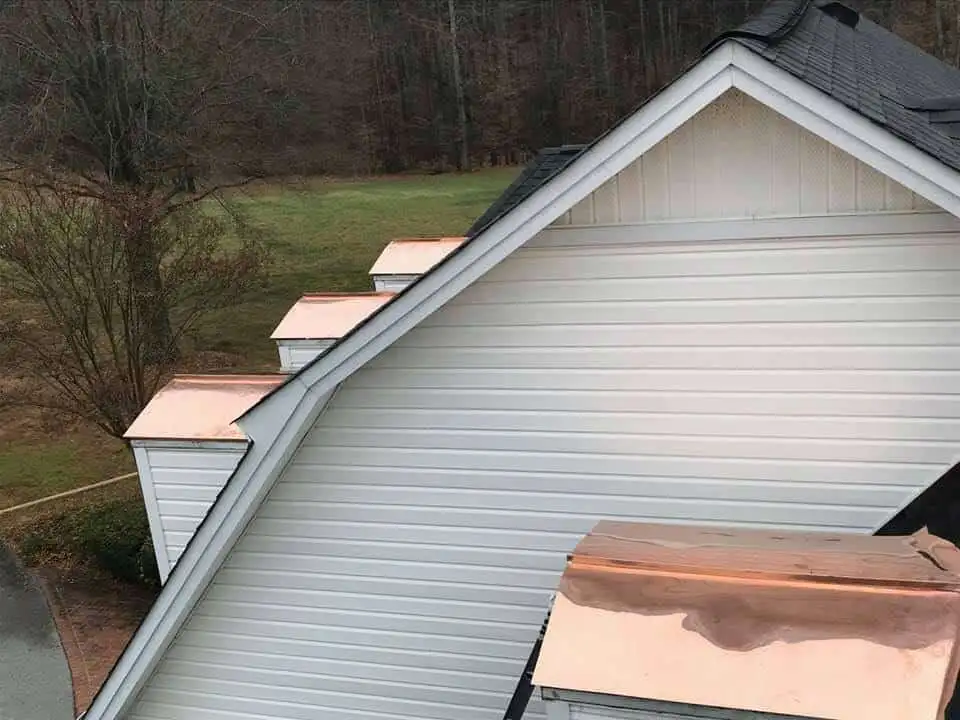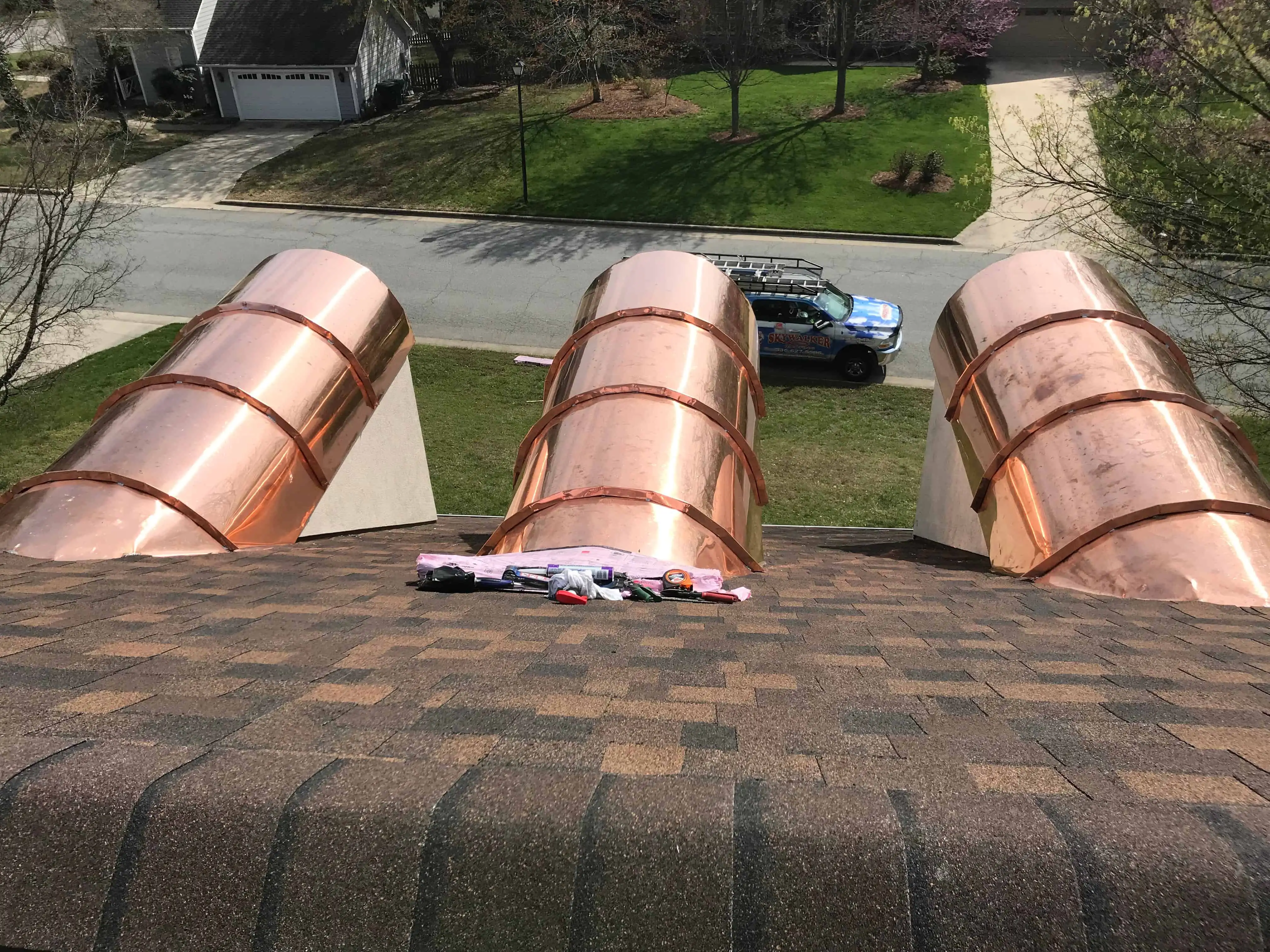 Benefits of Copper Roofing
Copper roofing is arguably the oldest form of metal roofing. Domes covered in real gold were placed on a few revered ancient structures, but copper roofing has been in widespread use for more than 2,000 years. Copper also continues to be the premium roofing metal of choice today. What's so great about copper? Plenty! Here are just a few of copper's notable features when it comes to usage as a metal roofing material:
• A nearly permanent solution
Nothing lasts forever, but a copper roof comes awfully close! As long as you choose quality materials and have them installed correctly by a trained professional, a copper metal roof should be the last roof you'll ever need. Being able to install a roof that never needs replacing is certainly an attractive feature to consider!
• Superior weather protection
Sun, wind, rain, and snow can certainly take their toll on most roofing materials, but you really won't have most of those concerns with a copper roof. As long as your roof doesn't become physically damaged by heavy debris, you can expect a copper roof to protect your family and your possessions from normal weather threats year after year.
• Fire-resistant and lightning-resistant
Copper doesn't burn, so it offers better fire protection than other flammable roofing materials. But what about lightning threats? Since copper is a very conductive metal, it can also help to dissipate and deflect the impacts of a direct lightning strike, too.
• Lightweight
Copper is also a more lightweight option than other comparable roofing materials. Why does weight matter? The less your roofing weighs, the less stress it places upon your building's support structure. Copper's lightweight nature also opens up more possibilities for you in terms of creative architectural design and roof features.
• Greener, more sustainable roofing option
Interested in reducing your ecological footprint? Using copper for your roofing won't deplete any of our precious renewable resources. A copper roof will never end up in a landfill, either. It's essentially 100% recyclable, and most copper being produced for today's metal roofing boasts 75% recycled content, or more! When you stop to think about it, it's hard to think of a "greener" roofing option than copper.
• Essentially maintenance-free
You may know from personal experience that roof maintenance and repairs can often be expensive, time-consuming, and somewhat frustrating. Copper has a lot going for it in that regard, too. A copper roof won't rust or corrode like some metals, and copper also never needs repainting or refinishing.
• Boosts your property value
In the event that you ever decide to sell your house at some point down the road, a copper roof will help to boost the resale value of your home. And just from the perspective of curbside aesthetics, a copper roof will also give you home a competitive advantage over other properties which are roofed with lower-quality materials.
Copper Roofing Cost
Ok, by now you may really be liking the idea of a copper roof – but what about the cost? No matter how you slice it, copper is indeed a premium roofing material which also comes with a higher price tag. You'll really just have to weigh all the benefits of a copper roof with what you're willing or able to invest. One thing to bear in mind here is the fact that if you choose to go with a copper roof, it will never need replacing with normal use. So while copper isn't cheap, it really is a long-term investment that pays dividends over years and decades.
Alternatively, there are also some creative ways you can include copper without necessarily making it your primary roof covering. Many homeowners are now choosing to use copper as an attractive accent for designated areas. Copper works really well as a covering for features like towers, bay windows, porches, or low-slope sections. Copper also makes a beautiful, effective choice for metal flashing around other roofing elements.
• Copper
Copper really is a beautiful metal that also makes for a beautifully-unique roof. Copper won't rust, never needs painting, and starts out with that bright, familiar, metallic copper tone. Over time, your copper roof will then gradually develop its signature green patina. Copper is a popular choice for high-end residences and historic restorations, and also makes for some beautiful gutters … if you have the budget for it. One of the main downsides of copper is its material cost — as a premium roofing metal option, copper isn't cheap. It also requires custom welding of the seams and joints, and really should only be installed by a professional. Skywalker Roofing has plenty of experience working with copper, and we'd be happy to take care of your copper roofing or gutter needs by request.
Why Skywalker Is Your Copper Roofing Provider of Choice in NC and VA
Metal roofing continues to grow in popularity across the U.S., and copper continues to be the premier choice among roofing metals. But one limiting factor when it comes to having a copper roof installed is in your ability to locate a qualified local roofing professional who can actually do the job right. Pretty much every roofer knows how to sink nails into a shingle, but working with copper is another matter entirely. Many roofing providers simply don't have the training, specialty tools, equipment, or experience to handle copper roofing correctly. For one thing, applying a copper roof also requires custom welding of the seams and joints.
Thankfully, there is a solution! Skywalker Roofing is the elite metal roofing provider serving the NC Piedmont Triad, Piedmont Triangle, Charlotte Metro/Lake Norman region, and Roanoke, VA extended area. Skywalker has plenty of experience working with copper, and we'd be happy to take care of your copper roofing and/or guttering needs, too.
Ready to get started? Reach out to us online, or simply give us a call at +1 (336) 627-5596. One of our friendly experts will be happy to answer your questions, and then we can get you scheduled for a FREE home inspection and personal consultation. Let Skywalker help YOU to get a roof that's not only beautiful, but will also be the last roof you'll ever need!