Reflective Roofs Are Known to Help Keep Your Home Cooler in the Summer
Usually when most people talk about roofs and energy efficiency, they're thinking about how an energy-efficient roof can help keep your home cooler during those hot summer months. For example, a metal roof can save you on energy costs by reflecting up to 90% of the sun's energy away from your roof – that's more than twice as reflective as even the best asphalt shingles.
But Can a Metal Roof Actually Help Keep Your Home Warmer in the Winter, Too?
The fact remains that most U.S. homeowners use more energy for heating than they do for cooling. Can a metal roof help to keep your home warmer in the winter, too? Surprisingly, it can! Studies show that while the surface temperatures of both metal roofs and shingle roofs are similar on a cold day, the airspace below a metal roof tends to be as much as 20 degrees warmer than the airspace below asphalt shingles. Why? A metal roof and attic assembly incurs less heat loss because of the air space, the low-e surfaces, and the way metal roof systems release heat stored during the daytime, which is different from that of shingles.
An Energy-Efficient Roof Pays You Back in Saved Energy Costs
Since air conditioning and heating typically make up the largest percentage of energy use in an American home, it really does pay to choose a roof replacement that's as energy-efficient as possible. Let's start by taking a survey of some good, energy-efficient roofing material options:
• Metal Roofing
We mentioned metal roofs above, and metal roofing continues to grow in popularity across the country. There's lots to like about metal on a roof – it's durable, long-lasting, very weather-resistant, and needs much less regular maintenance than shingles. A properly-coated metal roof is incredibly reflective, too. What does that mean in terms of your power bill? A metal roof can save you as much as 40% in home energy costs!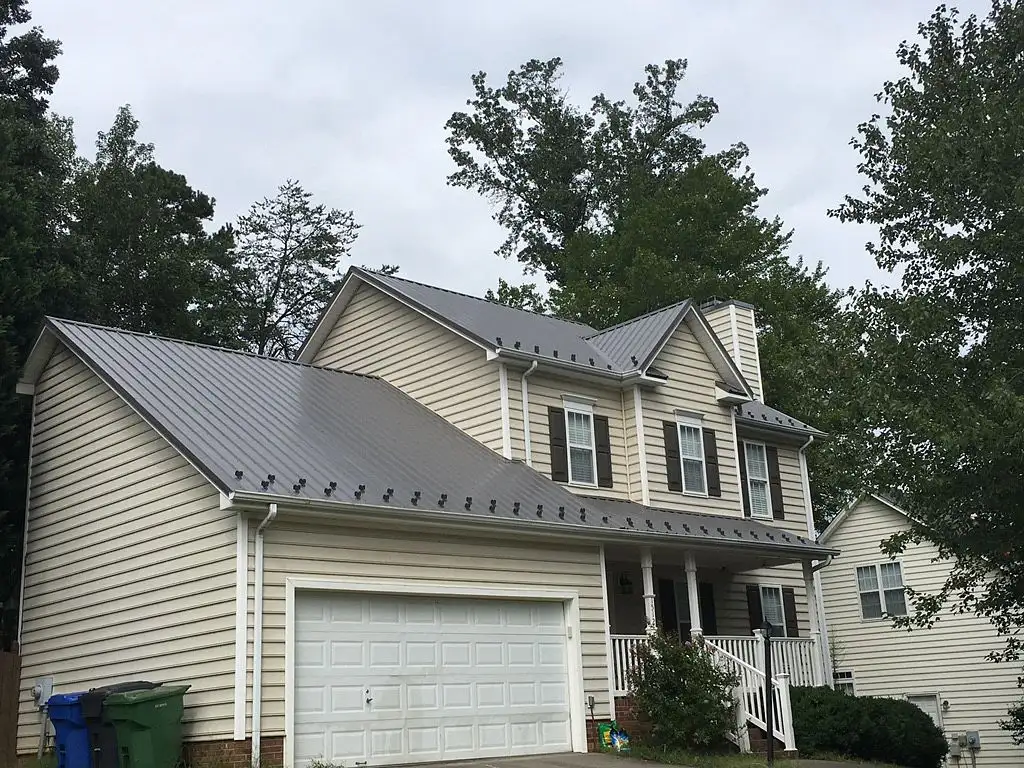 • Wood Shakes
Wood shakes (also known as wood shingles) are one of the more eco-friendly roofing options. For starters, wood comes from a renewable resource – trees! Wood is known to be a natural insulator, too. Cedar is a preferred choice for wood shakes, as cedar boasts some particularly favorable properties. It's slow to decay, it's naturally pest-resistant, and its ability to help control moisture will also help to moderate your home's humidity levels. That's a really good thing if you live in the Southeast! Cedar shakes will also typically last longer than traditional asphalt shingles.
• Slate and Clay Tiles
Slate and clay tiles are naturally-sourced, ecologically advantageous roofing materials as well. These tiles are impervious to moisture, noncombustible, and very durable. Slate and clay both offer more thermal resistance and reflectivity than some other roofing options, too. In addition, air is able to circulate underneath the tile – this helps to moderate roof temperatures and also serves to help remove moisture. The end result is that it costs less to cool your home in the summer.
• Concrete Tiles
Concrete tiles offer their own positive set of qualities. They tend to be thicker than other tile materials, while not being quite as heavy. Concrete tiles are quite weather-resistant, don't retain much in the way of heat, and are some of the longest-lasting roofing materials available on the market.
• Composite Roofing
Like the look of wood or slate, but interested in a synthetic alternative that outperforms both? Today's modern composite roofing is lightweight, sturdy, and moisture-resistant. DaVinci Roofscapes produces some great-looking slate and shake tiles which are made from virgin resins fortified with advanced UV stabilizers. These Cool Roof products are reflective and emissive, and have even earned an ENERGY STAR certification. And here's another thing to like about DaVinci tiles – they carry a 50-year manufacturer's warranty!
• Asphalt Shingles
Say what? It's true that traditional asphalt shingles aren't usually recognized as being energy-efficient, but there are some newer shingle products on the market which prove otherwise. Owens Corning Duration Premium COOL Shingles are engineered with reflective granules that reflect more solar energy, thus keeping your which is to say, that it really IS possible to have a more energy-efficient shingle roof!
Roof Ventilation Matters, Too
Attic ventilation is another necessary component of any roof energy savings strategy. Why does a roof need to breathe, you ask? Well-designed ventilation lets air circulate throughout your attic space. It's important to have the right balance of intake vents and exhaust vents so fresh air can enter, and roof-heated air can exit. A good ventilation system will help to maximize your roof's energy efficiency, and should help extend the life of your roof system.
Proper Insulation is Key
You no doubt know that you need to insulate your attic, but don't forget about insulating your roof, too. Even if you already have some amount of insulation in place, adding more in conjunction with your roof replacement is probably a good idea – most homes are built with only enough insulation to meet minimum requirements. Minimum required insulation usually doesn't add up to maximum energy efficiency. And if you're located in NC or VA, you can kill two birds with one stone – the local roofing pros at Skywalker Roofing also happen to be licensed blown insulation installers!
Ready to Get a Roof That Pays You Back? Call Skywalker!
Choosing the right roofing materials, roof ventilation, and insulation are important keys to roof energy efficiency. But it's just as important to make sure all of these materials are properly installed in the first place! If you're looking for the best roofing contractor serving both North Carolina and Virginia, look no farther than Skywalker Roofing!
We're proud to serve the NC Piedmont Triad, Piedmont Triangle, Lake Norman area, and southern & southwestern VA. But please, don't just take our word for it – check out our hundreds of 5-star customer reviews on Guild Quality!
You can reach us online, or you can just pick up the phone and give us a call at +1 (336) 627-5596. Connect with us today, and experience the Skywalker difference for yourself!