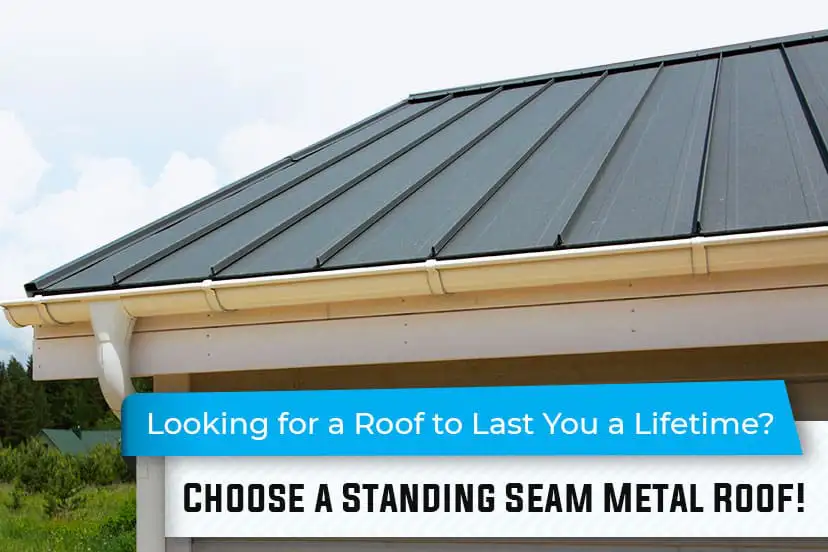 What Makes Metal Roofing Better?
Shingles may still be the most popular roofing material in America, but that doesn't mean they're the best material option. If you're looking for a durable roof that will last you a lifetime, then you should really give more consideration to metal. What's so great about metal? Plenty! For starters, it's an incredibly durable solution which requires much less maintenance than shingles. The low-end lifespan of a metal roof sits around 40 years or so, but a steel roof with an aluminum-zinc alloy coating can easily last upwards of 100 years! With that kind of longevity, you won't ever have to worry about replacing your roof again.
Metal does a great job of reflecting away radiation from the sun, which helps to make your home or business more energy-efficient. Metal roofs are also very resistant in the face of both normal weathering and stronger storms. Want some more benefits? Metal comes in many attractive colors and styles, too. And here's one more –  the metal used in roofing contains recycled materials, and is almost 100% recyclable itself. In other words, metal is really a more eco-friendly roofing material option.
Looking
For Home
Improvement Services?
What is Standing Seam, Exactly?
Traditionally, when people hear the phrase "metal roofing," they're probably thinking about corrugated metal. But standing seam is really a superior choice to corrugated metal when it comes to roofing. In fact, there's a great video comparing the two on Skywalker Roofing's YouTube channel that you can check out here. Below we outline a few of the particular advantages to choosing a standing seam metal roof:
No Exposed Fasteners
Corrugated or other metal roofing designs require fastening with exposed screws. The danger with this approach is that each exposed screw can become a potential source of leaks over time. With a standing seam metal roof there are NO exposed fasteners, as the roof is held tight by clips which are fastened to the sheathing underneath the metal roofing.
Ability to Mount Other Features Easily
Interested in adding solar panels, snow retention systems, or other external roof features? With a standing seam metal roof, you can mount such items without ever needing to penetrate the metal or make any holes in the roof's surface. Fewer holes means fewer opportunities for moisture to penetrate.
Durability
Metal roofing itself is incredibly durable, but a standing seam metal roof that's properly installed should last 2-3 times longer than any lighter-gauge, screw-down metal roofing. And a standing seam roof that's coated with Kynar paint should hold its color for at least a generation or two, without any need for refinishing.
Wind Resistance
Standing seam metal roofs are incredibly wind-resistant and have been demonstrated to withstand Category 4 hurricane-force wind gusts. You simply won't get that kind of performance out of a standard shingle roof.
Designed for Expansion & Contraction
Metal will naturally expand and contract with temperature changes, but a standing seam metal roof is perfectly designed to take these expansions and contractions in stride. The raised metal seams interlock with each other for sure water protection, but they have the ability to float on their clip mounts as they expand and contract.
Fire-Resistant
Metal itself is inflammable, but a standing seam metal design is particularly well-suited to prevent the danger of fire from infiltrating below the roof's metal surface. While no roof is necessarily fireproof, a standing seam metal roof comes awfully close!
Looking
For Home
Improvement Services?
What About Standing Seam Metal Roofing Cost?
To be fair, metal roofing isn't the cheapest option, and a standing seam metal roof does cost more than some other types of metal roofing. But even so, it's important to understand the overall cost-effectiveness of a standing seam metal roof. Realize that this is a longer-lasting roof investment that requires almost no maintenance. You should also bear in mind what the many advantages of a standing seam metal roof actually are, and weigh that versus a roof system which involves exposed screws or fasteners, the need for increased maintenance, and the ability of other roofing materials to actually keep water out over a long period of time.
The final price of a standing seam metal roof will really depend upon a few key factors, including the square footage of the roof surface to be covered, the pitch of the roof, the number of external features present (e.g. chimneys, fans, vents, etc.), and the type of metal you choose as your substrate.
Where to Go From Here? Start by Choosing the Right Roofing Contractor!
The fact of the matter is that there may be many roofers in your area who can put up shingles, but there may not be many local providers with all the specialty tools, training, and expertise needed to be able to handle all the specifics of putting up a standing seam metal roof properly. How do you decide whom to choose? We recommend that you ask around to see who others in your area recommend, and we also encourage you to check out Guild Quality for some real, unbiased reviews from actual metal roofing customers in your area.
Got more questions? The pros at Skywalker Roofing would be more than happy to help you find some answers! Choosing the right roofing material is important, but choosing a roofing contractor for repair, installation and you can actually trust it is even more important. We provide the best quality steel roof for your residential roofing system and would be happy to help serve your roofing needs as well.
Looking for a local, manufacturer-authorized roofing provider that serves NC and VA? Then look no further than Skywalker Roofing.
We're the premier roofing contractor serving the NC Piedmont Triad, Piedmont Triangle, Charlotte Metro, and Roanoke, VA areas, and we come highly recommended on platforms including Google, Facebook, BBB, Guild Quality, Shopper Approved, and Angie's List! Our happy customers give us an astonishing average rating of 4.9 out of 5 stars!
Ready to get started? Reach out to us today by calling +1 (336) 627-5596, and let one of our friendly experts listen to your needs and then help to answer all of your questions about metal roofing. We'll also be glad to schedule your FREE home or business inspection and personal consultation.
Ready to get the last roof you'll ever need? Then give us the opportunity to show you the Skywalker Roofing difference for yourself!