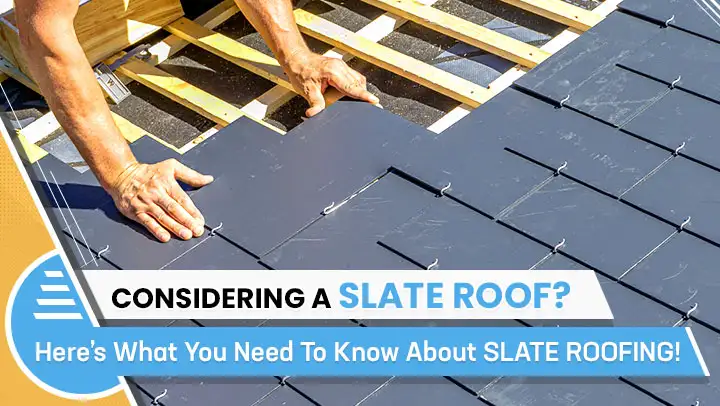 Respect the Classics: Slate Roofing
Choosing which kind of roofing material to place on your home is a big decision. Obviously, looks matter, but choosing a roof replacement is about more than just looks. Your roof is your home's primary line of defense against sun, wind, precipitation, and other weather threats, so you need a roofing material which delivers reliable protection. You also want something that's built to last, with a minimum of needed maintenance.
All that being said, a slate roof remains a popular choice. Slate roofing is one of the longest-lasting roofing materials there is, and people have been putting slate on everything from homes, to castles, to cathedrals for many centuries. In the eyes of many, slate continues to hold its place as the gold standard of roofing.
What Is Slate, Anyway?
Slate is a type of rock. More specifically, slate is a fine-grained, foliated, metamorphic rock comprised of minerals like chlorite, plagioclase, muscovite, and quartz. Slate is typically formed from shale (a sedimentary rock) through the slow geologic process of metamorphism. Over time, shale buried deep in the earth's crust experiences heat and pressure, which over time compresses it into a h2er metamorphic rock – slate. People typically think of slate as having a grayish-blue color, but slate actually comes in a wider range of colors, depending upon a particular slate's exact mineral composition and the size of the mineral grains contained.
We won't go any deeper into the geology of slate here, but suffice it to say that slate is a relatively hard material with a very low water absorption index. Not only is slate essentially waterproof, it's also easy to cleave into thinner plates. When combined and arranged properly, these thin plates of slate can provide some very effective roofing protection for your building.
Advantages of Natural Slate
So, how does slate really stack up as a roofing material? What makes slate something worth considering for your roof? Here are a few benefits of note when it comes to slate:
1. Natural insulator
Not all roofing materials are natural insulators, but slate can be placed into that category. Because of slate's relative hardness and density, both warm and cool air have an incredibly difficult time making it through, helping to keep your home more comfortable in all seasons. Like other types of stone, slate will still conduct heat and cold, however. But when you combine slate with the proper underlayment and insulation underneath, a slate roof can serve to significantly improve the overall energy efficiency of your home, thus helping you to save on your heating & air costs.
2. Performance & safety
In our slate geology lesson above, we mentioned that slate is waterproof. What that means about slate in terms of roofing material performance is this: as long as the slate is installed properly, moisture has no opportunity to penetrate, period. Slate is also dense enough and heavy enough that slate performs better in terms of wind-resistance than most every other roofing material. In addition, slate is inflammable and non-conductive, so it delivers sure protection from fire and lightning threats, too.
3. Amazing longevity
Durability and longevity are two areas in particular which really favor a slate roof. Because slate is a natural stone product, there's no worry about manufacturing defects. As long as the slate is installed properly, and assuming your roof doesn't experience any significant impact damage, you can expect your slate roof to last a LONG time. How long? Slate is often warranted to last for 75-100 years, but in practice, many slate roofs have been known to last longer – some as long as centuries! For the sake of comparison, you'd have to replace an asphalt shingle roof several times to match the longevity of one slate roof.
4. Distinct visual beauty
Let's be honest, one of the main attractions to slate for many homeowners is the natural aesthetic factor. Natural slate delivers a unique look, texture, & color that's hard to duplicate, and that provides a wonderful element of charm and beauty to your home.

Drawbacks to Natural Slate
While there's honestly a lot to like about slate, any roofing material comes with its own set of drawbacks. Here's a look at the key potential disadvantages you'll want to consider when contemplating a slate roof:
1. Impact resistance concerns
Slate is absolutely fantastic in terms of weather resistance, pest resistance, and fire resistance. What slate doesn't handle very well is direct impact damage. Slate is somewhat brittle, and a sharp impact can leave cracked tiles, broken tiles, and even shattered tiles. The good news is that individual tiles can be replaced fairly easily by a slate roofing professional, versus having to replace your whole roof.
2. Added roof weight
Slate is resilient, but it's not a lightweight material. As long as you're working with a structurally-sound, reinforced roof, this shouldn't be a problem, but slate does add some extra weight that some roofs simply aren't designed to handle. Just consult with a professional and have them come take a look at your roof's infrastructure first, to help you evaluate whether slate could be a viable possibility for your roof.
3. Material cost
Just to be transparent about it, slate ain't cheap. In truth, it's one of the most expensive roofing material options on the market. If money is no object to you, then no worries! But if you're looking for a budget-friendly roofing option, you might want to look at something besides slate. Even so, it also makes sense to look at the value of the cost over time. While the upfront cost of slate is high, the longevity of slate can actually help you to save money in the long run, versus having to replace your lesser-quality roof several times over the course of a slate roof's extended service life.
4. Expert installation required
Because it's heavy, slate is harder to work with than most other types of roofing material. Putting on a slate roof isn't a DIY project, and it's not something many roofing contractors are very well-versed in, either. But you don't have to let this prevent you from considering slate, as long as you're able to locate a roofing professional who has both the proper tools and experience working with slate. And if you're located in NC or VA, one name you can absolutely trust when it comes to putting on a slate roof is Skywalker Roofing!
Looking for an Alternative to Natural Slate? Think Synthetics. Think DaVinci.
Looking for a roofing material which can mimic the look and performance of natural slate, while also being more lightweight and affordable? If so, then DaVinci Slate is definitely worth a look. Davinci Slate isn't a rock product; it's an advanced synthetic roofing material made from pure virgin polymer resins which are fortified with effective UV stabilizers. What does that mean for you? It means your roof is every bit as beautiful as if it were covered with natural slate – you honestly can't tell the difference! Check out this episode of Roofing Mythbusters to see what we're talking about!
But in addition to its ability to mimic the look of natural slate, here are some other things that DaVinci Slate has going for it. Thanks to the UV stabilizers included, DaVinci's colors don't fade. It's also every bit as durable as natural slate, with much less needed maintenance over time. DaVinci tiles also deliver Cat 5 hurricane wind resistance, provide solid fire protection, and are much more resistant to impact threats than natural slate. Oh, and here's another benefit of choosing DaVinci Slate over natural slate – DaVinci is even available in true Cool Roof options, which are ENERGY STAR certified!
Searching for the Best Slate Roofing Provider in NC or VA? Look No Further Than Skywalker!
If you're looking for a true lifetime roofing system, it's hard to beat natural slate or synthetic slate. And thankfully, the experts at Skywalker Roofing are pros at installing both! And if you're still weighing other roofing material options as well, Skywalker Roofing works with all popular roofing materials, including everything from Owens Corning shingles, to custom metal roofing, to tile, wood shakes, and more. We can custom craft and install the perfect gutters for your roof right on site, as well.
Skywalker Roofing is the premier roofing solutions provider serving the NC Piedmont Triad, NC Piedmont Triangle, Lake Norman area, and southwestern VA region, and we'd be honored to serve your roofing and other essential home exterior needs, too. Connect with us online, or just give us a call at +1 (336) 627-5596 today; we'd be glad to show you the Skywalker Roofing difference!