Things we often get asked about metal roofs at Skywalker Roofing
Perhaps you've heard the buzz about metal roofing, and are now considering a metal roof yourself. Hopefully you've also heard that a metal roof is a more durable solution than a shingle roof, which also needs much less maintenance. Or it could be that you're just someone who likes the signature look and sound of a metal roof. Either way, you probably still have some questions, or you likely wouldn't have clicked on this page!
At Skywalker Roofing, we certainly get where you're coming from, and we understand. Choosing the right roof installation or roof replacement is no small decision to make, and it really makes sense to do your own research before you make your roofing decision. Here are some of the most frequently asked questions we get about metal roofing in North Carolina and Virginia. Whether you're considering metal roofing in Winston-Salem, metal roofing in Greensboro, metal roofing in Raleigh, metal roofing around Lake Norman, metal roofing in Roanoke, metal roofing in Danville, or metal roofing in any of our other NC and VA service areas – we've got some helpful answers to your metal roof questions!
Common metal roofing FAQs and answers
We know you've got questions about metal roofing. The good news is that we've also got some good answers! Here are some of the most common questions we receive from folks like you:
1. Why should I consider having a metal roof?
There are honestly many reasons to choose a metal roof, but here are just a few. Metal roofing comes in many profiles and colors, is noncombustible so it provides better fire protection, sheds heavy rain and accumulating snow well, and is also very resistant to wind, hail, and lightning. Metal roofing is incredibly durable, too. We're not overstating it to say that a well-installed metal roof can literally last you for a lifetime!
2. What material roofing types are there?
The most common are corrugated metal roofing and standing seam metal roofs, with standing seam being the preferred option for both looks and performance. There are also several metal substrates from which to choose, including galvalume steel, aluminum, and copper. Aluminum is the cheapest of the three, but it's also the least rugged. Copper is a premium choice that creates its own signature look and patina, but copper also comes at a premium price. Galvalume steel is really one of our most popular options, because it's strong, rugged, and durable, comes in many available colors and finishes, and is more affordable than copper.
3. What about metal roofing costs?
To be fair, metal roofing certainly isn't the cheapest option, but it's also a very long-lasting roof investment that requires little maintenance. The final price of a metal roof will be based on important factors like the square footage of your roof, the pitch of the roof, the type of metal you choose, and whether any special roof features are present (like chimneys, fans, vents, or skylights). But in terms of a roofing ROI, a metal roof will often pay for itself as a long-term investment in your home or business structure.
4. How loud does a metal roof get when it rains?
That's a question we get quite a bit! You probably know that metal roofs deliver an audible pitter-patter tone whenever it rains, and many folks find the sound to be soothing. But how loud is it? To a large extent, that will be determined by what lies directly underneath your metal. Solid sheathing is quieter than having spaced boards. As an analogy, if you tap on an empty metal can, the sound can be somewhat loud. But when the can is full, the sound is measurably deadened. To the point, the type of underlayment you choose for your roof, along with the type and amount of insulation you have in your attic will have a big impact on deciding how much sound travels underneath into your living space.
5. What's the warranty like on a metal roof?
As is the case with other roofing materials, the warranty will depend both upon the type of metal you choose, along with how it's installed. How the metal roofing is covered will help determine warranty length too. For example, a galvalume steel substrate coated with Kynar 500 will significantly outperform other comparable metal roofs. Make sure to pay attention to the workmanship warranty of any metal roofing contractors you're considering as well; some metal roofing providers like Skywalker Roofing stand behind our work much better than others do!
6. Can I walk on my metal roof?
You sure can. In fact, a metal roof is more resistant to foot traffic than a shingle roof. You won't have any worries about shingle granule shedding, either. But if you do need to get on your roof, we absolutely recommend slip-resistant shoes. And if a metal roof is wet or icy, it's best to wait until it's dry before trying to navigate on it.
7. How should I choose a metal roofing company?
That's a great question, and honestly, one of the most important to ask! Plenty of roofers can nail a shingle, but there aren't many local metal roofing contractors in NC or VA with the specialty tools, training, and expertise needed to handle your metal roofing project with all the precision and care it deserves. Ask around to learn who others in your area have used and would recommend before making your decision. Another good place to check for unbiased customer reviews is Guild Quality – it's one of the most respected home construction and home improvement contractor review forums around!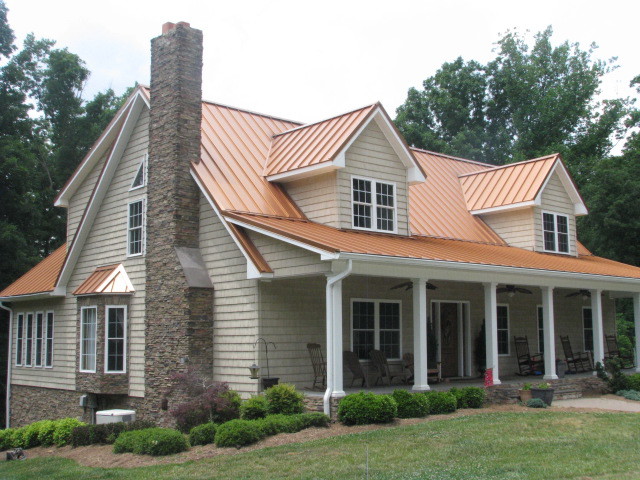 What other metal roofing questions do you have? Skywalker Roofing is here to answer them!
Got more metal roof questions? The pros at Skywalker Roofing are here to listen, and we're happy to address whatever queries and concerns you may have.
And if you're considering metal roofing, you absolutely need to start by finding a metal roofing contractor you can trust! Looking for a local roofing provider in North Carolina or Virginia that actually stands behind everything they do? You've found one in Skywalker!
Skywalker is the premier roofing contractor serving the NC Piedmont Triad, Piedmont Triangle, Lake Norman area, and the southern VA region. We specialize in custom standing seam metal roofing, and we also install all other popular roofing materials.
Concerned about how to pay for your new roof installation or roof replacement? We offer great financing options, too!
You can reach out to us online by clicking on the link above, or for an even faster response, simply give us a call at +1 (336) 627-5596! We'd be glad to schedule your FREE home or business inspection and personal consultation.
Experience the Skywalker difference for yourself, and let us provide the last roof you'll ever need!