Raising the Roof on Roof Protection
If you live in a region of the US that regularly sees violent weather, you already know wind-resistant roofing is a must. High winds can cause immense damage to your roof in a short amount of time. But unless you're a roofer, you likely don't know where to start looking for roof repairs or what roofing options are available to you to proactively prepare for inclement weather.
But in this blog, we'll change all that. Today, we'll explore wind-resistant roofing materials and examine how they're designed to handle some of the worst elements Mother Nature can hurl your way. From roofing materials to roof replacement options, we'll give you all the information you need to keep your home dry and protected year-round.
Why is Wind-Resistant Roofing So Important?
In a strong windstorm, regular roofing materials may leave your roof looking something like a battlefield, with shingles strewn about and leaks springing up from nowhere. But with wind-resistant roofing, your roof will stand firm and demand less time and money in repairs.
Wind-resistant roofing materials, like impact-resistant shingles and reinforced underlayment, are specifically engineered to endure harsh weather conditions, minimizing the need for premature roof replacement. So, homeowners can enjoy a little peace of mind rather than constantly patching up damage or being forced into a full roof replacement.
How to Choose the Right Wind-Resistant Roofing Material
The first step in choosing the right wind-resistant roofing material is to consult with reputable roofing contractors like Skywalker Roofing. These professional roofing contractors can provide valuable insight into the best materials suited for your region and climate.
These roofers will likely recommend asphalt shingles, metal roofing, or slate tiles due to their resistance to high winds and wind uplift. However, the right choice for you will depend on your roof type, your area, and climate. As you can imagine, if you live in a region with higher sustained wind speeds, heavy rain, and volatile weather, your roof will need substantially more protection.
Ultimately, choosing the right wind-resistant roofing option involves a combination of research, expert advice, and a comprehensive knowledge of the available options. By performing this due diligence, you can make the most out of your roofing decision while minimizing the potential expenses.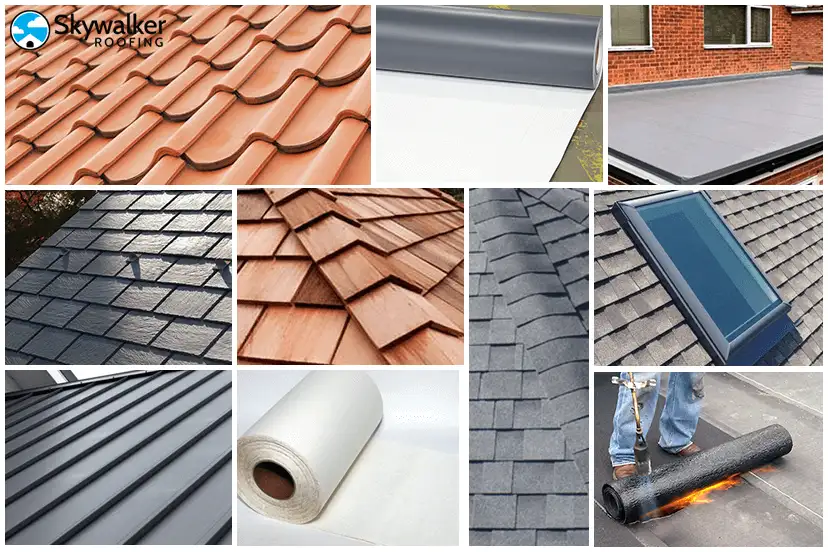 The Best Wind-Resistant Roofing Materials
Whether you're planning a smaller roof repair project or preparing for a complete overhaul, taking the time to research the best materials for the job is crucial. Let's look at just a few of the best wind-resistant roofing materials available to you:
1. Metal Roofing
Metal roofing has garnered a reputation for its exceptional durability and resilience against various weather elements, particularly strong winds. Roofing companies and professional roofers often recommend metal as an excellent choice for wind resistance. The interlocking panels of standing seam metal roofs, for instance, create a secure barrier against wind uplift. Additionally, the low weight of metal roofing makes it less likely to succumb to wind pressure, reducing the risk of damage even in high-wind conditions.
2. Tile Roofing
Tiles made of concrete or clay have been used for centuries due to their durability and wind-resistant properties. Roofing contractors frequently suggest tile roofing for areas prone to strong winds. The heavyweight of tiles and their interlocking design provide substantial protection against wind-related issues. This material offers an elegant aesthetic while ensuring your roof stays firmly in place during storms.
3. Slate Roofing
Slate is renowned for its elegance and longevity, but it's also a notable contender in the category of wind-resistant roofing materials. This natural stone offers exceptional durability and is highly resistant to wind uplift. Roofers often vouch for slate due to their ability to withstand even the harshest winds, making it an excellent choice for homes in wind-prone regions.
4. Asphalt Shingles
Although asphalt shingles might not immediately come to mind when thinking about wind resistance, modern advancements have made them more wind-resistant than ever. With features like adhesive seals and reinforced designs, certain asphalt shingle varieties can effectively combat wind uplift. Roofing companies can help you choose shingles with higher wind ratings, ensuring your roof remains intact even in gusty conditions.
Skywalker Roofing is Proud to Be Your Premier Choice for Roof Repairs and Replacement
Whether you need small roofing repairs or full replacement services, Skywalker Roofing is determined to provide you with the highest quality products and a level of craftsmanship that shows who we really are.
So, don't leave your roof hanging in the wind with a less-than-reputable roofing company. Call Skywalker Roofing today for a quick quote on your roofing needs. From beginning to end, we'll work to keep you equipped for any storm that comes your way. Call us at +1 (336) 627-5596 to learn more about the Skywalker difference.