Going Green Isn't Just Good for the Earth – It's Good for Your Wallet!
Unless you travel solely by foot, bicycle, or animal-drawn carriage, then you've surely felt the sticker shock at the pump lately. Fuel prices have reached astronomical levels, which means that energy prices are on the rise, too. That being the case, folks across the Southeast are scrambling to find ways to improve home energy efficiency however they can. And one of the best ways to make your roof more energy-efficient is with a metal roof installation.
What Does Sustainable Really Mean?
When ecologists use the word sustainable they're referring to the concept of reducing our ecological footprint and using Earth's resources in the most sustainable way possible. But in a literal sense, sustainable simply refers to something that can be sustained for a measurable length of time. As it concerns any fabricated material, a sustainable product should be both long-lasting and relatively simple to maintain. And here's the best news – a metal roof is truly sustainable in every sense of the word! Not only is metal roofing eco-friendly and energy-efficient; it's also built to last, and needs very little in the way of maintenance. Surprised? Well, keep reading to learn more!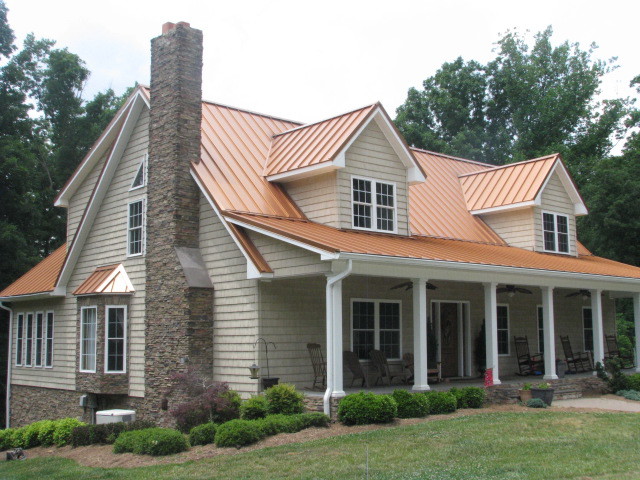 How Sustainable is a Metal Roof?
When it comes to roofing material sustainability, metal really shines in three ways: it's eco-friendly, energy-efficient, and long-lasting. Let's take a closer look at how:
1. Metal: An Eco-Friendly Roofing Material
Metal roofs are a much more sustainable and eco-friendly solution than materials like asphalt shingles. For starters, metal isn't a petroleum-based product, so it doesn't deplete any of Earth's precious finite oil resources. A metal roof actually has much less carbon impact than a shingle roof, so it really is a "greener" roof investment. New metal roofs in America now contain a minimum percentage of recycled materials, and each metal roof is also 100% recyclable. Metal roofs are also ideal bases for attaching other eco-friendly features like solar panels or rainwater harvesting systems.
2. Metal: An Energy-Efficient Roofing Material
Concerned about metal roofing cost? Don't forget about the energy efficiency factor. Roof reflectivity is one of the key measures of energy-efficient roofing material, and metal is really one of the most reflective materials around. A properly-coated metal roof can easily prevent between 75 to 80 percent of the sun's energy from being absorbed into the roof. This results in a more pleasant interior ambient temperature, and means there's less demand on your air conditioning system.
But summer isn't the only time that a metal roof comes in handy. You might assume that a metal roof wouldn't make a positive contribution towards keeping your home warmer in the winter, but you'd assume wrong! Studies show that the indoor air temperature beneath a metal roof actually stays 20° warmer on average than the interior air underneath an asphalt shingle roof on a cold winter's day. As long as your metal roof is properly insulated, you'll enjoy energy-saving benefits through both the warm months and the cool months!
3. Metal: A Long-Lasting, Low-Maintenance Roofing Material
Looking for a roof that will truly last you a lifetime? That's actually one of the main reasons why people choose a metal roof in the first place. A well-installed metal roof can easily last as long as your home. A low-end lifespan estimate of a metal roof is 40 years, and many have been known to last 70 years, or much longer. The thought of installing one single roof that will last you for the rest of your life is certainly an attractive reason to consider going with a metal roof!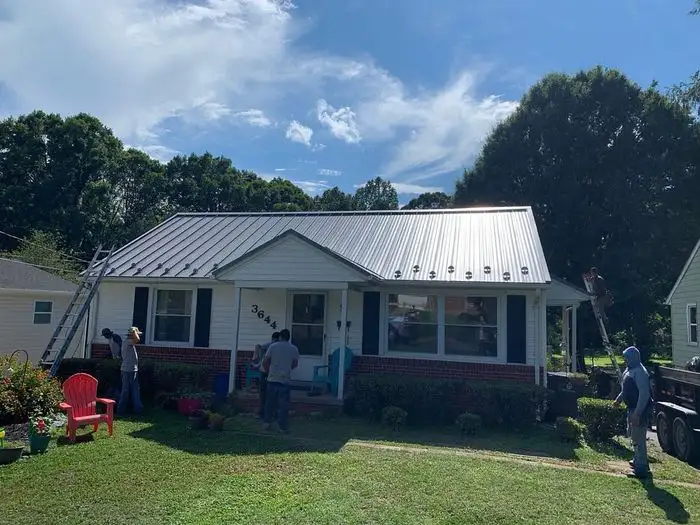 What Are Some Other Good Reasons to Choose a Metal Roof?
There are honestly lots of advantages to choosing a metal roof, even beyond the ones already mentioned. Here are just a few more benefits that are worth keeping in mind:
• Metal roofs are lightweight
Metal roofs are MUCH lighter than tile, and are lighter than many other roofing materials as well. Why does that matter? Metal roofs don't require as much support, and less weight on your roof also means less strain on your home's infrastructure.
• Speed and ease of installation
Metal roofs tend to go on faster and easier than other roofing materials, especially when applied by a trained metal roofing professional like Skywalker Roofing. If you really need a roof to be put on quickly, then metal roofing makes good sense.
• More effective at shedding rain and snow
The makeup and texture of a metal roof is such that rain and snow are directed away much more efficiently than with other comparable roofing materials. A well-installed metal roof really doesn't give rain or snow any chance to penetrate underneath, so the chances of leak development are greatly minimized.
• Better wind, lightning, and fire safety
Metal roofs are more wind-resistant than most roofing materials. Some metal roofs have been shown to sustain hurricane-force wind gusts up to 140mph. Metal's conductive characteristics can help to dissipate the effects of a lightning strike, too. And since metal is naturally incombustible, it provides better fire protection as well.
• Maximum durability and resistance to mold, mildew, & moss
Metal roofs are known to be incredibly durable. Metal roofs don't crack, and are able to expand and contract in response to temperature extremes. A properly-treated metal roof won't corrode either, and metal is an unfavorable host for mold, mildew, and moss growth.
• Metal can be used on roofs of practically any pitch
Some roofing materials will only work with roofs of a certain pitch, but metal works equally well on steep roofs and roofs with very little pitch. In terms of roof pitch, no other roofing material is as versatile as metal.
• Unique look and sound
Don't forget about the look and sound factors, either. Metal roofs have a distinctive look which adds to your home's curb appeal. And then, there's the sound effect. Many folks find the pitter-patter of rain on a metal roof to be a soothing sound that you really can't get with other roofing materials.
A New Metal Roof Isn't Cheap, But It Certainly Can be Affordable
Let's face it – a new metal roof ain't cheap. But to that point, any new roof replacement is going to be a significant investment, no matter which roofing material you choose. And if your current roof needs to be replaced, you really can't afford to sit around and do nothing.
But thankfully, there's some good news! If you don't have the upfront cash available to pay for everything out of pocket, Skywalker Roofing is happy to provide some great roof financing solutions. In fact, we offer plans with no upfront payment, no looming balloon payments, and no funny business with fees. You can also opt to make more than the minimum monthly payment to help pay down your balance with no penalty!
The Skywalker team is 100% committed to helping you find the best way to afford the quality roof you really need!
Choose Skywalker Roofing to Serve All Your Roofing Needs in NC and VA
While choosing the right roofing material for sustainability is important, choosing the right roofing contractor to install your metal roof maybe even more important! And if you're looking for the right metal roofing NC or metal roofing VA pro, look no further than Skywalker Roofing!
If you're located in North Carolina or Virginia and are looking for the best local metal roofing contractor, then Skywalker Roofing is the name you can trust. We're proud to serve the NC Piedmont Triad, Piedmont Triangle, Lake Norman area, and southern VA region. Check out our many 5-star reviews on Google, Facebook, BBB, and Guild Quality, and then take the opportunity to experience the Skywalker difference for yourself!
Give us a call at +1 (336) 627-5596 to schedule your FREE home or business roof inspection and personal consultation today. We're here to provide the last roof you'll ever need!